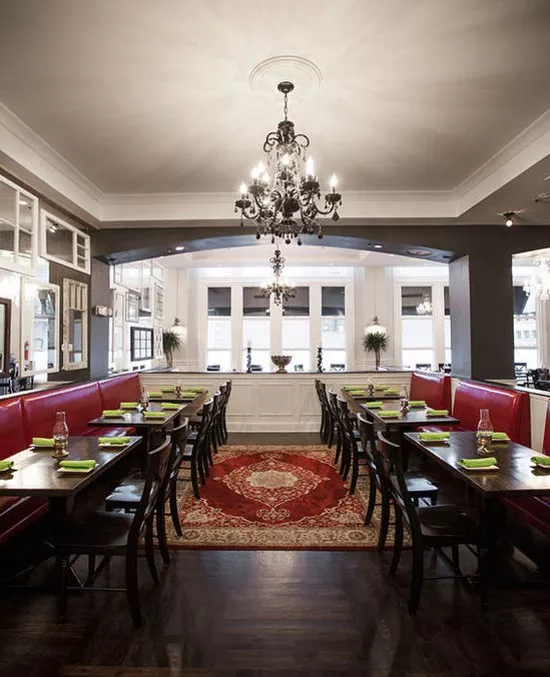 Photo by Jennifer Silverberg
Blood & Sand's dining room.
The members-only restaurant Blood and Sand — known for its stylish cocktails and swanky atmosphere — is up for grabs. The three-year-old business was listed over the summer with an asking price of $795,000.

That sum includes the restaurant's handsomely appointed space, on St. Charles in downtown St. Louis, as well as its "recipes, memberships, staff and training."
Co-owners Adam Frager and TJ Vytlacil announced their plans in a letter to members on Christmas Eve.
As they detailed in the letter, the two have been spending much of the past three years between their two restaurants, Blood and Sand and Death In The Afternoon, and developing their own
point-of-sale software called Brigade POS
.
"We've always known this next stage of our journey was going to require our full attention and time. Attempting to revolutionize restaurant technology and workflow is not a part time job," they wrote. "As a result, we believe it's in the best interest of our members, our staff, the business, and ourselves, to find someone who can dedicate the time Blood & Sand deserves. This is why we've chosen to put the business (and property) for sale."
"We know that our future is in Brigade, we've had the listing up for several months," Frager tells
Riverfront Times
. "Our original story was that we were just selling the assets and the properties and that we just have too much happening to be in the real estate business."
Brigade is their attempt to relieve their fellow restaurateurs of the hell of POS systems everywhere. "We have another name for them in the restaurant business," Frager laughs.
Point-of Sale systems are largely scorned by restaurateurs and staff because of their confusing user-experience and tendency to bring an otherwise smooth dining experience to a grinding halt. "We wanted to design something that was reliable and easy to use. Our opening night at Blood and Sand was one of the worst experiences of my life because of our POS that went down. It was a traumatic experience." That moment became the lightning bolt that spurred Frager and Vytlacil to think outside the box and embark on making a better one.
Photo by Jennifer Silverberg
An old-fashioned at Blood & Sand.
But as Brigade POS gets closer to a full-product launch, Frager and Vytlacil face a harsh reality — dividing their time between family, the restaurants and promoting the sale of their first tech product left them stretched too thin. They realized that something had to give. They decided to try to quietly find a new partner to keep the restaurant going at full steam.
"We wanted to find a buyer who can hopefully be a strategic partner to take over Blood and Sand. We want to know that somebody cares about the restaurant the way we do — we've built something we're really proud of here and we don't want to be the absentee owners," Frager admits. "We know that we want someone who can take ownership and will continue that progress that we've built on."
Frager says his primary concerns are about the staff and the members that they've had the pleasure of meeting and entertaining. "We have an incredible staff. We built this thing on a lot of personal relationships, and it's important they know that we're there and that we care deeply about them, that nothing bad is going to happen, and if we're not there, someone is going to come in and rebuild those relationships and fill that leadership role. That's why we chose to put it up for sale. We want to find somebody that could see the value and the opportunity and build on what we started and be present and could invest in that experience," Frager says.
Frager reiterates that selling the business has nothing to do with not wanting to be a part of it anymore. "We're not selling it out of need — we love this place, we're still growing our membership and it's doing really well. We thought that if we put it out there a little bit quieter we'd be able to find the right person, we've had a couple people interested, but we didn't think it was the right fit. But now that Brigade is starting to get closer to a launch it's going to start taking up a lot more of our time and now we want to make that transition fully known to our staff and members."
We welcome tips and feedback. Follow Kevin Korinek on Twitter @_eternalcowboy or contact him via kevinkorinek.com