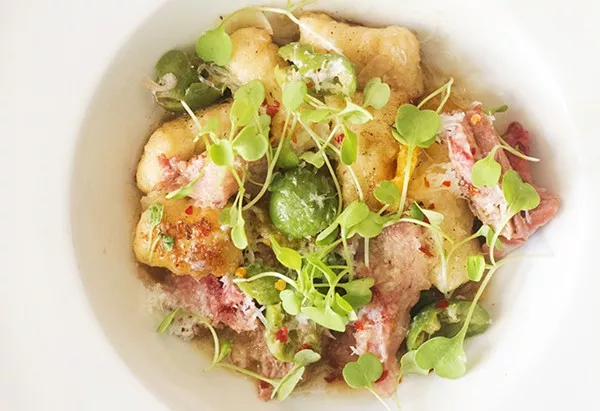 Photo by Mabel Suen
Randolfi's duck confit.
Earlier this week, we gave you a list of New Year's Eve parties to satisfy every urge. Want to ring in 2016 on a boat? We've got you covered. Want to see some burlesque? We've got that covered too.
But let's face it. Most of us are pretty basic people. On New Year's Eve, we just want to snuggle with our significant other and maybe a double date or two, eat some really good food and drink Champagne at midnight before going home and going to bed. So that other list was for the adventurous types; this one is for me and you.
Here are twelve restaurants offering New Year's Eve specials. Some also have bands and dancing after the meal — but we're not talking bottle service in the club. We're talking a good band, a little booze and a mellow good time. Sound appealing? Just read on for twelve good options.


1. Evangeline's
It's a roaring 20s New Year's Eve party at Evangeline's, with live music by Sarah Jane & the Blue Notes from 7 p.m. to 1:30 a.m. A seated dinner (6-9:30 p.m.) includes four courses, craft drafts, wine and exclusive cocktails, and then you can dance away 2015. Call 314-367-3644 for reservations. Thu., Dec. 31, 6 p.m., $110 per person. Evangeline's, 512 N Euclid Ave, St. Louis, 314-367-3644.
2. Cicero's
Goose Island presents a Mardi Gras-themed craft beer event with live music — a Craft Beer Masquerade. Your ticket includes all 55 draft beers on tap, well drinks, the buffet, midnight toast and all your party supplies. Thu., Dec. 31, 9 p.m., $60-$70. Cicero's, 6691 Delmar Blvd., University City, 314-862-0009.

3. Flying Saucer Dining Emporium
Flying Saucer will have a live DJ and giveaways, plus a Champagne toast at midnight. Bar reservations for just $20 a person. Thu., Dec. 31, 7 p.m. Flying Saucer Draught Emporium, 900 Spruce St., St. Louis, 314-932-1456.

4. Grapeseed
Enjoy great food and libations from Grapeseed's regular menu, or try one of our chef-inspired specials. Live music by Brian Vaccaro and Ryan Marquez. Call 314-925-8525 for reservations. Thu., Dec. 31. Grapeseed, 5400 Nottingham Ave., St. Louis, 314-925-8525.
5. Innsbrook Resort
Ring in 2016 with a night of dinner, dancing and fireworks, followed by breakfast at midnight. Dinner and Entertainment package ($65/person plus tax) includes appetizers, dinner buffet, breakfast at midnight buffet and Champagne toast at midnight. Family Room package ($13-$18 plus tax) includes dinner buffet, games, movies and more. Reservations required. Thu., Dec. 31, 6:30 p.m.-12:30 a.m., Dinner and Entertainment: $65/person + tax. Family Room: $13-18 + tax, 636-928-3366 ext. 0, information@innsbrook-resort.com, www.innsbrook-resort.com/events/new-years-eve/. Innsbrook Resort, 1 Aspen Lake Dr, Wright City.

6. Boogaloo
Boogaloo will serve a four-course dinner buffet with crab stuffed beef tenderloin and Champagne toast at midnight. The DJ spins from 10 p.m. to 1 a.m., and shot & drink specials are on all night. Thu., Dec. 31, $40. Boogaloo, 7344 Manchester Road, Maplewood, 314-645-4803.
7. Kemoll's
Top of the Met hosts Everyday People for a night of dinner and dancing. Four-course dinner includes salad, pasta, beef conti and swordfish with pancetta relish, plus cheesecake for dessert. Coupons or gift certificates not valid. Must make a reservation. Non-refundable 48 hrs. before event starts. Credit card must be provided when making reservation & used to pay for the event. No cash will be accepted. Doors open at 7:30, call 314-421-0555 to make a reservation! Thu., Dec. 31, 8 p.m.-12:30 a.m., $100 per person plus tax, 314-421-0555, Info@Kemolls.com, https://www.facebook.com/events/1669418613279642/. Kemoll's Italian Restaurant, 211 N. Broadway, St. Louis.
8. Onesto's
At Onesto, enjoy drinks and dancing plus a buffet of ribs, pasta, salad, lobster risotto cake and more. Sangria and bottled A-B products are included, plus a Champagne toast at midnight. Thu., Dec. 31, 7 p.m.-1 a.m., $60-$65. Onesto Pizza and Trattoria, 5401 Finkman St., St. Louis, 314-802-8883.
9. Randolfi's
Chef Mike Randolph of Randolfi's will pull out all the stops for the first celebration at his classic Italian meets modern restaurant in The Loop. A 10-course tasting menu will be available for two seatings at 6 p.m. and 9 p.m. for $80 and $100, respectively. Reservations can be made by calling 314.899.9221. Credit cards will be taken with the reservation. The menu features ingredients like oysters, truffles, caviar, and more. Each seating will also include a Champagne toast. Thu., Dec. 31, 6 p.m. and 9 p.m. Randolfi's, 6665 Delmar Blvd., University City, 314-899-9221.
10. Retreat
Welcome the new year with a five-course menu that includes optional beverage pairings. Thu., Dec. 31, 5-8 p.m., $45 per person, Contact travis@treatreatgastropub.com for reservations. Retreat Gastropub, 2 N Sarah St, St. Louis, 314-261-4497.
11. Russo's
Celebrate the New Year with Russo's Catering at Spazio Westport! Featuring a six-hour full open premium bar, passed appetizers, a dinner buffet with hand-carved entrees, a dessert station and a midnight snack, Champagne toast, photo booth and entertainment, with overnight accommodations available. Thu., Dec. 31, 7 p.m.-1 a.m., $90 per person, $95 per hotel room (both include tax), 314-576-0400, emily@russosgourmet.com, https://russosgourmet.com/nye/. Spazio at West Port, 12031 Lackland, Maryland Heights.
12. Stratford's
A dinner buffet will be served from 7-9 p.m. with all-inclusive drinks last from 7 p.m. 'til midnight (after that it's a cash bar). Live music by Happy Handgrenades and Slammer & the Pogs. Thu., Dec. 31, 6 p.m., $39.99-$49.99. Stratford Bar & Grill, 800 S. Highway Drive, Fenton, 636-343-5757.