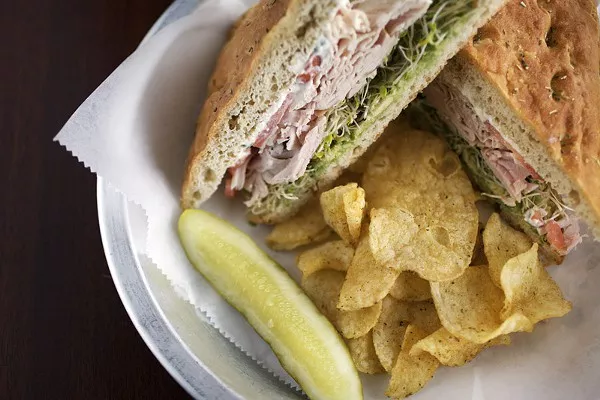 The "Cold Turkey" at Nora's | Jennifer Silverberg
This is a list you are going to want to read start to finish because, well, who doesn't love a good sandwich? Sure, we can all make one at home, but there is an art to the best sandwich-making that results in a creation greater than the sum of its parts. A balance of texture and flavor, right-sizing of toppings, careful layering and attention to flavors made for pairing – these are the elements that, executed well, make us crave sandwiches for breakfast, lunch and dinner. And we could actually do that, as there are tons of great sandwich shops in St. Louis.
We've narrowed the list down to our 10 favorites, though we're sure to have missed some of yours – please share your thoughts in the comments section!
1. Nora's
1136 Tamm Avenue, Dogtown
Nora's secret to an amazing sandwich is finding flavors that perfectly complement each other. An excellent example is the "For Pete's Sake" sandwich (named after
The Brady Bunch
's Peter and his love of pork chops and applesauce). It features sliced smoked pork loin, caramelized onions, bacon, melted brie and cinnamon applesauce. One of the shop's best-selling sandwiches, the "Cold Turkey," is a study in contrasts –creamy textures of herbed cream cheese and avocado are paired with crisp tomato and crunchy sprouts.
The "Tony Supremo" at Blues City Deli | Sara Graham

2. Blues City Deli
2438 McNair Avenue, Benton Park
Blues City Deli is a melting pot of sandwich styles, with hearty Italian subs, New Orleans po boys and muffulettas, New York pastrami, Memphis-style barbecue and even hot dogs. There is something for everyone here, we assure you. Arrive early on Mondays for the hugely popular "Tony Supremo" (pictured) with roast beef, root-beer-glazed ham, provolone, lettuce, tomato, pickles, onion and Creole mayo on a warm baguette) and on Wednesdays for the "Aporkalypse Pretzelwich" with garlic roasted pork, bacon, provolone, pickles and "boom boom sauce" on a warm pretzel roll.
The "Hot Salami" at Gioia's Deli | Mindee Zervas
3. Gioia's Deli
1934 Macklind Avenue, the Hill
In business for almost 100 years, Gioia's Deli's secret to success lies in keeping things simple, local and good. All produce and meats are locally sourced for quality and freshness. All sausages and roast beef are prepared in-house. And all bread is baked the same day it's served. Most of the menu has stood the test of time, including the shop's best seller, the "Hot Salami" (pictured). A few new creations have made the list over the years, however, as customer creations have become huge hits, such as the "Spicy Daggett" with hot salami, hot coppa and capicolla smothered in spicy giardiniera and toasted on garlic pepper cheese bread.
Prosciutto at Salume Beddu | courtesy of Salume Beddu
4. Salume Beddu
3467 Hampton Avenue, Lindenwood Park
Salume Beddu owner Mark Sanfilippo describes his approach to sandwich creation as you might describe writing a haiku – focusing on just a few ingredients and using that restriction to truly ponder each ingredient's importance, while balancing flavor, acidity and richness. Of course, unlike haiku, Sanfilippo's sandwiches feature the shop's in-house cured Italian and European meats and fresh sausages. The prosciutto cotto is the shop's best-seller, with cooked prosciutto brined with rosemary, coriander and a few other spices and herbs and then slowly poached. The prosciutto (pictured) ends up being a very mild unsmoked ham and tastes great sliced thin and topped with gruyere, mustard and pickled onions.
Turn the page for five more amazing sandwich shops.
The "Sunny's Veggie" at Adriana's On The Hill | Tara Mahadevan
5. Adriana's On The Hill
5101 Shaw Avenue, the Hill
Adriana's is a family-run lunch shop in St. Louis' Italian neighborhood, The Hill. The 25-item sandwich menu includes a bevy of mouth-watering Sicilian ingredients such as Italian hot roast beef, hot ham, meatballs, Salsiccia, Salami and mozzarella, parmesan, provel, cheddar and cream cheeses. Even the vegetarian "Sunny's Veggie" is a hit, piled high with mozzarella and Parmesan cheeses, lettuce, tomato, onion, green pepper and artichoke hearts, then topped with pesto dressing and served on piping hot garlic cheese bread.
The "Philly Cheese Steak" at 9th Street Deli | Ian Froeb

6. 9th Street Deli
900 Shenandoah Avenue, Soulard
Whether you're in the mood for a just-out-of-the oven hot sandwich or one with fresh cold cuts and crisp veggies, 9th Street Deli has what you crave. American and global flavors pair perfectly on delicious sandwiches, including the Ninth Street Special with sautéed shredded beef, pepper jack cheese, oregano, garlic, caramelized onions, lettuce, tomatoes and green garlic aioli sauce on seeded French bread. And then there's everyone's favorite, the Philly cheese steak (pictured), with either shredded steak or chicken, cheese, caramelized onions and roasted peppers.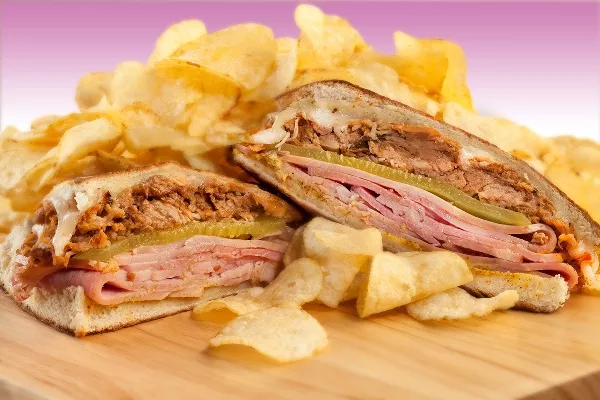 The "Kuban" at Monty's Sandwich Company | John Frangoulis Photography

7. Monty's Sandwich Company
200 North Broadway Street, Downtown
Monty's Sandwich Company is a shrine to the sandwich, named after John Montagu, the 4th Earl of Sandwich, said to have invented the concoction. Here you will find meats that roasted in-house and fresh-baked bread for recipes full of tradition and flavor. One of the few places in town to offer a traditional Cuban sandwich, Monty's "Kuban" is a variation of a Cubano torta with spicy mustard, smoky ham, pulled pork, sharp Swiss cheese and pickles pressed panini-style on Bavarian pretzel bread.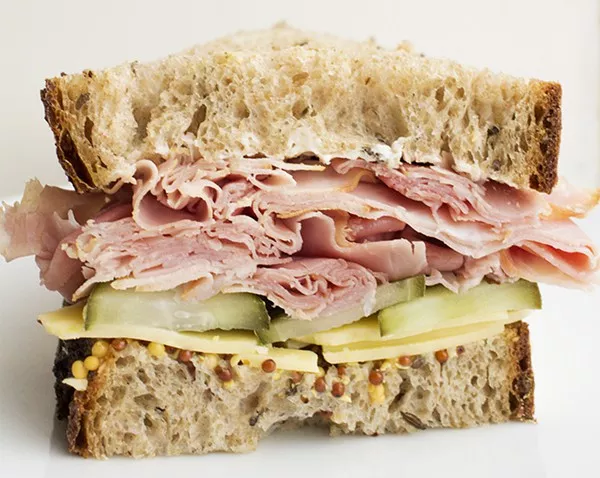 The Ham and Cheddar at Union Loafers | Mabel Suen
8. Union Loafers
1629 Tower Grove Avenue, Botanical Heights
Ted Wilson and Sean Netzer's
boulangerie
in the up-and-coming Botanical Heights neighborhood is also one hell of a sandwich shop. Chef Brian Lagerstrom uses Wilson's delicious bread as the base for a host of marvelous creations, including the restaurant's signature roasted pork. As critic Cheryl Baehr describes it, "Thin slices of rosemary-kissed pork tenderloin; creamy, prosciutto-like country ham; and crisp pickles are accented with rustic grain mustard. Perhaps the best part of the sandwich is when the liberally slathered housemade garlic mayonnaise squishes out through the bread's little cracks." Herbivores need not despair: The vegetarian offering features roasted beets on ciabatta with sauerkraut, Emmenthaler Swiss, Thousand Island and sliced hard-boiled egg. Yum.
The "BABLT" at Fozzie's Sandwich Emporium | courtesy of Fozzie's Sandwich Emporium
9. Fozzie's Sandwich Emporium
1170 S. Big Bend Boulevard, Richmond Heights
Fozzie's Sandwich Emporium approaches a sandwich as a vehicle by which to create an emotional experience out of tastes and textures. Classics and original creations are loved equally here and burgers and hot dogs are invited to the party, as well (they have bread, after all). Best sellers are the "Club Med" with marinated chicken breast, grilled zucchini, roasted red peppers, arugula, goat cheese and a lemon oregano vinaigrette and the "BABLT (Big A** BLT, pictured) with crispy bacon, romaine lettuce, tomato and roasted garlic mayonnaise on sourdough bread.
Editor's note: This post was amended in 2016 to remove Kopperman's Deli, which closed after its original publication.
Follow Sara Graham on Instagram and Twitter at @engagetaste. E-mail the author at

[email protected]

.