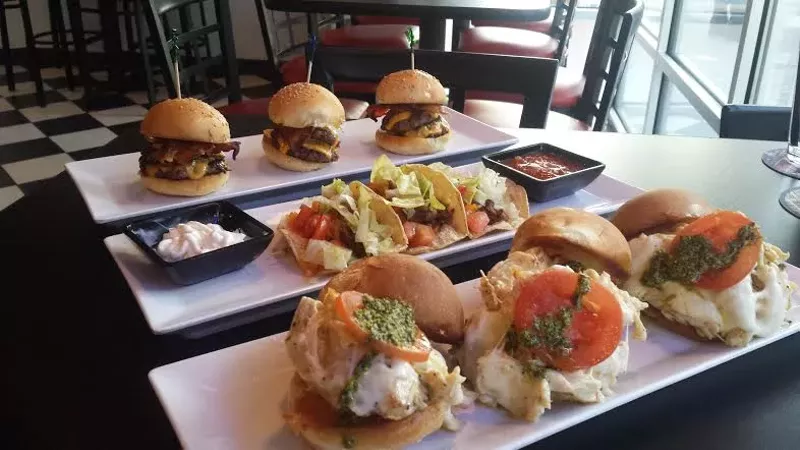 Telephone is fun. He'll phone when he's done?
Hedgehogs love hugs???
Just like the classic game of telephone, the goal for the new telephone-adorned bar opened by husband-and-wife team Robert Wilmoth and Desiree Knapp,
314 the City Bar
(
1137 Washington Ave., 314-328-2280
), is fun.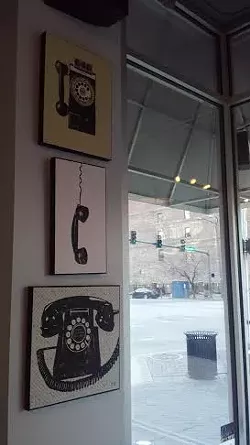 It certainly looks fun. With its shiny black-and-white checkered floors and flashy chrome on the bar and overhead, it's the sort of place you walk into and feel just a little bit jazzier.
It also sounds fun. According to Wilmoth, entertainment of all sorts is on the agenda.
"We plan to have music, game nights, that kind of thing," Wilmoth says. "We have a Giant Connect 4 and Giant Yahtzee."
Wilmoth and Knapp had been researching opening up a restaurant for the past four or five years and almost went ahead with several locations, but the right circumstances never quite presented themselves.
"We had started to make moves in directions, but in the end we stepped back and said that it wasn't the right fit," Wilmoth says.
After learning the space on Washington Avenue was open, they finally felt like it was time to go for it.
"I actually did a lot of work for the owner of this building, so we had a good relationship there," Wilmoth says. "The kitchen was there and built, the hood was there, the walk-in. Financially it worked."
<!—————StartFragment—————>
And now Wilmoth is working to make 314 the City Bar into a neighborhood place.
"The other places up and down Wash Ave, they all have their different style. Some turn a little more nightclubby at certain times, but that's not what we want to do. We want to be a place you can just pop by, have some decent food, have a drink, have a conversation."
314 the City Bar is a "bar first" restaurant, Wilmoth says. Happy hour, which will typically run from 4 p.m. to 7 or 8 p.m., is a big part of the game plan.
"We have some great happy hours. We try to do it all week, including the weekends." Wilmoth says. "The food is really designed for something light to have while you're drinking, but it does also make a nice portion for lunch."
The food is also fun. There are several ways to make food fun; one of them is to make everything bite-sized. For example, most people would agree that Dippin' Dots are more fun than ice cream and Lil' Smokies are more fun that hot dogs, and so on and so forth.<!—————EndFragment—————>
314 the City Bar seems to subscribe to that philosophy with a menu of mostly fun-sized items: sliders instead of burgers, tiny tacos instead of standard-sized tacos, and a 4 oz. petite filet rather than a ribeye.
Just like the game of telephone, sometimes the message reads clearly, as in the case of the flavorful pulled chicken Caprese sliders, and sometimes the end result is confusion. Most noticeably, the side of candied dill carrots we received were cloyingly sweet and the dill was nowhere to be found.
But that's just another game: hide-and-seek. We just didn't win it. And who needs vegetables anyway when the goal is fun, fun, fun? Even if you don't make it in for happy hour, life is too short not to be full of good cheer. Order the sliders.