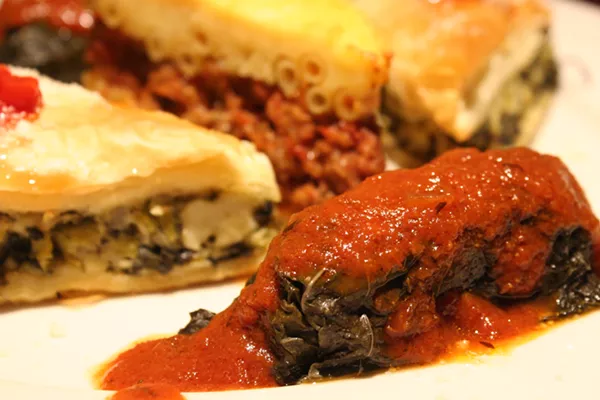 Johnny Fugitt
A combination platter with pastitio, dolmades and spinach pie.


My Big Fat Greek Wedding 2
is scheduled for release in March 2016. The original movie, released in 2002, was a hit because everyone, whether Greek or not, could relate to the joys, struggles, laughter and strife that come along with family life. Perhaps
Dados Cafe
(
5425 Hampton Ave., 314-858-5800
), St. Louis' newest Greek restaurant, can capture a little bit of the same magic. "We want you to feel like you're at home," says chef/owner Nick Avouris.
Although born in Greece, Avouris has always been a U.S. citizen through his father. Immigrating to the U.S. at the age of 16, he found his way to St. Louis because he had an aunt here. Avouris had no intention of food becoming his career, but that's what happened after 15 years at the now-defunct south-city staple Garavelli's. He moved to Arkansas to manage a country club, then opened his own restaurant before returning to St. Louis where he worked at Michael's Bar & Grill for five years.
The newly opened Dados Cafe prides itself on its connection to the Old Country.
"We actually have a Greek chef in the back cooking authentic Greek food," says Avouris' daughter Athena, who also works at the restaurant.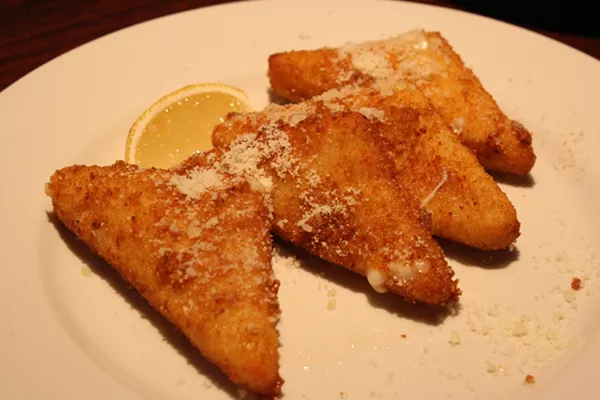 Johnny Fugitt
When at a Greek restaurant, always order the saganaki — because it's fried cheese.
But Dados is different than other local Greek eateries in that the menu is not strictly limited to Greek food. Sure, most people are going to try the gyro, spanakopita, kabob, moussaka or Greek salad, but Dados is quite proud of the American offerings on the menu as well.
"We didn't only want it to be authentic Greek food," says Athena Avouris. "We kind of wanted to have a variety to bring in all walks of life."
Nick Avouris brags on his 80/20 burgers, but everything from wings to toasted ravioli to a foot-long bratwurst have found their way onto the menu.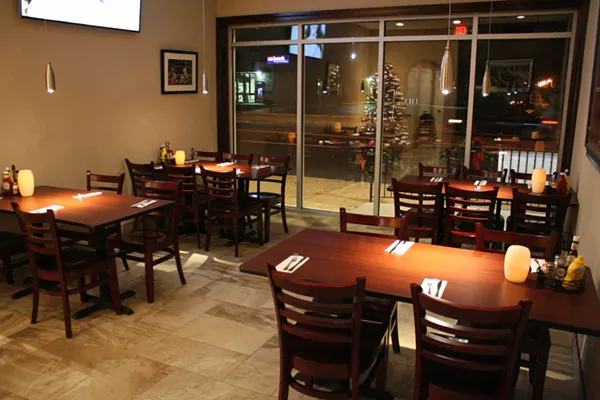 Johnny Fugitt
Dados' space is clean and comfortable.
The space housing the restaurant, at Hampton and Eichelberger just across the street from Bishop DuBourg High School, was previously home to a headstone engraver. The restaurant currently seats 38, but an additional dining room is being renovated to serve as a banquet space and increase seating to a total of 70 or 80.
That's not all: A liquor license is in the works and Dados hopes to have a full bar within the month. Opa!