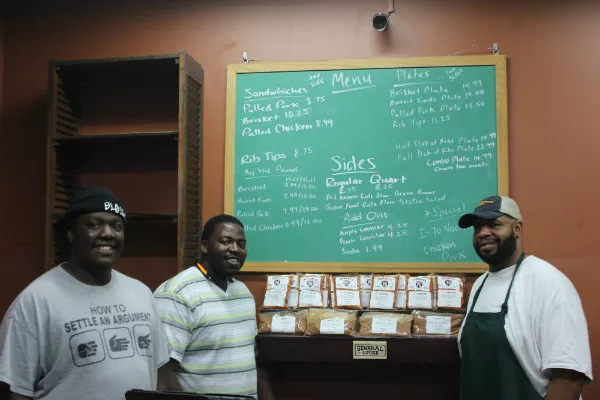 Photo by Sarah Fenske
Edward McFarlane (left) with co-owners Aaron McFarlane (center) and Joe Dixon
Aaron McFarlane and Joe Dixon had good union jobs pouring concrete. But they weren't satisfied — like so many food lovers, they dreamed of opening a business of their own. They wanted to start a food truck.

While they were researching that idea, they happened upon a space on Forest Park, just west of the Saint Louis University campus in Midtown St. Louis. Jimmy John's was moving on, and they realized they could get a lease. "We decided to take it to the next level," says McFarlane.
The result,
Dixon Smoke Co.
(
3664 Forest Park Ave., 314-833-4161
), opened its doors for the first time one week ago. The business partners are serving up classic barbecue — plates and sandwiches heaping with pulled pork, brisket, pulled chicken, rib tips, burnt ends or some combination thereof.
Plates come with two sides; sandwiches, with one. And while those plates also come with two slices of white bread, like they do it in Texas, McFarlane and Dixon aren't aiming to do their barbecue Texas-style or or even Kansas City-style.
Photo by Sarah Fenske
Pulled pork with coleslaw and potato salad.
"We want to represent Missouri," McFarlane says. "Everyone wants to say they're doing it Memphis-style, or this or that. The rubs we have, we created right here in St. Louis. We want to rep St. Louis and St. Louis-style barbecue."
The space is no-frills, with exposed brick walls and a handful of booths along them. There's a bar facing the kitchen; you walk up to the attached counter to order or sit at it to eat, though there is no booze. Like most barbecue joints, Dixon's doesn't intend to keep late hours — they'll close between 3 p.m. and 6 p.m., depending on when they run out.
Photo by Sarah Fenske
The no-frills room faces Forest Park.
Co-owner Joe Dixon serves as the pitmaster. A St. Louis native, he grew up in the restaurant business — his mom owned a place called Charlie's, in Berkeley. He's proud of the 'cue he's smoking — "all wood," he notes (he uses both cherry and oak) — right there on-site at the restaurant.
"I was out there at one this morning," he says.
As for McFarlane, he's a military brat, but he went to high school here and considers himself more or less a native. He's joined in the front of the house by his brother, Aaron, who's a friendly presence behind the counter.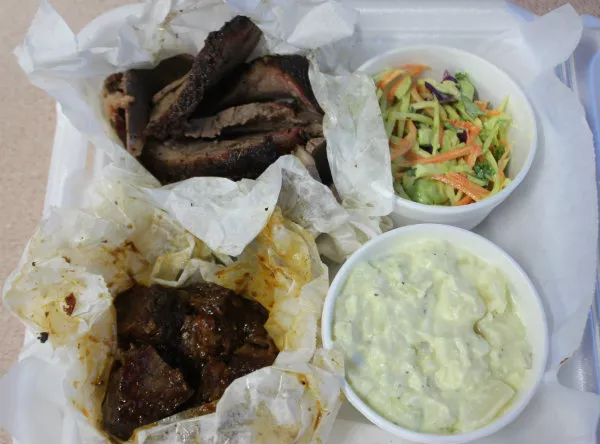 Photo by Sarah Fenske
A combo platter includes burnt ends and regular brisket, with "Super Food Cole Slaw" along with Dixon's creamy potato salad.
The partners are open to suggestions and make a point to solicit them from their guests. But no matter what people recommend, they're not going to get too wild and crazy. Perhaps the most out-of-the-box option on the menu at this point is the "Super Food Cole Slaw," which features kale in addition to cabbage. (It's good!)
But they also offer a standard slaw for people who like to keep it old-school. It is, at heart, that kind of place.
"We're sticking to the classics," Aaron McFarlane says.
We welcome tips and feedback. Email the author at sarah.fenske@riverfronttimes.com