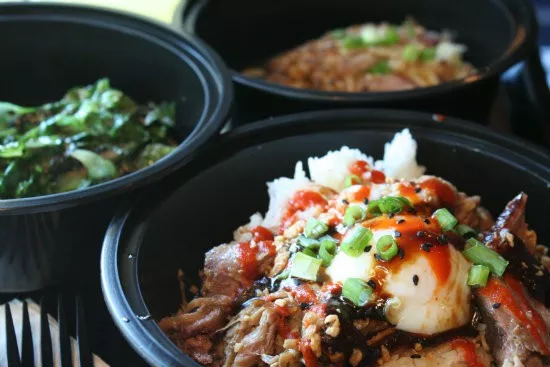 Guerrilla Street Food | Johnny Fugitt
"Fast-casual" is a relatively new term that describes restaurants somewhere between high-end and McDonald's — they don't offer full table service, but still focus on high quality food. Counter service is coupled with an ambiance that encourages more than a two-minute stay, while prices are typically lower than traditional restaurants. Many focus on a small, "choose-your-own" style menu that affords a high degree of customization and still allows for predictable kitchen restocking.
Fast-casual is definitely on the rise across St. Louis. You can currently get everything from good Asian food to excellent calzones, and no lesser luminary than the James Beard Award-winning Gerard Craft now has a fast-casual spot of his own,
Porano Pasta
, in the works.
Here are our 10 favorite spots.
1. Guerrilla Street Food
3559 Arsenal Street, South Grand
A food truck for more than three years, Guerrilla Street Food now also has a brick-and-mortar home, and both are serving up home-made quality quickly and affordably. The Filipino menu features fan favorites such as "Aporkalypse Now!" (pork belly braised in brown sugar, vinegar, soy sauce, chilies, peanuts and tofu), the "Guerrilla Monsoon" (sausage, chilies, oyster mushrooms and garlic with Asian lime) and blue crab ceviche (Filipino blue crab, chilies, black sesame, cilantro, palm sugar and atchara served over sliced watermelon). Don't forget to add a "Calamansi Cooler" – a house-made limeade made with the Asian limes known as calamansi, honey, fresh ginger and mint.
See also: A First Look at Guerilla Street Food's Brick and Mortar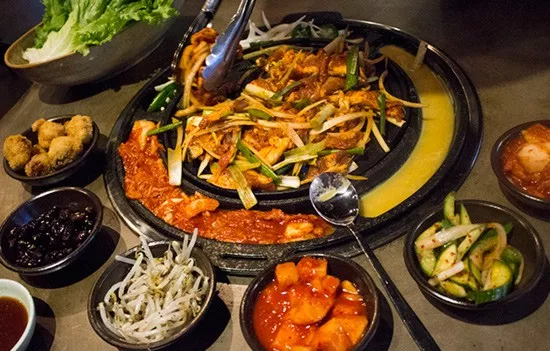 2. Seoul Taco
6665 Delmar Blvd, the Delmar Loop
Also getting its start as a food truck in 2011, Seoul Taco now boasts a physical store front in the Delmar Loop, as well as in Columbia, Missouri. Chef and owner David Choi's unique menu blends the unmistakable flavors of Koran barbecue with Mexican-style presentation for an approachable and fast meal. Here, tacos, quesadillas, burritos and nachos feature "Seoul sauce," kimchi fried rice, and Korean salad mix or gochujang pepper sauce with Korean-spiced steak, chicken, spicy pork or tofu. The banchan, or sides, feature full-on Korean flavors – kimchi slaw, OG kimchi, kimchi fried rice and pot stickers.
See also: A Look at the Korean Barbecue of Seoul Taco and Seoul Q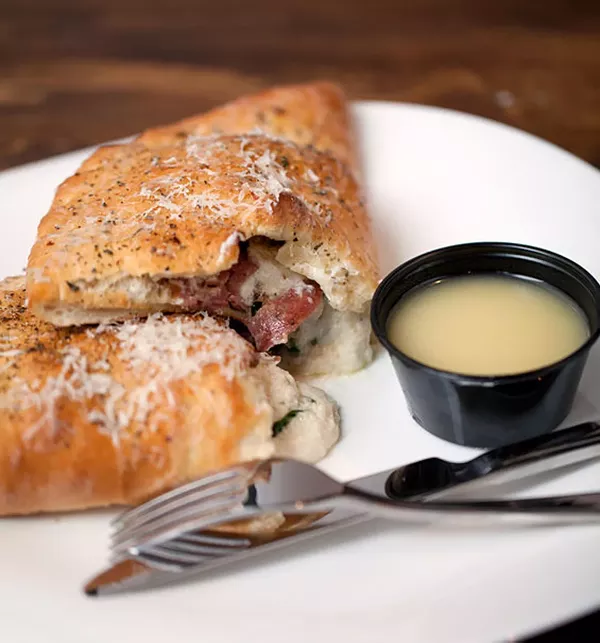 Calzone at Sauce on the Side | Mabel Suen
3. Sauce on the Side
411 North 8th Street, downtown, and 7810 Forsyth, Clayton
Devoted exclusively to made-to-order calzones (following the "do one thing well" mantra to the letter), Sauce on the Side has almost a cult following. Diners choose from an inspired list of flavor combinations, like the puttanesca (roasted chicken, onions, capers, green olives, garlic, roasted red peppers, feta, mozzarella, ricotta, garlic oil and spicy red sauce). Or you can create your own perfect calzone masterpiece. Salads, beer and wine are also available. All meals are served on plates with silverware, while servers refill drinks and bus tables – dining is quick and accompanied by great hospitality for a deliciously relaxing experience.
See also: A Look Inside Sauce on the Side's New Second Location in Clayton
4. Kayak's
270 North Skinker Boulevard, Skinker-DeBaliviere
Kayak's is a calm oasis at the bustling intersection of Forest Park Parkway and Skinker Boulevard, with the Washington University campus across the street and Metrolink stop just underneath the street. Fresh, simple food and coffee is presented in a cozy, rustic mountain chalet-inspired setting with a substantial menu of sandwiches, flatbread pizzas, soups, salads, wraps, smoothies and breakfast items offered all day. Don't forget the coffee – traditional, espresso, batch-brewed and hand-brewed.
Lona's Lil Eats | Mabel Suen

5. Lona's Lil Eats
2199 California Avenue, Fox Park
Begun as a food stand in 2008 at the Soulard Farmer's Market, Lona's Lil Eats is now a full-fledged restaurant in Fox Park. The cuisine is described as "Asian cuisine with a soul-food flare" and features flavors from Lona's birthplace in the Thai and Chinese melting pot that is the Yunnan province. Both the food stand and restaurant developed a unique menu built around available fresh ingredients, kitchen equipment on hand and customer desires. Each meal starts with a giant rice paper wrap, flour wrap or plate. A choice of protein is next – grilled chicken, pulled turkey, spicy tofu, grilled steak or stir-fried shrimp followed by rice, noodles or lettuce. The piece de resistance – the sauce, either lime-ginger peanut sauce, lemon grass pesto, Lona-Q (with ginger and red wine), smoked vinaigrette or spicy sesame.
See also: At Lona's Lil Eats, Huge Flavor from a Tiny Village in China
Turn the page for more fast-casual favorites.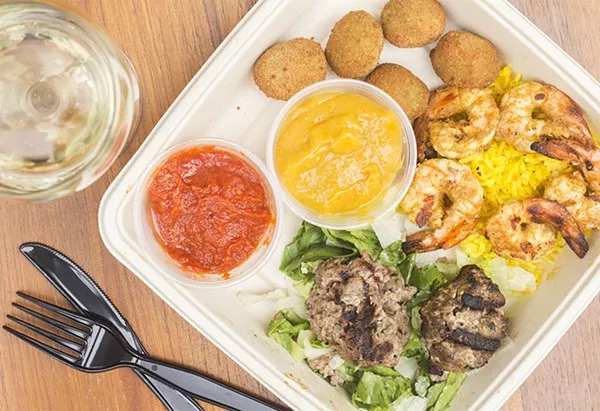 Tazé Mediterranean Street Food | Mabel Suen
6. Tazé Mediterranean Street Food
626 Washington Avenue, downtown
Just opened this year, Tazé Mediterranean Street Food caters to downtown residents and workers with a healthy, made-from-scratch, fast and affordable menu that is always tazé (Turkish for "fresh"). The dishes are based on the flavors and cooking techniques of Morocco, Turkey, Greece, Israel, Spain and other countries on the Mediterranean Sea. Each meal starts with either house-made pita or a bowl of saffron rice and greens. Next is a choice of chicken or beef and lamb gyro, chicken or beef tandoor, or falafel or portabella mushrooms. These are topped with unlimited fresh vegetables and one of four sauces – mango, harissa, tzatziki, or tahini. Salads, hummus, dessert, wine and beer are also available.
Crushed Red | photo courtesy of Crushed Red
7. Crushed Red Urban Bake and Chop Shop
8007 Maryland Avenue, Clayton
Crushed Red Urban Bake and Chop Shop first opened in St. Louis in 2012 and now includes two more locations in the city and one in Denver, Colorado. The service is described as "artisan fast" – healthy food, made from scratch, with a focus on quality. Twelve inventive pizzas are available, as well as a great "craft your own" pizza with a comprehensive list of toppings. A well-curated list of creative salads also includes a craft-your-own with 51 ingredients and ten dressings to choose from. Tapas, soups, wine and beer round out the menu. A member of the St. Louis Green Dining Alliance, Crushed Red is committed to producing very little waste as a way to look after its community and the environment.
See also: Crushed Red Opens Its Third Location in Creve Coeur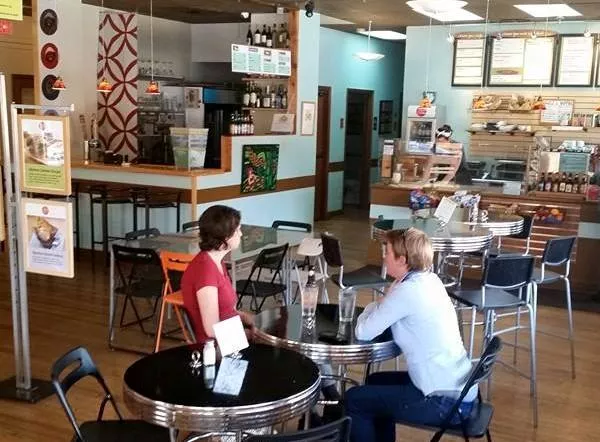 Urban Eats | photo courtesy of Urban Eats
8. Urban Eats

3301 Meramec Street, Dutchtown
Urban Eats is at a healthy, fast-casual restaurant and community space that is committed to revitalization of the local community. The concise menu is customizable, centered around paninis, wraps, flatbread pizzas and rice bowls. Organic ingredients are offered whenever possible, much of it vegetables and eggs from chickens from the backyard garden. A fully stocked bar features fresh juices and infused cocktails, beer and wine, including several sustainable and organic options.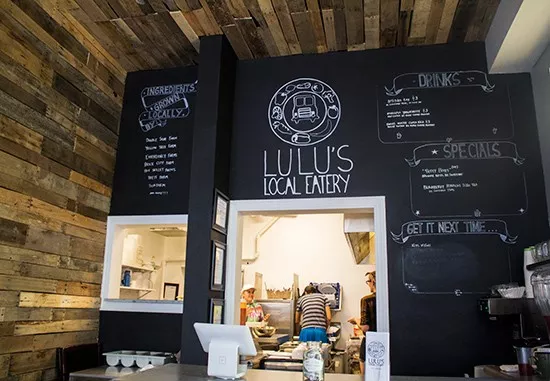 Lulu's Local Eatery | Mabel Suen
9. Lulu's Local Eatery
3201 South Grand Boulevard, Tower Grove
The Lulu's Local Eatery food truck debuted in 2012 and a storefront on South Grand followed just two years later. Both were inspired by organic farm work in Australia and New Zealand, which instilled a desire to provide sustainable vegetarian food that is affordable and accessible. And yes, the food is vegetarian here, but even carnivores will leave happy. Popular menu items include the loaded nachos with jackfruit carnitas and house-made butternut squash cheese sauce, the mac n cheese with gluten-free noodles and butternut squash cheese and walnut parmesan, and the mushroom stroganoff. The restaurant sources from more than twenty local farms and producers, uses packaging that is 100 percent biodegradable and compostable and is certified by the St. Louis Green Dining Alliance.
See also: Lulu's Local Eatery New Restaurant Prepares Plant-Based Fare on South Grand
Crazy Bowls and Wraps | BCAST Advertising & Marketing
10. Crazy Bowls and Wraps
Multiple locations, including 3852 Lindell, Midtown
Crazy Bowls and Wraps might be the original fast-casual spot in this city — it opened its first store in St. Louis in 1994 and now boasts twelve locally, with more locations in Illinois and California.The menu is composed of healthy salads, bowls of rice, noodles and quinoa, and flour wraps ... so, basically just like the name says. If you are looking for organic, hormone-free, free-range, GMO-free, wild, whole grain, vegan, high fructose corn syrup-free and gluten-free, you'll be right at home here. In fact, a detailed allergen guide is offered for those with dietary restrictions seeking guidance. Fresh vegetables and from-scratch recipes are the backbones to the build-your-own menu, with plenty of tried and tested creations for those looking for tried and tested customer favorites.
<!———————————StartFragment———————————>
Follow Sara Graham on Instagram and Twitter at @engagetaste. E-mail the author at sara@engagetaste.com.