Photo by Katie Ineich
The bar at The Copper Pig has a stylish feel — and some good pig art.
When you walk through the doors of the newest restaurant to open in the Macklind Business District in Southampton, the Copper Pig (4611 Macklind Avenue, 314-499-7166), you'll be greeted by a man named Nhat Nguyen. This is his restaurant, and throughout the dinner hours, he does his rounds, checking on tables and chatting with patrons.
The Copper Pig has been described as "Asian-meets-Southern fare," a gastropub featuring an Asian street food menu", but if you ask Nguyen, he'll tell you, "It's really just food I like to eat." Much of the menu's offerings hearken back to the Asian food Nguyen grew up eating but he has made a point to incorporate a vast variety of flavors and cuisines. "I've been fortunate to travel and experience different foods," Nguyen says.

The Copper Pig's menu includes starters, salads, large plates, desserts, and even a few kids' options. A favorite among the starters is a classic poutine, smothered in a rich, brown gravy and topped with cheese curds.


Photo by Katie Ineich
The classic poutine features a rich, brown gravy and, of course, cheese curds.
Several items on the menu—even a kids' grilled cheese—incorporate bulgogi, or Korean marinated, grilled beef. The Bi Bim Bap Bowl has bulgogi, garlic rice, kimchi, carrots, Chinese sausage, cucumber, bean sprouts, and a fried egg. The Bulgogi Cheesesteak is a twist on the Philly classic, including cheddar cheese, kimchi, and slivered apples on a soft, garlic baguette.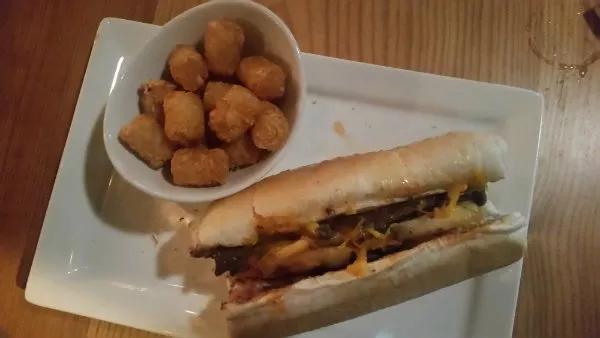 Photo by Katie Ineich
The Bulgogi Cheesesteak.
Another twist on a classic sandwich is the Pork Belly Cuban, which involves the usual ham, swiss, pickles, and mustard, but has the surprisingly tasty addition of maduros, or cooking plantains.
Nguyen takes pride in his original dishes and in introducing people to food they maybe wouldn't normally try. "Sometimes people just need to get over their fears and try different things," he says.


Photo by Katie Ineich
The place has gotten a warm reception from its Southampton neighbors.
The look of the place is modern restaurant chic. There are a couple large, circular booths, several standard and tall tables, as well as a full bar with two televisions mounted on the wall. The walls are brick and boast a few carefully selected colorful canvases. Hanging from the ceiling are rows of dimly lit, exposed lightbulbs; along the perimeter, however, the lights are surrounded by wooden cages.
The reception among residents of the Southampton neighborhood has been enthusiastic and warm; many have been looking forward to The Copper Pig's opening for months. Nguyen owns the building in which The Copper Pig is housed, and plans to stay there for the foreseeable future. "We want to be a part of the neighborhood as long as we can."
We welcome tips and feedback. Email the author at katie.ineich@gmail.com