Courtesy of Good Life Growing
Good Life Growing's operation includes some raised beds in addition to indoor, rock wool cups.
"What the hell are y'all doing?"
James Forbes has gotten used to being greeted this way by his north St. Louis neighbors — they'll shout it from their car windows as they drive by Good Life Growing, the organic farm that Forbes and his business partners have planted in north St. Louis.
As dreamed up by Forbes, his longtime friend Phillip Hearn, his brother Bobby, and his one-time protégé Matt Stoyanov, Good Life Growing LLC (4057 Evans Ave.,
facebook.com/goodlifegrowing
) is an urban farming company that specializes in hydroponics, aquaponics and aeroponics. Located on a plot of land that previously held a gas station, a cab company hub and an orchard, it relies on a closed-loop aquaponics system that can cut the maturation time of the crops in half. Bluegills kept in large tanks fertilize the plants as water is pumped into the grow area, filtered through a sponge. Once the table fills to a certain point, a siphon breaks, sending the water back into the fish tank. As a result, nutrients are flowing constantly.
All three forms of organic farming allow plants to grow indoors, without the use of soil. Instead, the company uses rock wool cups, which stabilize seedlings and allow for growth.
The farm is not completely soil-free, however; large outdoor beds constructed mostly from untreated wood are home to numerous St. Louis favorites — lettuces that retail as Premier Kale, Bright Lights Swiss Chard and Flash F1 Collard Greens, to name a few.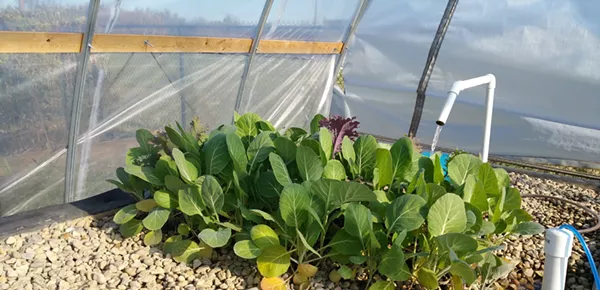 Courtesy of Good Life Growing
Crops growing in north city.
The Forbes brothers, Hearn and Stoyanov began transforming the vacant property in October 2014, after a months-long process of securing a lease, which required jumping through various hoops at City Hall.
"If I had one piece of advice to offer people who are interested in starting their own business, it'd be to start at the Business Assistance Center [at City Hall]," James Forbes notes. "They have a checklist template of everything you need to get done. If we'd known about that, it probably could've saved us about five, six months of running around."
After weeks of pulling four-foot-tall weeds across the property, construction on the farm's two greenhouse enclosures — a small misting hub and a large aquaponic hub — began in November 2014. The farm's first growing season began in March 2015. Good Life Growing grows fresh produce year round, though certain crops vary by season.
A 30-year-old graduate of DeSmet Jesuit High School and the University of Missouri, James Forbes had previously dabbled in aquaponics. But it took an unusual confluence of events to plant the seeds of this undertaking. In fact, Forbes was working in insurance when he met Alderman Samuel Moore. The alderman saw Forbes' sketch of an aquaponics system — and asked Forbes if he could put that structure on the plot of land in north St. Louis. From that inquiry, Good Life Growing was born.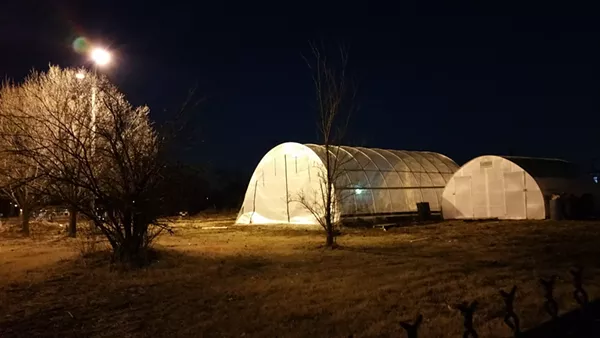 Photo courtesy of Good Life Growing
The farm at night.
The farm is located in a medium-level food desert, meaning that a large portion of residents live more than a half-mile away from the nearest supermarket. The lack of nutrition found in these areas is one factor the feds blame for increasing obesity rates in the U.S.
"Our goal is to make St. Louis a better place and we feel that working with blighted and food desert communities would be our way to make a positive impact," Hearn, also 30, explains. "The communities that we serve have community pride and they just need something to believe in. We hope that we can give that to them and lead the charge to making St. Louis a great place to live."
Good Life Growing offers Community Supported Agriculture (CSA) boxes as part of a weekly, monthly or annual subscription service. Subscribers can select the produce they want, or ask Forbes, Hearn and Stoyanov to choose a selection for them.
"With the CSA boxes, a lot of people ask us to just give them something they've never had before, or something that everyone else really likes," Hearn says. "The surprise is part of the fun for them."
For those who cannot afford a subscription model, the farm also rents out garden beds to members of the community for $10 per year. Good Life Growing provides the soil, water and weed barrier. Tenants provide the seeds and take care of the plants after planting them. People can use the beds as little or as often as they would like.
Forbes once worked for the Community Action Partnership of St. Louis (Stoyanov was his intern), so he was familiar with the reality of urban decay and was interested in tackling it. The four partners hope that their farm can positively impact the area. They have gotten support from the St. Louis community, which they see as a great sign.
"If you get community support behind you, you're going to be able to do whatever you want to help improve the community," Hearn says. "And that's exactly what we're looking to do."
Editor's note: This story has been updated after publication to include the name of co-founder Bobby Forbes, as well as to correct the name of the community action group that James Forbes and Stoyanov once worked for. We regret the error.