Courtesy of Sobelman's
Yes, things get a bit ridiculous at Sobelman's sometimes.
Sobelman's Pub & Grill, the goofy Milwaukee restaurant famous for its burgers, fried cheese curds and over-the-top bloody marys, has its eye on expansion to another city: St. Louis.
And while you may not think you've heard of the concept, don't be too sure. In fact, unless you've been living under a rock, you've probably seen photos of Sobelman's bloody marys: glasses of vodka and tomato juice topped with increasingly ludicrous garnishes from sausages to sliders. They started as a joke, says owner Dave Sobelman, but they quickly became an online sensation.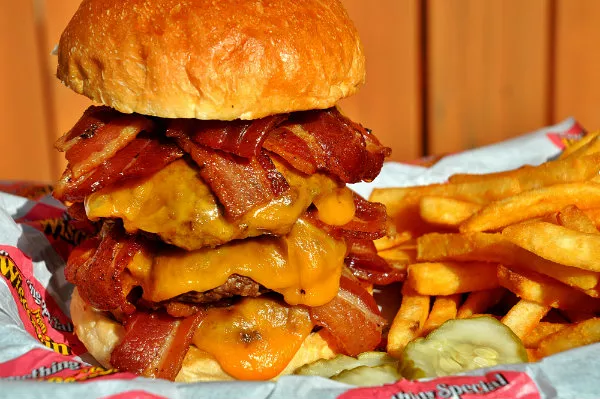 Of the cheeseburger garnishes, he says, "We put it on Facebook as a joke, but the following weekend, people came in wanting a slider!"
"I'm very serious about food and my ingredients," he adds. "But we're in the business o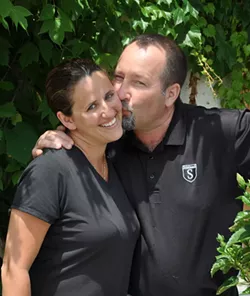 Photo courtesy of Sobelman's
Dave Sobelman (right) with wife Melanie.
f entertaining people more than feeding people. People have fun at Sobelman's."
Sobelman is himself a St. Louis native — he grew up near the
Hyde Park neighborhood of Old North
. But his parents split when he was nine, and his mother took him with her when she moved to Milwaukee. He's made regular return visits to Missouri, but has been a Wisconsin resident ever since.
Today Sobelman's Pub & Grill has grown to three different locations, all in Milwaukee, including one smack-dab on the Marquette campus. Sobelman has decided to explore the possibility of franchising, though he cautions it isn't as always fun and cheeseburger-topped bloody marys. "This business is a lot more tough than it looks," he says. "It's been a very tough 17 years. Now, if you hang in there 15 years, you'll have a really good living, a whole lot of fun — but there's also days where you will be miserable."
People interested in knowing more should check out
Sobelman's website
. And he's hoping that means you, the RFT reader: At this point, he's only looking at Chicago and St. Louis.
Chicago, he thinks, could support a few Sobelman's. But it's St. Louis that would really mean something.
"If I could just get one in St. Louis," he says, "that would be great. That would be like, 'Wow, I've really done something special."
We welcome tips and feedback. Email the author at sarah.fenske@riverfronttimes.com