Cheryl Baehr
Brasilia serves authentic Brazilian cuisine in the heart of South Grand.
Rachel Carvalho insists that her Brazilian husband, chef Jorge Carvalho, has been a Midwesterner his entire life. "He grew up in a town called Minas Gerais," Carvalho explains. "It's a lot like Missouri — in the middle of the country and rural with rivers. It's the heartland of Brazil."

His hometown and St. Louis may share a common geography, but this doesn't stop Carvalho from missing his native country. To assuage his nostalgia for home, he and his wife wanted their new restaurant,
Brasilia
(3121 S. Grand Boulevard; 314-322-1441)
, to feel as authentic as possible. "The way he designed it is like Brazilian country-style," Carvalho says. "There's a big mural of the Christ the Redeemer statue on the wall. We play Brazilian music and painted it in very lively colors. He doesn't get to go back that often, but this reminds him of what a wonderful place it is."
Brasilia is the Carvalhos' third Brazilian restaurant in St. Louis. Their first two, Cafe Brasil in Rock Hill and Coco Louco Brasil in the Central West End, were similar endeavors, though they feel like their latest concept finally captures what they have been trying to do. "The first one just didn't feel like Brazilian style at all, and the second one was too large," explains Carvalho. "Here it is much more cozy and quaint. Plus, we feel like the South Grand neighborhood is a better spot for us."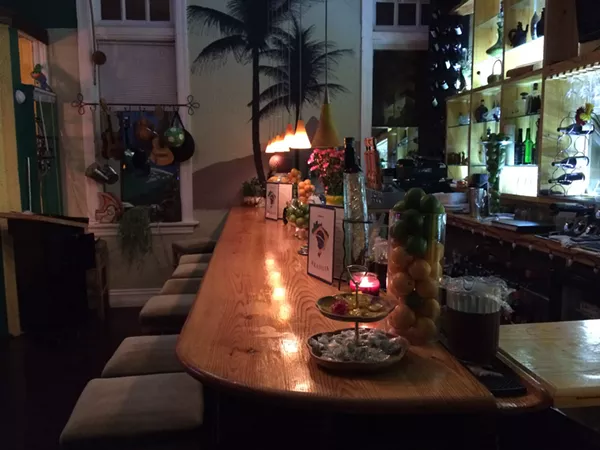 Cheryl Baehr
Inside Brasilia's lounge.
Located in the heart of South Grand's bustling dining district, the restaurant transports diners to a cozy, South American beach shack. The space is divided into a lounge and dining room with brightly painted blue, yellow and green walls (the same colors found in the Brazilian flag). Thatched canoes hang from the ceilings and vases filled with citrus fruit decorate the rooms. The dim, candle-lit atmosphere and bossanova music create a dreamlike feel.
See also: It's Official: South Grand's Restaurant Scene Is More Diverse Than Epcot Center
Mr. Carvalho's menu features the authentic Brazilian specialties he has perfected over his decades-long cooking career. Look for dishes such as
feijoida
, a traditional black been, steak and sausage stew served with rice, collard greens yucca four and orange slices, or
peixada
, a filet of cod cooked in coconut milk. The Carvahlos are especially proud of their special stuffed whole red snapper, an off-the-menu item they regularly run as the daily special.
Cheryl Baehr
The vatapa de frango, or chicken in cashew nut gravy.
And a trip to Brasilia would not be complete without Brazil's official drink — the caipirinha. Rachel Carvahlo can often be found behind the bar muddling fresh limes for the cachaca and sugar drink.
Cheryl Baehr
Brazil's national drink, the caipirinha.
The pair plan on eventually offering a Sunday brunch buffet and are even entertaining the idea of adding Brazilian barbecue to the menu. "Right now though we are taking it one step at a time," Rachel Carvalho says. "But we have a lot of plans for down the road, once we get our feet wet."
Brasilia is open for dinner service Tuesday through Thursday from 5-10 p.m., Friday and Saturday from 5-11 p.m. and Sunday from 5-9 p.m. For more information, visit
www.facebook.com/Brasiliarestaurant
.
We are always hungry for tips and feedback. Email the author at cheryl.baehr@riverfronttimes.com.