There's no mistaking the chill in the air, the brilliant displays of fall color and the kitchens filled with the smells of apples and cinnamon. Fall has arrived. Chefs citywide are indulging in the flavors of the season, serving up autumn in a bowl with delicious soups.
Here are 10 soups available now on local menus. Head over to one of these restaurants and order one before it's too late.
Curried Squash Soup at Element | Patrick Devine
Element
1419 Carroll Street; 63104
This warm and comforting curried squash soup is also refreshing with a little lime and fresh cilantro. It's flavored with garlic, ginger, yellow curry, coconut milk and lime juice and topped with toasted pepitas, crème fraiche, cilantro and chive oil.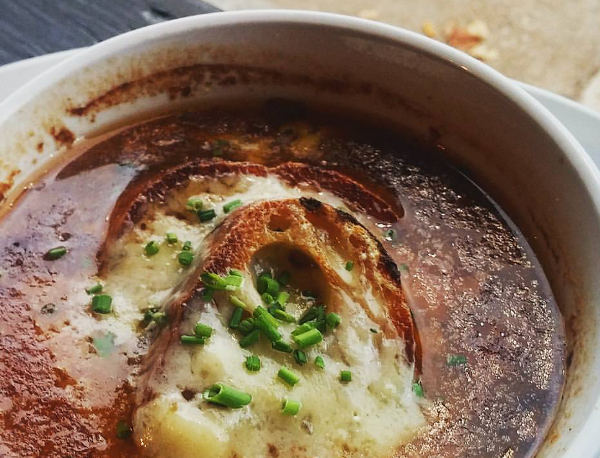 French Onion Soup at Three Flags Tavern | courtesy of Three Flags Tavern
Three Flags Tavern
4940 Southwest Avenue; 63110
A classic fall and winter soup, this French onion soup is made with caramelized onions, veal stock and hints of star anise and cinnamon. It's topped with slices of baguette and comte and aged cheddar cheeses.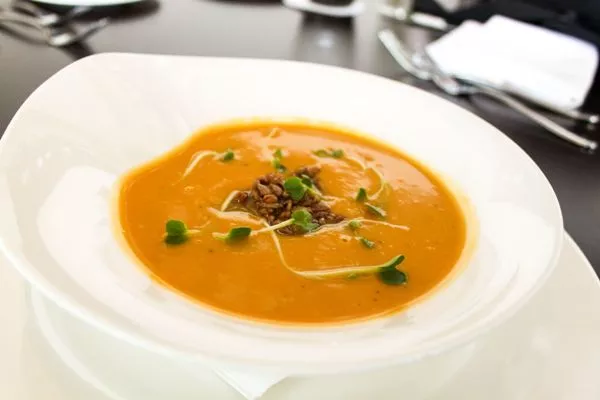 Maple Sweet Potato Soup at Bixby's | courtesy of Bixby's
Bixby's
Missouri History Museum, 5700 Lindell Boulevard; 63112
Inspired by the brilliant fall color in Forest Park on display from the restaurant's floor-to-ceiling windows, Chef Corey Ellsworth has just launched a new soup for the season – a maple sweet potato soup with candied sunflower seeds.
Butternut Squash Soup at Cielo | Lawrence Bryant
Cielo
Four Seasons, 999 North 2nd Street; 63102
Cielo's butternut squash soup showcases butternut squash, fresh lemons, ricotta cheese, fried pepitas and sage. The texture is silky with a finish of light sage and a twist of lemon.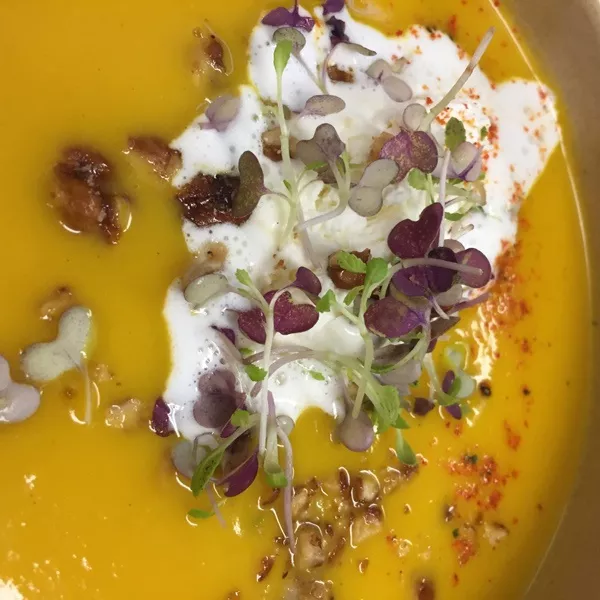 Vegan Curry Butternut Squash Soup at Hiro Asian Kitchen | Bernie Lee
Hiro Asian Kitchen
1405 Washington Avenue; 63103
Hiro Asian Kitchen offers a vegan curry butternut squash soup for the fall menu. It's made with togarashi, roasted walnuts, coconut cream, raw sea salt and topped with microgreen from Urban Harvest's downtown FOOD ROOF.
See also: Downtown's FOOD ROOF Is Growing Food for Restaurants Across St. Louis
Turn the page for five more wonderful fall soups.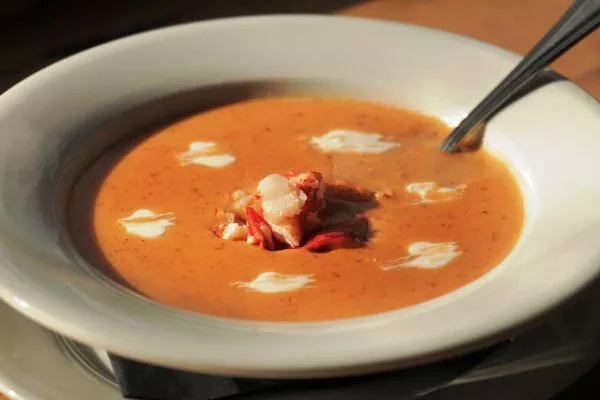 Lobster Bisque at Gamlin Whiskey House | Creative Entourage

Gamlin Whiskey House
236 North Euclid Avenue; 63108
Gamlin Whiskey House's rich and buttery lobster bisque is topped with chunks of lobster meat and a drizzle of crème fraiche.
Chili at Kingside Diner | Gregg Goldman
Kingside Diner
4651 Maryland Avenue; 63108
Kingside Diner's hearty chili is made with black beans and roasted red peppers.
Fresh Tomato Bisque at Piccione Pastry | courtesy of Piccione Pastry
Piccione Pastry
6197 Delmar Boulevard; 63112
Piccione is known for its decadent Italian pastries, but there's more on offer here: The Delmar Loop shop also offers seasonal breakfast and lunch options, including a fresh tomato bisque.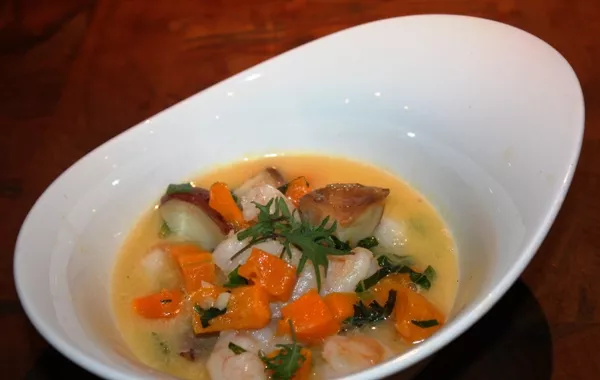 Shellfish Butternut Chowder at The Restaurant at The Cheshire | Corey Shaffer
The Restaurant at the Cheshire
Cheshire Inn, 7036 Clayton Avenue; 63117
The shellfish and butternut squash chowder at this fine-dining mecca is prepared with Cape Bay scallops, Carolina shrimp, and Rain Crow Ranch bacon. That's combined with butternut squash from Buttonwood Farms, scallions and micro-red Russian kale from Earthdance Farms, along with potatoes, onions and garlic from Gateway Garlic Urban Farm.
And our final soup on this fall's must-try list....
Butternut Squash Soup at Small Batch | Kara Bailey
Small Batch
3001 Locust Street; 63103
The butternut squash soup at Small Batch combines nutmeg and cinnamon with ancho chilis and is topped with vegan ginger crème for a velvety texture and pepitas for crunch.
<!————StartFragment————>
Follow Sara Graham on Instagram and Twitter at @engagetaste. E-mail the author at sara@engagetaste.com.