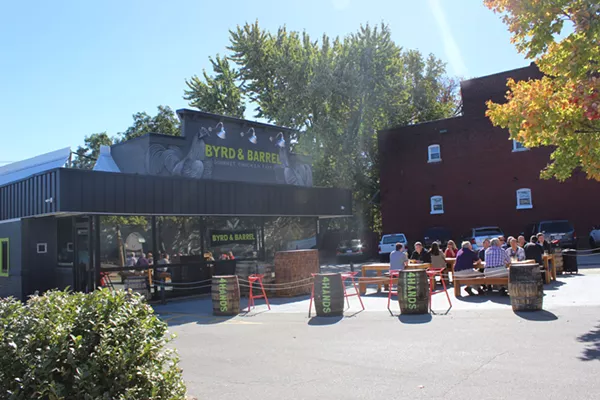 Photo by Lauren Milford
Jack Daniel's barrels and picnic tables outside Byrd and Barrel.
There's good news and bad news for picky eaters looking to try
Byrd & Barrel
(
3422 S. Jefferson, 314-875-9998
), the new fast-casual chicken joint just off Cherokee Street.
The good news is that there are actually some yummy veggie options for a restaurant with "bird" in its name. The bad news is that there's not much for to choose from if you eat a gluten-free or paleo diet.
Photo by Lauren Milford
Byrd and Barrel collaborates with local farms and businesses, as shown on its chalkboard wall.
Byrd and Barrel's vibe is hipster fun – outside are rustic picnic tables and Jack Daniels barrels, and inside you'll see industrial-style barstools, a chalkboard wall and tree-trunk coasters. To drink, there's Vess soda or beer. For dessert, you can choose from beignets or Clementine's ice cream.
So how does it stack up for various types of picky eaters? Here's our assessment.
Vegetarian:
The cauliflower po boy gets points for creativity, and is pretty tasty. However, it lacks a certain heft. Sides are required to make a filling meal. The spiced tots with ranch are actually more of a delicious cross between hash browns and hush puppies. But while the cheese curds are just okay, the mashed taters with smoked mushroom gravy are a treat.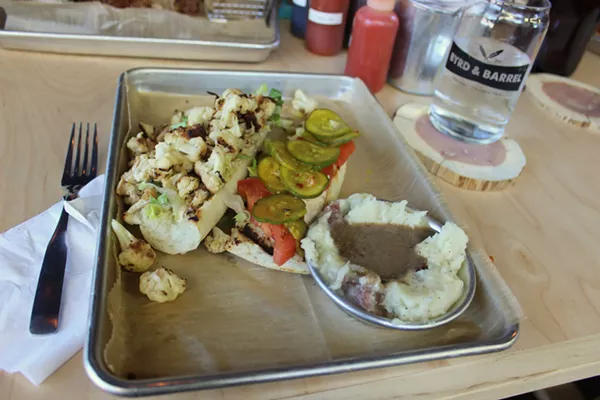 Photo by Lauren Milford
The cauliflower Po Boy with mashed potatoes and mushroom gravy on the side.

Gluten-Free and Paleo:
Three salads are offered – a grilled farm salad, a chopped and a mixed green, all with gluten-free dressing. You could enjoy the mashed potatoes (without gravy) or the pickled farm goodies (vegetables) on the side. It's not a ton of options.
Photo by Lauren Milford
Chicken "nuggz," tots and mashed potatoes with gravy.

Kids:
The places has one (and only one) high chair, plus one booster seat, so if you're eating in, cross your fingers there are no other kids dining at the same time. There isn't a kids' menu, but our kid taster really enjoyed the chicken "nuggz."
Photo by Lauren Milford
Byrd and Barrel's menu.
We welcome tips and feedback. Email the author at laurenhmilford@gmail.com,