Courtesy of Local Harvest
A neighborhood grocery store benefits nearby residents and visitors alike by keeping dollars in the community, supporting local businesses and fostering a walkable and vibrant streetscape. Some offer convenience while others specialize in local goods from small farmers and producers. All of them excel in building personal relationships with their customers and providing detailed information about the source and history of the product.
We've rounded up our ten favorites – all of them locally owned and each one different from the next. Stop by one the next time you're in the neighborhood and support truly independent businesses.
Here are our picks for the ten best markets in St. Louis.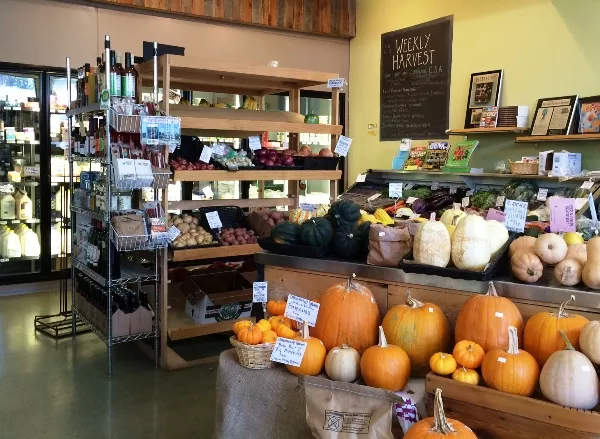 Local Harvest Grocery | Sara Graham
1. Local Harvest Grocery
3108 Morganford Road
Neighborhood: Tower Grove South
Opened in 2007, Local Harvest Grocery offers locally sourced and sustainably raised fruits, vegetables, meat, dairy and packaged goods – seven days a week. For neighborhood residents, it's an easy place to pop in for eggs, milk, bread or a six-pack of beer. A bulk section showcases organic and local rice, pasta, grains, flour, beans, teas and coffee. Spices, jams, honey, nuts, olive oil, sauces, candy and even cleaning supplies line the center isles. A tempting grab-n-go section offers a rotating selection of house-made items such as hummus, wraps, soups, salads and pastas and a house line of kefir (both milk and water versions), kimchi, sauerkraut and kombucha. A weekly local food subscription called Weekly Harvest (an aggregated CSA) provides a great way to try new foods, learn about local farmers and eat seasonally.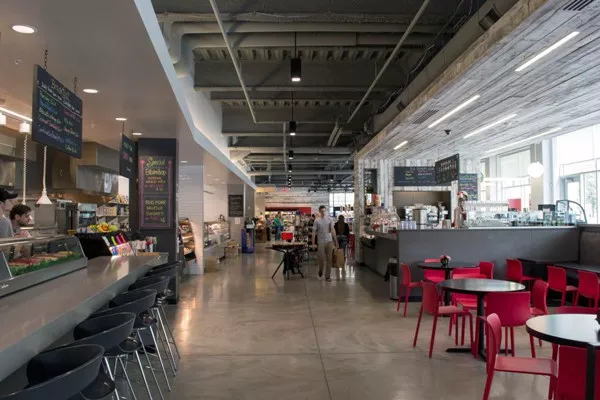 United Provisions | Atelle Digital
2. United Provisions
6241 Delmar Boulevard
Neighborhood: The Loop
A sister store to Global Foods in Kirkwood, United Provisions opened in August of 2014 in partnership with The Lofts of Washington University development in the Delmar Loop, adding a much-needed grocery store to this bustling commercial and residential strip. A total 124 countries are represented on its shelves, a major focus for this internationally-focused grocery store. Also well-stocked are gourmet items, fresh produce, meats and grocery staples, including many local offerings. In addition, half of the not-so-small store is devoted to a sit-down area for enjoying made-to-order items from a deli counter, sushi and ceviche bar, pastry shelf or coffee bar. A prepared foods section offers a great selection of grab-and-go items if you are short on time.
Fields Foods | Christy Allen
3. Fields Foods
1500 Lafayette Avenue
Neighborhood: Lafayette Square
The largest store in our lineup, Fields Foods rivals Whole Foods in square footage and scale of offerings. Yet it's locally owned and operated – the management office is located just down the street. The store carries a broad selection of produce, meat, seafood, dairy, bulk items, frozen, baked goods, beer, spirits and even fresh flowers. Much of the store's offerings are sourced locally and sustainably from small growers and producers, with numerous organic and GMO-free products. A prepared foods section includes wood-grilled pizza, salads and sandwiches. A much-Instagrammed feature? Shopping carts with cup holders for enjoying a glass of wine or a beer while shopping.
Larder & Cupboard | image courtesy of Larder & Cupboard
4. Larder & Cupboard
7310 Manchester Road
Neighborhood: Maplewood
Opened just one year, Larder & Cupboard is a culinary destination for specialty, locally sourced and locally prepared foods. Good Food Award winners, SOFI award winners and Cheese Award winners are what you'll find on the shelves here. Local chefs, coffee roasters and cheese producers sell directly to the store products such as pasta, granola and condiments. In fact, 75 percent of the store's products are purchased directly from the producers, actively supporting the people who make them. Each staff member is knowledgeable about every product and their source and can offer tips for use, recipes and pairing suggestions.
Turn the page for more local markets, including a total newcomer.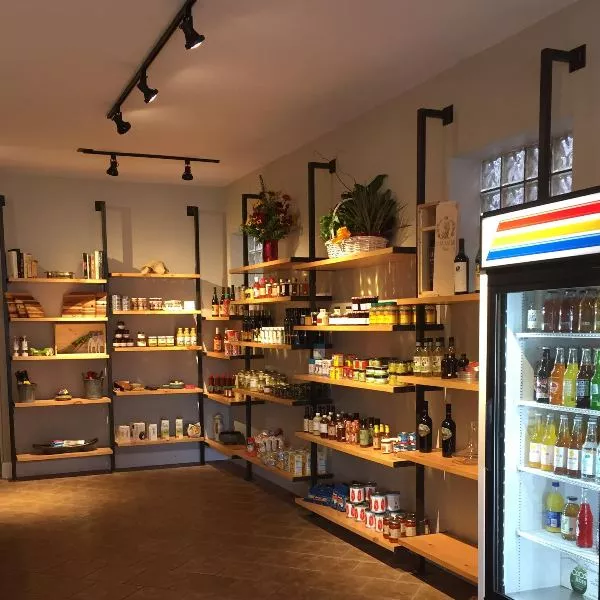 Edibles & Essentials | photo courtesy of Edibles & Essentials
5. Edibles & Essentials
5815 Hampton Avenue
Neighborhood: St. Louis Hills
Opened just this month, Edibles & Essentials is both a market and a café. If you don't have time to linger and enjoy a meal or charcuterie plate, peruse the shelves of globally and locally sourced artisan provisions. Bring the gourmet to your kitchen to create a great meal at home with specialty oils and vinegars, local cheese, cured meats, fine wine and spirits and meat from the small butcher counter offering local beef, pork and poultry.
City Greens Market | photo courtesy of City Greens Market
6. City Greens
Market 4260 Manchester Avenue
Neighborhood: The Grove
City Greens Market was started as a community project in 2009 by a few women who wanted to offer local, organic, healthy and affordable food to the local community. It's now a full-fledged, successful market, and all produce is purchased wholesale from local farmers and sold at cost by volunteers. Overhead costs are covered by donations and sliding-scale membership fees (free for families with a household income below $30,000 a year). There is often a free shelf of produce in the back of the store with overstock and donations from local gardeners and free samples prepared by volunteers. For the month of October, food stamps are matched up to $10.
Vincent's Market | photo courtesy of Vincent's Market
7. Vincent's Market
2400 South 12th Street
Neighborhood: Soulard
Celebrating 100 years in business, Vincent's Market is one of the oldest family-owned grocery stores in St. Louis and has played an integral role in the uniquely walkable urban community that is the Soulard neighborhood since 1987. A surprising variety of produce, groceries, fresh bread and pastries, beer and liquor is available at this small corner market. A fully stocked butcher shop offering fresh steaks, ground beef, pork, poultry, fish and deli meat is the destination for many customers. Bonus – a four-page beer keg menu. If that doesn't scream "Soulard," it's hard to say what would.
Turn the page for more market options.
Gustine Market | Sara Graham
8. Gustine Market
3150 Gustine Avenue
Neighborhood: Tower Grove South
Gustine Market defines the neighborhood corner store, a handy stop on the way to or from work or mid-afternoon on Saturday. The shelves boast those much-appreciated last-minute items – snacks, beer, brats, pizza, coffee, wine, fresh fruit, bread, cheese, ice cream, condiments and household items. Wine tastings are held regularly, and customers often come in for picnic items on the way to Tower Grove Park.
9. Organics
5400
South Kingshighway Boulevard
Neighborhood: Princeton Heights
Opened since the summer, Organics is true to its name. All of the products offered (over 1,000 at last count) are USDA-certified organic and GMO-free. The eclectic selection includes produce, dairy, bread, coffee, pasta, grains, coffee, kombucha, frozen foods, baby food, soups, spices, essential oils, cleaning supplies and household goods. There is also a small area with tables and chairs if you wish to linger and enjoy the community.
And for our final market of choice in St. Louis....
Golden Grocer | Stefanie Ellis
10. Golden Grocer
335 North Euclid Avenue
Neighborhood: The Central West End
A Central West End mainstay, the Golden Grocer has been around since the 1970s in the same stone-clad location on Euclid Avenue, just down from Maryland Plaza. Primarily a retailer of alternative health and beauty products, Golden Grocer also offers a top-notch selection of frozen foods, organic produce, bulk items, jarred and canned products, snacks, tea, sweeteners, chocolate and meat alternatives – all organic.
<!———————StartFragment———————>
Follow Sara Graham on Instagram and Twitter at @engagetaste. E-mail the author at sara@engagetaste.com.
<!———————EndFragment———————>