Photo by Samantha Dever
The bar at Standard Brewing.
It's a tale as old as time. Man meets beer. Man loves beer. Man brews beer. Man thinks, "Man, that was a lot of work." Man develops a more hands-off relationship with beer.

But that isn't what happened to Jeff Harlan and Jeff "Jonesy" Jones. The co-owners of
Standard Brewing Company
(12322 Dorsett Rd., 314-548-2270) share a love of beer that is up close, personal, and going strong despite plenty of obstacles.
The two met working sheet metal jobs in the aviation industry and then got into the beer business by opening J2 Brewing in Chesterfield. It shut its doors in June of 2015, but they bounced back quickly. Last month, they opened their new brewpub in Maryland Heights.
Standard Brewing features the pair's housemade beer, as well as a menu of pizza, salads and sandwiches. Located in an old Fuddruckers off Dorsett and 270, its new home had been vacant for eight months or so when Harlan and Jones took over. "It was a mess," Harlan says.
"Worse than a mess. It was a dump," Jones quickly chimes in.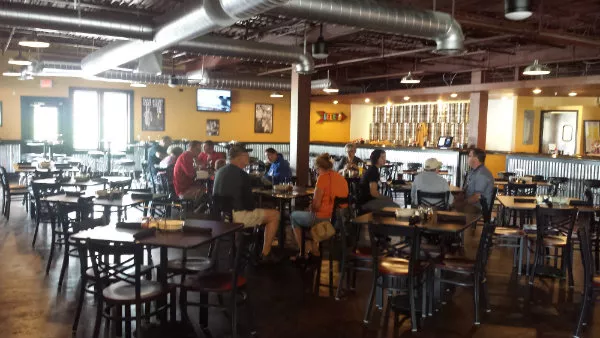 Photo by Samantha Dever
The space used to be a Fuddruckers, but you wouldn't know that looking at it now.
They gutted the entire dining room and rehabbed the bathrooms. They left the metal ductwork exposed and installed an expansive corrugated steel bar with a large, colorful arrow pointing the way to the beer — though the dozens of shiny steel kegs behind the bar might also provide a clue.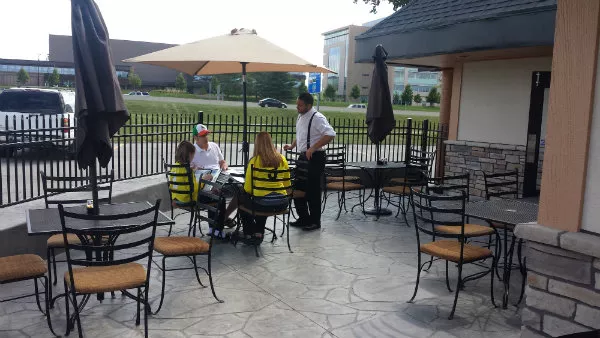 Photo by Samantha Dever
There's also a patio, for those who enjoy drinking al fresco.
Standard Brewing Company currently offers the pair's Klassisch Hefeweizen and Enigma IPA on tap. This month, they will be adding two new beers to their line-up, a Dry Irish Stout and an American Blonde Ale. For Harlan and Jones, who have several years invested in the art of craft brewing, this is just the beginning.
Photo by Samantha Dever
Standard offers a Hefeweizen and an IPA on tap.
"I have 100 beers developed...we've got a giant binder full of beer," Jones says. That's most impressive considering the humble beginnings of their relationship with beer several years ago — a Christmas present in the form of a "Mr. Beer Kit." From there, they continuously stepped up their game, graduating from "Mr. Beer" to using their fabricating backgrounds to create their own brewing systems.
"When we brew our beer, we want you to take our beer and say 'Hey, I want to compare everything else I drink to Standard Brewing Company,'" Harlan says. "We want to set the standard."
It was through the brewing community that Jones heard about a St. Louis pizza catering company, Pulse Pizza, that was making its own pizza dough using spent grains, or the pesky stuff leftover after the mash has extracted most of the sugars, proteins, and nutrients.
"They were doing oven takeovers because they didn't have their own place," Jones recalls. "I found one of the partners of Pulse Pizza through the brewing community more or less because he's actually a brewer also."
After that initial connection was made, sparks flew. "I couldn't get on the phone fast enough with the rest of my guys to tell them what I found. So then we went to one of their oven takeovers, tried the pizza, and it pretty much took off from there," he says. "We thought it was a perfect combo."
Spent-grain pizza dough is a bit, well, grainier than your average pizza dough. It's also a little denser, but still moist and crunchy. Ever since Pulse Pizza found a home at Standard Brewing Company, founder J.R. Gates has exclusively been using Standard Brewing Company spent-grains. Pulse gets different results depending on the grain that goes into the beer: a slightly darker crust or a slightly sweeter crust, for example. Keeps it interesting, Jones says.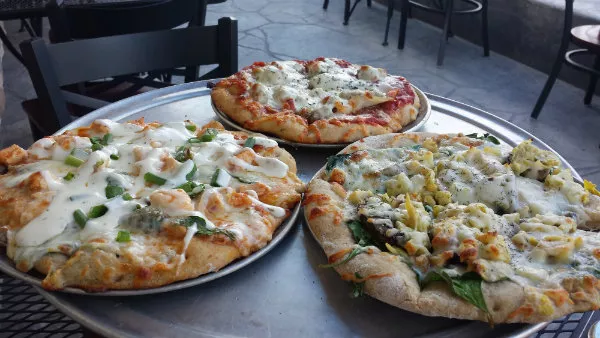 Photo by Samantha Dever
Get your pizza as a solo order — or indulge in a sampler flight with three eight-inch pies.
Can't settle on one pizza in particular? Never fear. At Standard Brewing Company, you can get a "sampler flight" of pizzas, three eight-inch pizzas of your choosing. The Italian Meat Party is a salty, savory masterpiece and the Cardunculus is redunculus, with fresh artichoke hearts and a lovely, thoughtful sprinkling of dill on the very top.
The Cardunculus a monthly special, so be sure to catch it before it is rotated out of the lineup.
We welcome tips and feedback. Email the writer at sjd889@gmail.com