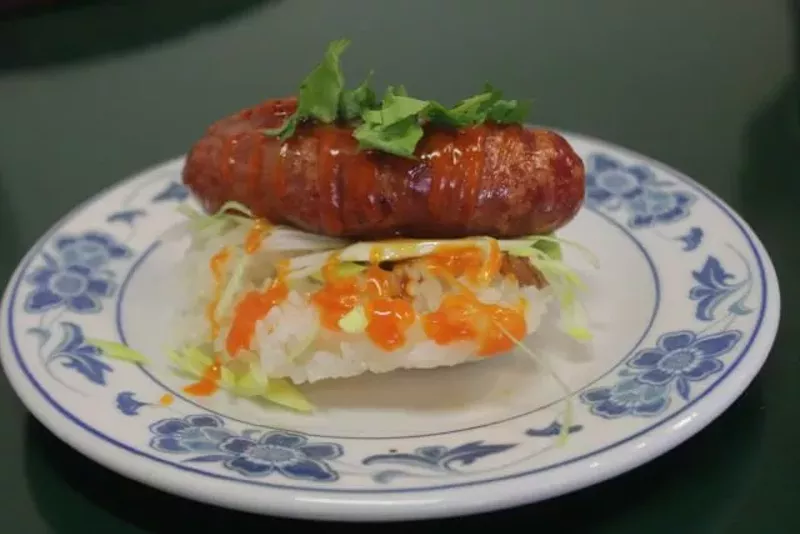 Photo by Sarah Fenske
Taiwanese sausage with sticky rice.
Consider, for a moment, the sausage "snack" served at
Tai Ke
(
8604 Olive Boulevard, 314-801-8894
), the Taiwanese restaurant that opened in a tucked-away University City strip mall a few weeks ago. It's a single plump sausage, served atop sticky rice and drizzled in sauce. It's presented nicely, but hardly seems exotic or inapproachable.
And yet it is insanely, marvelously delicious.
Juicy pork sausage seems ready to burst through its slightly crispy skin. The sticky rice beneath it is perfectly cooked — subtly sweet, glutinously textured. Gobbled up together, it makes for the Platonic ideal of a snack.
The menu at Tai Ke is filled with such delights. "Street food" has become incredibly trendy in cities like Los Angeles, and it's easy to see why — these small plates tend to be much tastier, and much more creatively composed, than most of what passes for Asian food in the U.S. And no one does street food than the island of Taiwan.
Photo by Sarah Fenske
Pork belly buns come two for $5.99.
The style of cooking you'd find at Taipei's famed night markets is on full display at Tai Ke. You can get the tasty Asian buns called bao, here filled with the most delicious pork belly. You can get rice cakes, tangy and savory with bits of mushroom and shrimp adding rich, salty flavor. You can get pork ear or duck wing or pig blood cake. This is food that uses all parts of the animal — and uses it brilliantly.
You don't need to order off the "snack" side of the menu to experience Tai Ke's flavorful presentations. The sizzling beef entree was a revelation, with moist strips of meat in a peppery sauce that brought out its full flavor. True to its name, it's brought to the table sizzling, and served with a side of rice.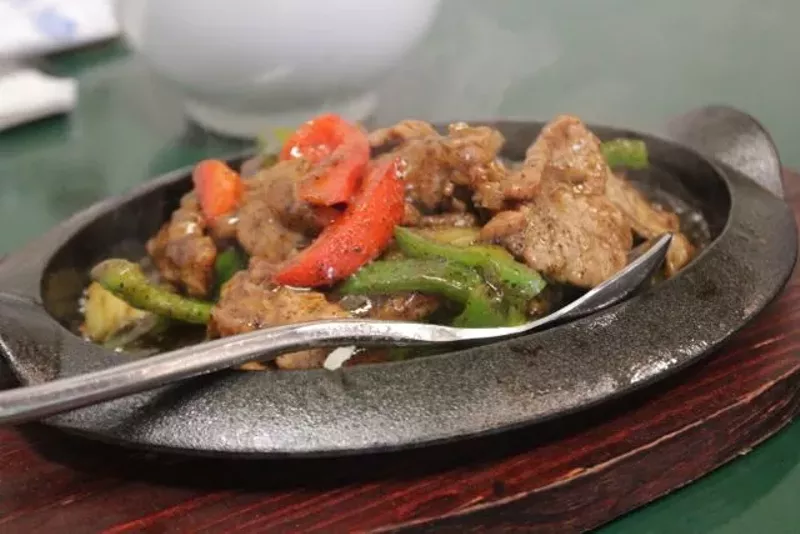 Photo by Sarah Fenske
The sizzling beef lives up its name — served in a pan hot from the oven.
The noodle dishes, too, don't disappoint. Taiwanese fried noodles were so much more than their simple description promised. They were tossed with a healthy serving of fatty pork belly and bamboo shoots. You'd be hard-pressed not to gulp down the whole thing.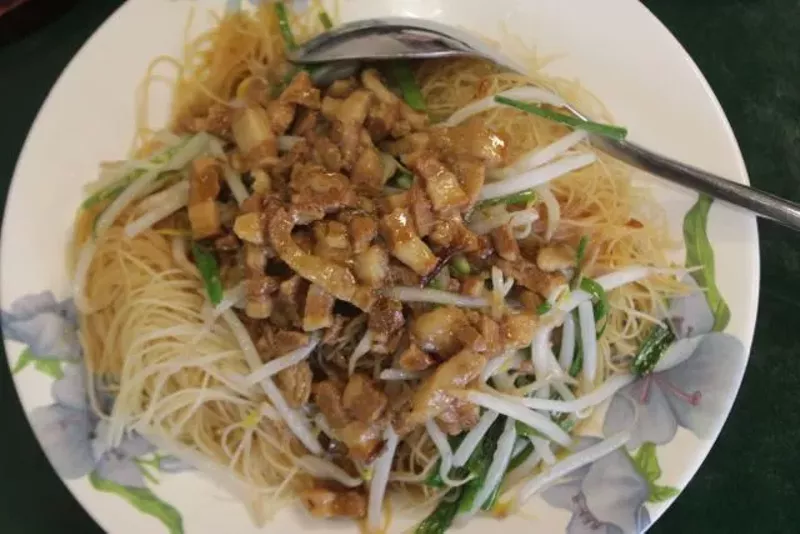 Photo by Sarah Fenske
The Taiwanese fried rice noodles, topped with bits of crispy pork and bamboo shoots.
Unsurprisingly, the bare-bones dining room is already packing in customers. During our recent visit, the room was filled, with big Asian families tucking into plate after plate even as smaller tables huddled over their chopsticks. Service was brisk, friendly and attentive — even though the number of tables would have flustered many servers, the two handling the room seemed not only up to the challenge, but cheerful about it.
The prices aren't nearly as cheap as you'd find in Taipei — or even in Los Angeles. Dishes in the "snack" part of the menu range from $3.99 to $7.99, and the bill can add up if you give in to your curiosity and order a wide assortment. The entrees are actually a cheaper way to go; not one tops $12.95, and the portions are generous.
Photo by Sarah Fenske
On a recent Saturday, the room quickly filled with families and couples.
Tai Ke isn't for everyone. If you prefer gloppy Americanized Chinese dishes to the real thing, if you're not an adventurous eater, you'd be wise to stay home. But if you'd like to get a crash course in the joys of street food and the wonders of Taiwan without having to leave the suburbs of St. Louis, you might want to hustle down to Tai Ke right away. This little restaurant won't stay an insider's secret for long.
We welcome tips and feedback. Email the author at sarah.fenske@riverfronttimes.com