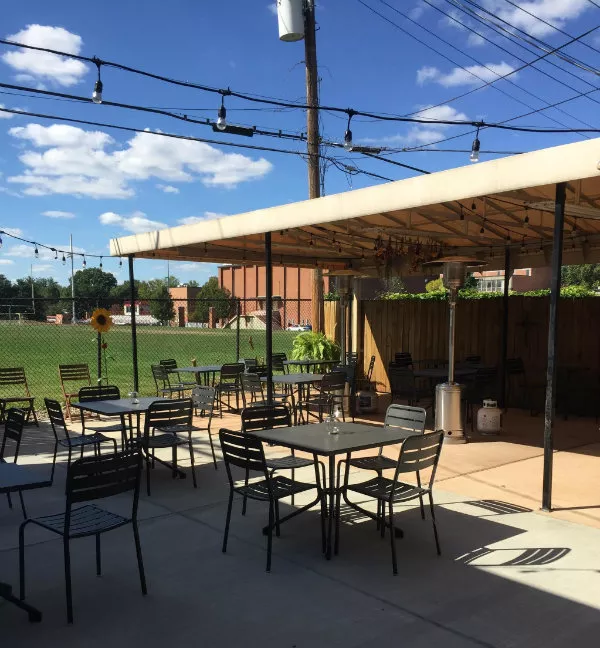 Photo courtesy of Matt Borchardt
A courtyard at Edible Essentials will seat 30 patrons.
A new market and cafe, Edibles & Essentials (5815 Hampton, 314-328-2300), is opening its doors in the St. Louis Hills neighborhood today.
The concept comes from Matt Borchardt, who serves as both owner and chef. He plans to offer an array of products — from charcuterie boards and meals to kitchen gadgets and olive oil. You can get a pre-made salad to go, or eat lunch or dinner on site. There are tables both inside and out, on the sizable patio.
The menu isn't large, but runs a surprising gamut. There's beet salad and a scallop appetizer, banh mi tacos and grilled cheese. The most expensive item, the brisket entree, is just $14.
Courtesy of Matt Borchardt
A refrigerated case will sell meats, cheeses and prepared salads, while vinegar, olive oil and barbecue sauce will also be sold retail.
Borchardt grew up in the Lindenwood Park area has previously worked at L'Ecole Culinaire, Frazer's and Cafe Provencal,
according to Sauce
.
He's opening his shop in the former Hampton Bakery, which closed more than two years ago.
Edibles & Essentials will be open seven days a week — 9 a.m. to 9 p.m. every day but Sunday, and then 11 a.m. to 4 p.m. on Sunday. For those seeking to dine in, the kitchen will open at 11 a.m. and will remain open throughout the day.
We welcome tips and feedback. Email the author at sarah.fenske@riverfronttimes.com

A previous version of this story referred incorrectly to the neighborhood where the market/cafe is located. We regret the error.