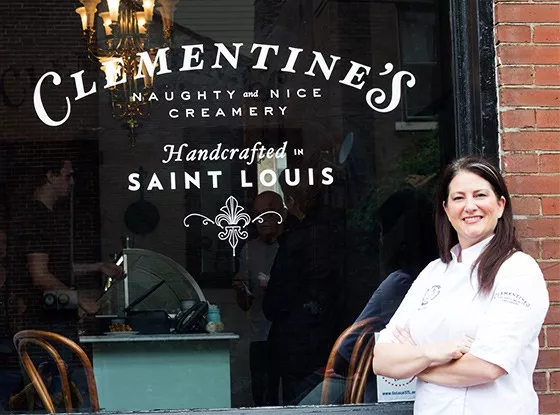 Photo by Mabel Suen
Clementine's Tamara Keefe is a social media superstar.
It's only been open since May, but
Clementine's Naughty and Nice Creamery
(
1637 S. 18th Street
) has already found more success than most businesses that have been open for decades — and we're not just talking about the micro-creamery's recent victory in our Best of St. Louis issue (although, yes,
there's that
). Owner Tamara Keefe tells us that the tiny storefront ice cream parlor has had close to 50,000 people come through its doors — and she's sold 10,000 pints of ice cream this year. That's a lot of scoops.
And it's not just St. Louis that's taken notice. Yelp, as it turns out, has spotted Clementine's as a business to watch.
Next month, the Internet company is flying in 100 entrepreneurs for an expenses-paid trip to its San Francisco headquarters, and Keefe is one of them. The gathering, the first of its kind, will celebrate businesses with a great reputation in their community, says Corey Dane, Yelp's manager of local business outreach.
Clementine's has already notched 106 reviews on Yelp — and maintains a 4.5 rating. "It's clear Tamara has built a stellar business in Saint Louis, and in a short amount of time," Dane says.
The people attending, Dane says, are people who get social media — and, when it comes to Yelp, "consider 1 and 2 star reviews feedback, not fightin' words. They represent a wide range of categories, experience levels and years in business, and the one thing that unites them, is their steadfast desire to build a robust business in their local market."
Keefe sees her selection as a victory for her adopted hometown. "I really do enjoy putting ice cream and St. Louis on the national foodie scene," she says.
Clementine's profile is likely to be raised even higher within the next month — that's when Whole Foods will start selling Keefe's ice cream. And if you think 10,000 pints is a lot, just wait. You ain't seen nothin' yet.
We welcome tips and feedback. Email the writer at sarah.fenske@riverfronttimes.com