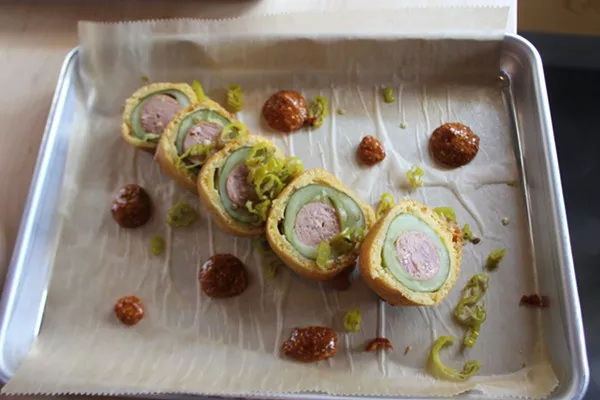 Photo by Cheryl Baehr
The "tickled pickle," on offer at Byrd & Barrel
How great of a month was September? We got a huge new burlesque-themed place, Seven Zero Eight, down in Laclede's Landing. (Remember Laclede's Landing?) We got a toast shop. (Take that, San Francisco!) And, finally, we got the food item this city has long been waiting for: The Tickled Pickle, which is basically a deep-fried pickle stuffed with a hotdog. Thank you for that, Bob Brazell.

Below is our list of September's openings and closings. Did we miss anything? Let us know in the comments section. Anything good opening in October? Let us know about that too. And 'til then, we have two words for you: TICKLED PICKLE.
Openings:
Brasilia
(
3212 S. Grand, Tower Grove
)
Byrd & Barrel
(
3422 S. Jefferson, Cherokee District
)
Milque Toast Bar
(
2212 S. Jefferson, McKinley Heights
)
Reeds American Table
(
7322 Manchester, Maplewood
)
Robata
(
7260 Manchester, Maplewood
)
Seven Zero Eight
(
708 N. 2nd, downtown
)
Shelly's in Soulard
(
2001 Menard, Soulard
)
Standard Brewing Company
(
12322 Dorsett, Maryland Heights
)
Sugarfire Smoke House
(
932 Meramec Station Road, Valley Park
)
Tai Ke
(
8604 Olive, University City
)
Union Loafers
(
1629 Tower Grove Ave., Botanical Heights
)
See also: Seven Zero Eight, New Burlesque Club, Now Open in Laclede's Landing
Closings:
Bocci Wine Bar
(
16 N. Central, Clayton
)
Casa del Mar
(
1137 St. Louis Galleria, Brentwood
)
Ricardo's
(
1931 Park Ave., Lafayette Square
)
See also: Milque Toast Bar Brings Toast and, Yes, Milk to South St. Louis

See also: First Look: Byrd & Barrel Now Open in South City

See also:
Union Loafers Bakery and Bar to Open Soon in Botanical Heights

See also:
RIcardo's Closing After 21 Years in Lafayette Square

We welcome tips and feedback. Email the author at sarah.fenske@riverfronttimes.com