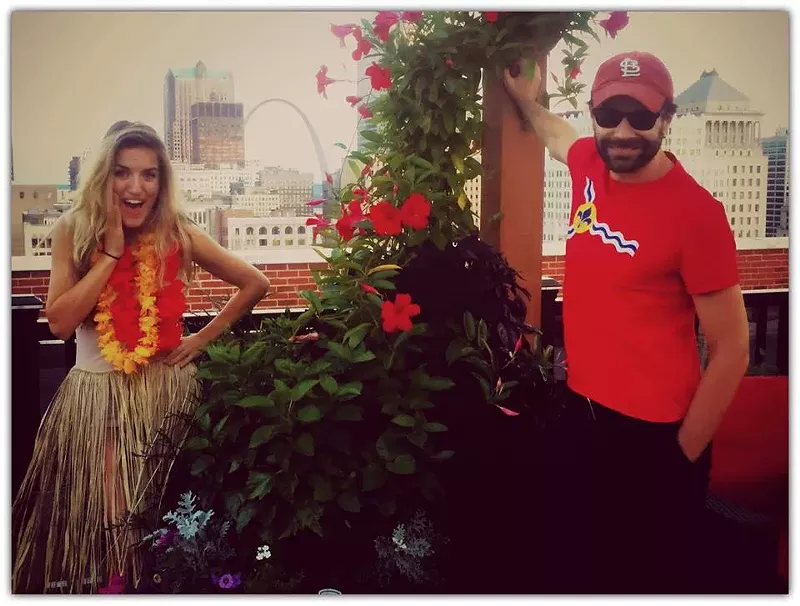 Courtesy of Curt Copeland and Dana Kay Goddard
Dana Kay Goddard and Curt Copeland are in a luau state of mind.
It started out as one of those back-of-the-napkin ideas: Why not open a Cardinals-themed bar — and why not make it a tiki bar to boot? Now 96.3's morning show host Curt Copeland and his girlfriend Dana Kay Goddard didn't take their concept too seriously until they started sharing the idea with friends.
"Everyone we talked to — friends, restaurateurs, everyone — said it was a great idea," says Copeland. "That's when we saw that we were really onto something."
And by something, they mean St. LOUau (get it?), a Cardinals-themed tiki bar that will be located at a yet-to-be disclosed location.
Copeland and Goddard plan to launch a Kickstarter crowd-funding campaign October 7 to secure the funds necessary to open. The campaign will run until November 11, and if the pair reach their funding goal, they plan to start pouring rum-heavy drinks by opening day of 2016.
"I've always wanted to open a bar, and I chose tiki because it is my favorite kind of bar," Copeland explains. "It's going to be like that Trader Vic's 1970s vibe — borderline tacky with all of the classic tiki drinks." As for the Cardinals connection, Copeland says that he wanted the place to be much more than just a bar, but a way to express his love for the Gateway City. "And I'm the biggest, most ridiculous Cardinals fan," he laughs.
Copeland and Goddard envision St. LOUau as a destination style entertainment complex — somewhere with live music, a festive atmosphere and cheap food and drinks. "We want people to come here not because it is just a bar or a place to eat but because of the experience," Goddard notes. "We are banking on volume. We'll have live music every night and happy hour pricing all of the time. It's going to be a place where you know you are getting a deal."
St. LOUau will have all of the classic tiki drinks, such as mai tais and zombies, as well as eleven different food offerings. "We chose eleven because of the Cardinals' eleven World Series wins," explains Copeland. When asked what happens
if
when the Cardinals add another title, Copeland assures that he will add to the menu. Expect to see St. Louis classics with a Polynesian twist, such as Hawaiian-style toasted ravioli, pork steaks and pineapple gooey butter cake. The pair also plan to feature every St. Louis craft beer on tap.
Copeland and Goddard also plan on incorporating a philanthropic element into their business plan. "We're calling it the LOUau Love Fund," says Goddard. "Every day we will have a special menu item, and a portion of those sales will go to a different charity each month." We're also going to have a private room called the Dugout where charities can host fundraising events. We will give them a good deal on food and won't charge them a room rental fee. And whatever they raise at the event, we will match it."
The pair see their Kickstarter campaign as a way to not only enlist support but to gauge how excited the community is about their concept. And they plan to offer a slew of incentives for people to contribute, including having one's name placed on the wall of the restaurant.
"We see this as being the destination place for St. Louisans to visit," says Copeland. "I love this city so much and can't think of a better way to show that."