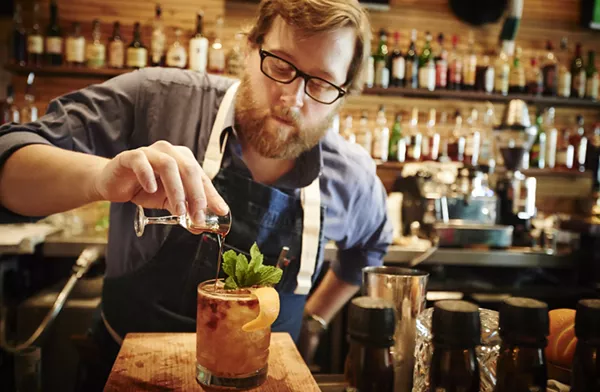 Greg Rannells
Jeffrey Moll of Randolfi's.
Jeff Moll of Randolfi's (6665 Delmar Blvd., 314-899-9221) is one of the most respected bartenders in town. His cocktail lists are inspired, and his drinks manage to share (and sometimes steal) the spotlight from the exceptional food of genius chef Mike Randolph.

And this is his first bartending gig. "Really, I this is something that I lucked into," Moll humbly explains. "I was in the right place at the right time."
That right place was Half & Half, Mike Randoph's daytime spot that has served as an incubator for the chef's more ambitious concepts. Moll began his career with Randolph working as a server at Half & Half, though he knew he didn't want to do that job forever.
"I have a fine arts background so I was looking for a creative outlet," recalls Moll. "I hadn't really given a lot of thought about what I wanted to do. I actually considered going to school for baking — which is very similar to cocktails because of all of the math."
Randolph let Moll know that he was interested in opening an upscale, Mexican-inspired concept called MEDIAnoche. The restaurant would open during the evenings inside of Half & Half and have a world class bar program. Moll instantly suggested his friend Seth Ferguson for the gig. Though Moll had never worked behind the bar before, he shadowed Ferguson, quickly picking up the cocktail craft. When Randolph decided to turn MEDIAnoche into the acclaimed Little Country Gentleman, he handed the bar's reins to Moll.
"In a way I feel like I have to work extra hard because I feel like I didn't pay my dues," Moll admits. "Most bartenders start out as bar backs and work their way up before they become bartenders. I was lucky to be given this opportunity right away."
Moll keeps a book of every drink he's ever made and admits that there were some real flops at first. But it wasn't all misfires. He realized he had a knack for the craft when he came up with "Westbound" (now called the "No. 26"), a McCarthy's single malt whiskey-based libation mixed with Dow's ten-year tawny port, amaro nonino and Fernet Branca. "That was the first drink I was really proud of."
He's now filled four books with his concoctions and, though he's been featured in national publications and recognized as a preeminent spirits professional, he doesn't really believe it. "If one day in the future somebody talks about something I've made in the same way they talk about [Planter's House's] Ted Kilgore, then I will feel like I've made it."
Moll took a break from making his signature shrubs (fruit juice-fortified vinegar) to share his thoughts on the St. Louis food and beverage scene, the bars you'll see him at when he's not behind his own, and why he is way cooler when he is working.
What is one thing people don't know about you that you wish they did?
I am immeasurably more shy and quiet when I'm not working. When I'm behind the bar, I could talk your ear off about cocktails, but I'm pretty reserved otherwise. I'm way cooler when I'm working.
What daily ritual is non-negotiable for you?
Morning (or whatever version of it I have) music, making coffee and writing. It helps me leave all the stuff that I shouldn't take with me at home.
If you could have any superpower, what would it be?
As a neurotically introspective person, it would be to turn back the clock 24 hours.
What is the most positive thing in food, wine or cocktails that you've noticed in St. Louis over the past year?
In general, I've noticed a greater reverence and appreciation for what people are doing. Diners/drinkers are being more adventurous. Those behind a stove or bar are there to guide your experience every step of the way and help let you know that everything is going to be OK. A few years ago, I found that people would look at a food or drink menu with belittlement and confusion, but now they ask questions and are excited about the unknown. The nature of the chefs/cooks/bartenders/sommeliers were progressing at a rate that the average diner/drinker seemed to have trouble keeping up with, but now I think we're starting to match pace — and that's really cool.
Who is your St. Louis food crush?
My spirituous (quite literally) crush, I think is Matt Osmoe. Really, that whole gang at Blood and Sand. Early in my career, my interests gravitated toward the more gastro, molecular, nerdy side of cocktailing. The team there is among the few that have been using science and the kitchen facilities to develop drinks, but still execute in the most proper way.
Who's the one person to watch right now in the St. Louis dining scene?
Ted Wilson. He's opening his own place (Union Loafers) very soon, and the way that I hear him talk about bread and fermentation is astonishing. There aren't many people that pour every ounce of themselves into what they do and understand what they're creating on such an intimate level.
Which ingredient is most representative of your personality?
It would also coincidentally be my favorite ingredient: amaro. It's dark and bitter, but there's more there that you're bound to love if you're willing to look.
If you weren't working in the restaurant business, what would you be doing?
Probably something in engineering or architecture. My formal education background was focused around the fine arts and drafting.
Name an ingredient never allowed in your kitchen.
St. Germain. In all seriousness, its a really delicious thing, but it's really the Game Genie of spirits. I need to keep myself challenged to keep progressing.
What is your after-work hangout?
The Royale. It's sort of my Cheers. Great beer list, comfortable & friendly faces behind the bar. After making negronis all day, the one you don't make yourself is always the sweetest, and The Royale never disappoints.
What's your food or beverage guilty pleasure?
Cheap macaroni and cheese topped with canned chili and hot sauce.
What would be your last meal on earth?
The largest possibly imaginable hamburger with a real funky cheese, grilled onions and mushrooms. Fried potatoes on the side. A 32oz can of Miller High Life and a glass of Oloroso sherry to wash it all down. For dessert, I would have a Tupperware bowl of Cinnamon Toast Crunch.
Editor's Note: A previous version of this story gave the wrong name for Moll's first great cocktail. It is the "Leftbound." We regret the error.
We welcome tips and feedback. Email the writer at cheryl.baehr@riverfronttimes.com.