Cheryl Baehr
Chef Bob Brazell and his "byrd."
The wait is over: Bob Brazell's hotly-anticipated Byrd & Barrel (3422 S. Jefferson Avenue) opened Friday to throngs of patrons eager to get a taste of his soon-to-be-famous fried chicken.

Officially, the restaurant has been more than a year in the making, though Brazell has been tossing around the idea for the fast-casual and drive-through chicken and bourbon shack even longer than that. A veteran St. Louis chef (his resume includes Monarch and Prime 1000), Brazell announced his plans for Byrd & Barrel shortly after his departure from the health conscious Athlete Eats.
Located just down the street and around the corner from that Cherokee Street restaurant, which has since been christened Revel, Byrd & Barrel resides in a repurposed Popeye's Fried Chicken. Brazell and company completely gutted the space — aside from the roof and the four walls, everything was completely redone. A reclaimed wooden bar stands where a fast food counter once did, and rustic banquettes replace the laminate Popeye's booths.
Cheryl Baehr
Byrd & Barrell is now open on S. Jefferson Avenue.
Though billed as a fast-food restaurant, Byrd & Barrel offers full service either inside at one of its handful of tables or out front on the large patio. Drive-through service is expected to begin this week, and the restaurant expects a robust take-out business.
Aside from their shared Cherokee Street business district addresses, Byrd & Barrel has little in common with Brazell's former nutrition-oriented employer. His new fried chicken joint is a study in edible guilty pleasures. The poutine appetizer sees fluffy, housemade tater tots topped with cheese curds, pulled pork, scallions and a choice of chicken or mushroom gravy. Brazell's taste for whimsy is on display with items such as Kool-Aid pickles (yes, those are pickles rubbed with Kool-Aid mix) and the "Tickled Pickle," a hot-dog stuffed inside of a hollowed out dill pickle, then coated in batter and deep-fried.
Cheryl Baehr
The poutine is made with from-scratch tater tots, pulled pork, cheese curds and chicken gravy.
Byrd & Barrel's fried chicken is brined, coated in a peppery breading and cooked in a pressure fryer. The result is succulent meat with a delicately crisp coating. It can be ordered by the piece or as a two, six or twelve piece combination. Sides, such as mac & cheese and mashed potatoes are served a la carte.
Byrd & Barrell is currently open from 11-1:30 a.m., seven days a week. The restaurant has applied for its 3 a.m. license, so expect a place to sate those late-night fried food cravings when the bars on Cherokee Street close.
Click through for more photos.
Cheryl Baehr
The fried chicken po' boy.
Cheryl Baehr
Byrd & Barrel's fried chicken is brined and cooked in a pressure fryer.
Cheryl Baehr
The "Tickled Pickle" is a hot dog stuffed in a dill pickle.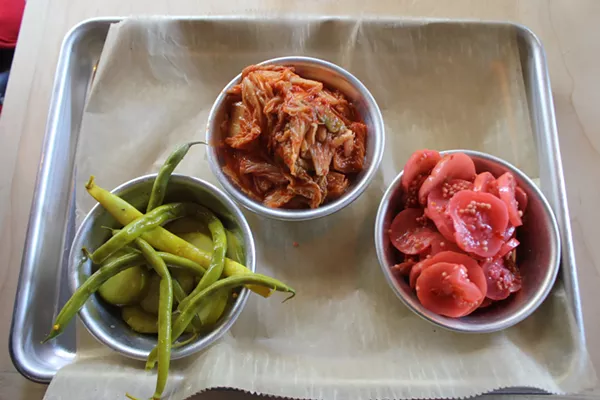 Cheryl Baehr
Housemade pickled green beans, kimchi and Kool-Aid pickles.
Cheryl Baehr
Byrd & Barrel.