Would you like a view with that? It's been proven: a delicious meal tastes even better when paired with gorgeous scenery. From soaring vistas to tree-filled parks, we've rounded up our favorite places to dine in St. Louis that offer more than just delicious fare. Get there now while the weather is still nice — or make a reservation to enjoy the view as fall foliage bursts into color.

See Also:
The Best Rooftop Patios in St. Louis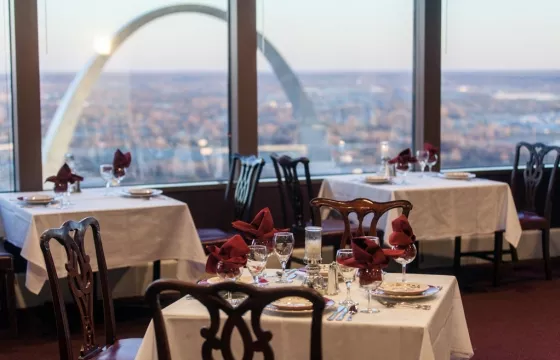 Kemoll's | image courtesy of Kemoll's

Kemoll's
(211 North Broadway; 314-421-0555)
Kemoll's
, a St. Louis establishment since 1927, relocated from the ground floor to the top of the Metropolitan Square building a few years ago and now boasts 360-degree views from its 42nd-floor site overlooking the Gateway Arch and the Mississippi River. Indulge in hearty Sicilian Italian family recipes and a glass of wine from the extensive wine list.
Panorama | image courtesy of Panorama

Panorama
(1 Fine Arts Drive; 314-721-0072)
The name says it all.
Panorama
offers nothing less than sweeping views of Forest Park through its floor-to-ceiling windows overlooking Art Hill. Inspired by the culinary traditions of France and Italy, executive chef Ivy Magruder has developed a menu that reflects both the unique culture of the city and the worldly art on exhibition at the St. Louis Art Museum.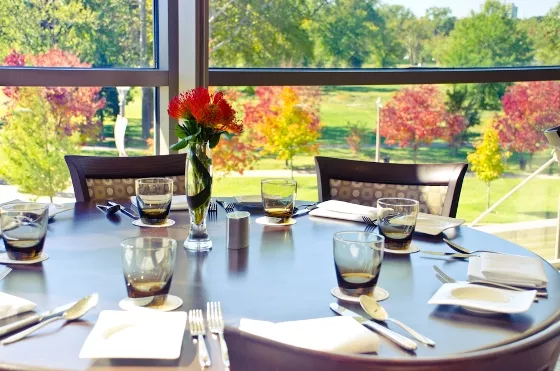 Bixby's | image courtesy of Bixby's
Bixby's
(5700 Lindell Boulevard; 314-361-7313)
Bixby's
, located on the second floor of the Missouri History Museum, isn't your typical museum eatery. Gorgeous views of the Forest Park tree line are framed by south-facing floor-to-ceiling windows and can be enjoyed for lunch Monday through Saturday and brunch on Sunday.
<!—————StartFragment—————>
Turn the page for more amazing views at St. Louis restaurants.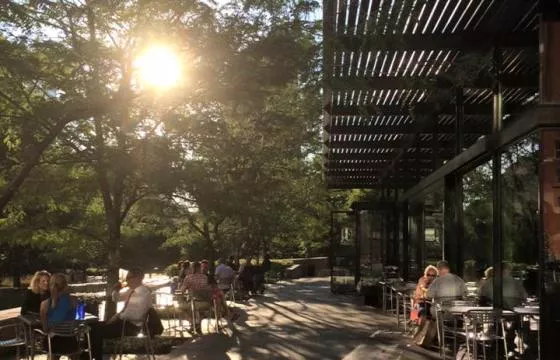 Death in the Afternoon | image courtesy of Death in the Afternoon
Death in the Afternoon
(808 Chestnut Street; 314-621-3236)
The all-glass-clad
Death in the Afternoon
brings the outside in with its views of the unique and City Garden and downtown St. Louis. Savor some of the best ramen around, grab a Cubano or a grass-fed burger, or even come for dinner now and feast on meatballs. (Yes, meatballs — that's the menu now that they've launched evening hours.) Don't forget to save room for the walnut cream cheese brownie baked with Civil Life American Brown Ale.
The Boathouse | Sara Graham
Boathouse in Forest Park
(6101 Government Drive; 314-367-2224)
Watch paddleboats traversing Post-Dispatch Lake at the
Boathouse in Forest Park
in view of the majestic St. Louis Art Museum. Grab a burger or pizza and linger over a drink while watching the sun set over the water.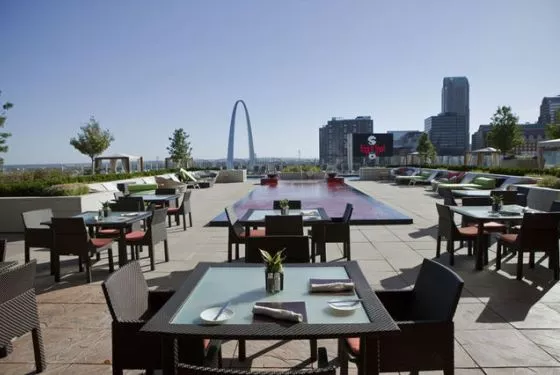 Cielo Restaurant & Bar
(999 North 2nd Street; 314-881-5800)
Indulge in the modern Italian menu at
Cielo Restaurant & Bar
's elegant rooftop, outside or in, at the Four Seasons hotel. Executive Chef Gian Nicola Colucci draws from his roots in Turin, Italy and executes each dish flawlessly, worthy of the exquisite view.
Turn the page for our final four favorites, including one in Metro East.
Cafe Madeleine | image courtesy of Cafe Madeleine
Café Madeleine
(4256 Magnolia Avenue; 314-575-5658)
Café Madeleine
is located in the Piper Palm House in Tower Grove Park, overlooking a majestic lily pad pond and the mock ruins and fountain just beyond. A French-inspired brunch is served every Sunday, featuring an omelet station and the restaurant's namesake — the traditional French Madeleine.
India Palace | Ben Shakman
India Palace
(4534 North Lindbergh Boulevard, Bridgeton; 314-731-3333)
India Palace
's airport location sits at the top of the Airport Plaza and overlooks air traffic from Lambert International Airport from eleven floors up. The food is some of the best Indian cuisine in the city and the décor is a delight, as well — reminiscent of 1990s-era fine dining with faint hints of a tiki bar.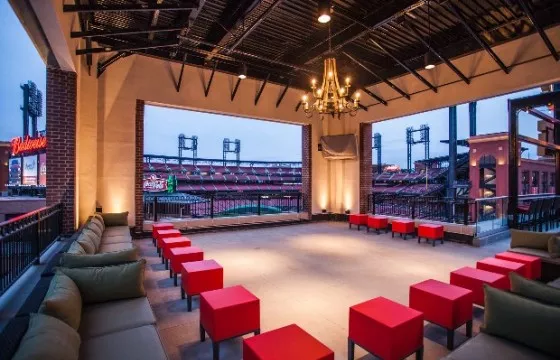 Budweiser Brew House | image courtesy of Budweiser Brew House
The Budweiser Brew House
(601 Clark Avenue; 314-241-5575)
The rooftop deck at the
Budweiser Brew House
offers an excellent view into the St. Louis Cardinal's Busch Stadium. Enjoy an expanded beer selection of 239 beer taps or serve yourself from a 21-foot tap wall. Dine from a menu of beer-paired plates, such as wings, lobster tacos and St. Louis-style ribs.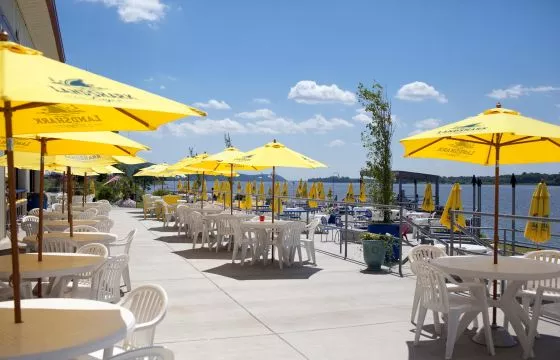 The Loading Dock | Amanda Zika @ Dreaming Tree Photography
The Loading Dock
(401 Front Street, Grafton, IL; 618-786-3494)
The Loading Dock
offers a unique waterfront dining experience accessible by both boats and walk-ins at the confluence of the Mississippi and Illinois Rivers. The small menu offers all you could ever want from a casual bar – burgers, fries, wings and even catfish fritters. The restaurant is now open year-round and debuts an ice skating rink in November.
Follow Sara Graham on Instagram and Twitter at @engagetaste. E-mail the author at sara@engagetaste.com.