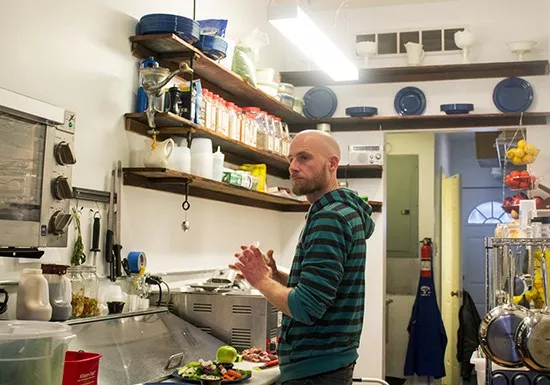 Mabel Suen
The Little Dipper's chef and owner Jason Paul.
Jason Paul of the Little Dipper (2619 Cherokee Street, 314-625-3530) admits that he came to cooking out of necessity. "It's no secret that my mom doesn't cook," he says. "She'll tell you as much. To give you an idea, one time she was cooking two gooey butter cakes for a party and forgot to add the butter."


Fortunately, Paul and his mother spent the first thirteen years of his life living with his grandmother, who taught him basic dishes. "She showed me how to do very simple things, like cook eggs," Paul recalls. "When my mom and I moved out, I had to make meals for myself all of the time — my mom worked a lot as a computer programmer. I got sick of cooking frozen microwave dinners, so I decided to experiment."

The first test of his culinary skills didn't go so well. Paul saw a package of ground beef in the freezer and decided to make hamburgers. He thawed the beef underwater, put it in the pan without any seasoning, and started stirring it around. "This tells you where I was at," Paul laughs. "I just dumped the meat in the skillet. I guess I thought it was going to form itself or something, but I ended up with this pan of brown mush. That's when I knew I had to figure this out. It was my jumping-off point." 


Paul took odd jobs on the periphery of cooking — making custard at a custard shop, cooking at snack bars — until he had an opportunity to cook at a big box store's cafeteria. "I has a job as the cart guy, and they asked if I wanted to pick up some shifts at their snack bar," Paul explains. "They prepared simple food, but there were these two older women who showed me how to do some basic stuff. Before them, I didn't know the difference between cooking on high and low temperatures. I thought 'high' meant it cooks fast and 'low' meant slow." I just cooked everything on high."
After five years working mainly front-of-house at Hammerstone's in Soulard, Paul found himself with a full-time gig in the chemical soap business owned by the Hammerstone family. It was his job to sell cleaning products to the city's restaurants. "Denny Hammerstone owned the company, and it was a great job. I loved the people I worked with, I made good money and had a lot of freedom," Paul explains. "But I kept finding myself in some of the best restaurants in town, and it really made me realize that I needed to do something that was more fulfilling and creative."
Paul knew he had to put in his notice with the soap company, but it wasn't that easy. His girlfriend is Hammerstone's daughter, and they were basically family. "It was really hard," Paul says. "I felt like I was letting down my family, but I had to do it." 
A few months after quitting, Paul got a call from a friend saying that the little shotgun space on Cherokee Street that he had always been eyeing for a possible sandwich shop came up for rent. Within days, he had toured the space, signed the lease and began making sandwiches for hungry south-city revelers. Still, Paul doesn't forget how it all started. "My friends and I, we were all kids of broken marriages. This is what helped us stay fed and out of trouble."
Paul took a break from making his signature hot Italian beef sandwich to share his thoughts on the St. Louis food and beverage scene, 
What is one thing people don't know about you that you wish they did?

I'd rather be fishing.
What daily ritual is non-negotiable for you?

Work.
If you could have any superpower, what would it be?

The ability to stop time.
What is the most positive thing in food, wine or cocktails that you've noticed in St. Louis over the past year?

I'm into the accessibility of some of the new spots. I like places I can take my mom. It's really cool that some of the city's best chefs have these everyday kind of spots. It seems very organic and it makes St. Louis a cooler place.
Who is your St. Louis food crush?

Right now it's
Supermarcado el Torito
on Cherokee. I waste too much time there. 
Who's the one person to watch right now in the St. Louis dining scene?

Word on the street is that Byrd and Barrel is coming soon, so I've gotta go with chef Bob [Brazell] and his crew. 
Which ingredient is most representative of your personality?

Sugar. It will make you fat. 
If you weren't working in the restaurant business, what would you be doing?
I guess I'd be a hobo. 
Name an ingredient never allowed in your kitchen. 

Never say never.
What is your after-work hangout?

Home. It's where the girls are. 
What's your food or beverage guilty pleasure?
Stag. I have a lot of guilt.
What would be your last meal on earth?

My grandma Irvin's fried chicken and cucumber salad. I haven't had it in 25 years and I can still taste it. 
Follow Cheryl Baehr on Twitter at @CherylABaehr. E-mail the author at Cheryl.Baehr@RiverfrontTimes.com.
---