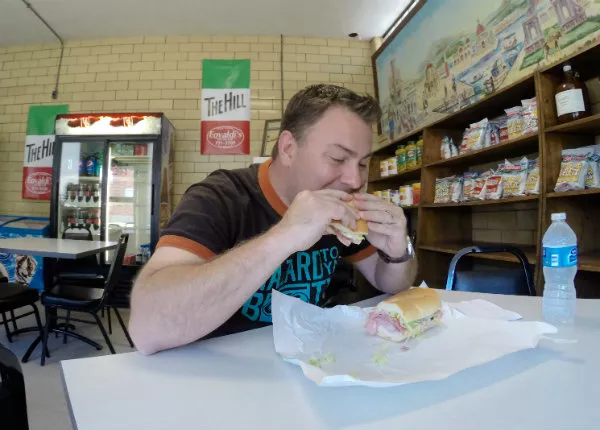 Photo courtesy of Justin Bruegenhemke
Justin Bruegenhemke is the king of the Hill — or at least its sandwich offerings.
Justin Bruegenhemke is a man on a mission. The self-described "Dutch-German, displaced-Southerner living in an Italian neighborhood" is more than halfway to his goal of eating all 159 sandwiches on the menus of nine delicatessens and sandwich shops on The Hill.
Bruegenhemke is a software salesman by day, foodie by night. His passion for food led to his sandwich sojourn, which he's calling The Hill Topper Project. "Whether barbecue, bourbon, or sandwiches, all of which I'm a little geeky about," he tells Riverfront Times, "people would ask me 'What's the best one?' I always replied, 'Well, I don't know – I haven't had them all yet.' So one day, I decided I would eat them all."
By "all," he doesn't quite mean all. That would be impossible. He's limited himself to delis and sandwich shops in St. Louis' Italian neighborhood. More traditional restaurants on The Hill, even if they have sandwiches on the menu, are not included. But that still leaves numerous options – the sandwiches at Adriana's, Amighetti's, Gioia's, Mama Toscano's, Joe Fassi Sausage & Sandwich Factory, Southwest Market, Eovaldi's, J Viviano's, and Urzi's.
"As with most kids that grow up in St. Charles County, my first memory of The Hill was of my parents drinking monster fishbowls of beer while I dunked toasted ravioli in marinara at Rigazzi's," Bruegenhemke says. Now that he lives in the neighborhood, though, he knows it has much more to offer. And while his project is mainly about his love of sandwiches, he also hopes to bring a little much-needed traffic to his neighborhood delis, as business has slowed with the recent closure of the Kingshighway bridge.
He has a few contenders for best sandwich on The Hill, but isn't sharing his favorites until the project is complete. Does Bruegenhemke know what sandwich will be number 159? "I just told Alex at Gioia's," he says, "that The Hogfather, a brand new addition to their secret menu, will be the 159th."
Courtesy of Justin Bruegenhemke
Bruegenhemke orders the sandwiches exactly as they are on the menu – no modifications. He isn't a fan of mayonnaise, but that hasn't been an issue thus far. Few sandwiches on The Hill come with mayo.
He rotates restaurants and orders whichever sandwich catches his eye each day. Even as he's nearing the century mark of sandwiches, he hasn't gained any weight. (His wife is supportive of the endeavor, but insisted that he check his cholesterol at the halfway point.) You can follow him on Twitter and Instagram @jbruegs and The Hill Topper Project on Twitter @HillTopperStL.
What has he learned from eating so many sandwiches? "If the question is 'Toasted on garlic cheese bread?', the answer is always 'Yes,'" he says. Words to live by.
Johnny Fugitt is no stranger to eating challenges as he visited 365 barbecue restaurants across 48 states to write The 100 Best Barbecue Restaurants in America.