Photo by Sarah Fenske
Bibimbap with chicken (beef is also an option) at Fleur de Lilies.
Any number of restaurants in St. Louis can boast good etouffee. But good etouffee and good bibimbap? That's a bit more unusual.
Fleur de Lilies
(
1031 Lynch Street, 314-932-5051
) opened almost two weeks ago in the Soulard spot that previously held the much-loved Sage (and more recently, and less successfully, Gusto's 314). And it's attempting just such a mash-up — with a menu combining Creole favorites like po' boys and frog legs with Korean classics like kalbi, which are Korean-style barbecue short ribs. Oh, and did we mention there's sushi, too?
Fittingly, the restaurant is the brainchild of Misha Sampson, whose heritage is Creole, and Alexis Kim, whose is Korean. As
St. Louis Magazine reported
, Kim was previously a sushi chef, which explains its inclusion the menu. She is also an owner of BBC Cafe in the Central West End.
Photo by Sarah Fenske
Shrimp po'boy with fries.
Most of what's on offer is less fusion than individual entrees from the two cultures. For the most part, you won't see Creole notes in the Korean offerings or Korean notes in the Creole ones. The bibimbap is a classic version, with spicy kimchi, vegetables and your choice of protein unified by the expertly cooked egg and gochujang sauce that flavors it, all tossed in rice. The po'boys, too, are utterly traditional — but supremely well-executed. Fat juicy shrimp are lightly fried in a cornmeal dusting and served with pickles, iceberg lettuce and tomato on a soft French baguette.
The same cornmeal coats the fried tomatoes and pickles — it's not a generous portion, but the appetizer is expertly prepared. It also shows up on the frog legs, which are incredibly large. (Where do they get frogs that big?) They're also quite tasty.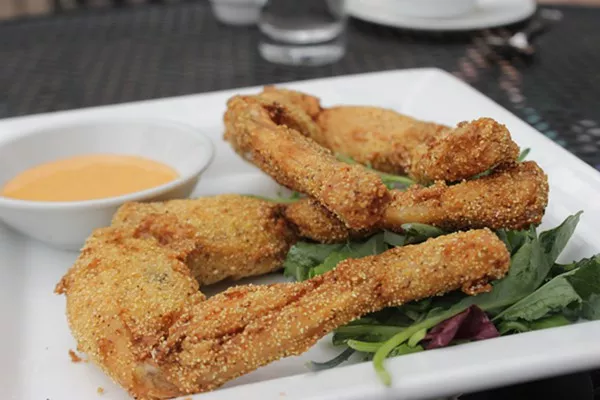 Photo by Sarah Fenske
Frog legs, served on a bed of peppery arugula.
Turn the page for more photos and menu highlights.

The burger is one of the few dishes where several influences are at play at once. There's a pretzel bun, while the meat is Wagyu beef topped with kimchi and a sesame-rich sauce. Fries, dusted with Parmesan, are served on the side. It's a delicious combination.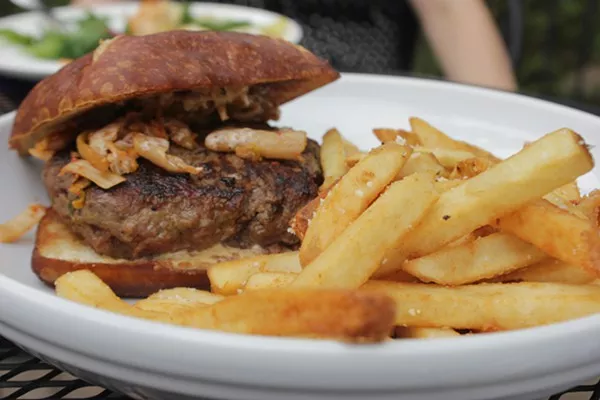 Photo by Sarah Fenske
The burger, served on a pretzel bun.
Fleur de Lilies has a lot going for it. The space is lovely, with clean, contemporary lines. It looks like not much has changed in the interior since its days as Sage — and that's not a bad thing. It also has one of the loveliest patios in town.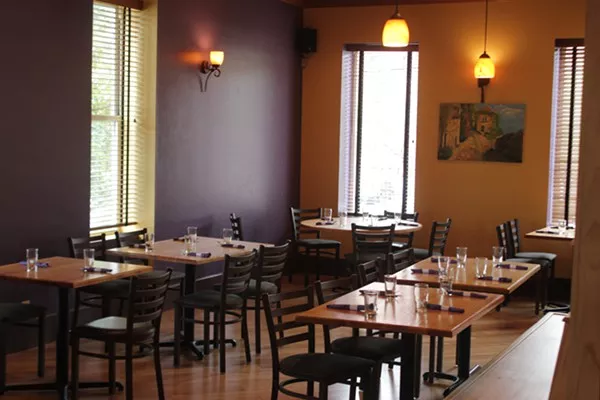 Photo by John Schoemehl
The main dining room at Fleur de Lilies.
But while the service was extremely pleasant and personable on the day we visited, the kitchen seemed utterly unprepared for even the few tables in attendance. We waited far too long for our appetizers — and then they came out individually with long pauses in between — not ideal when we'd made it clear we wanted to share them. Same thing, unforgivably, for our entrees. Our server was apologetic ("the kitchen is usually not like this"), but it was hard to appreciate the good food we were being served when we found ourselves eating one at a time.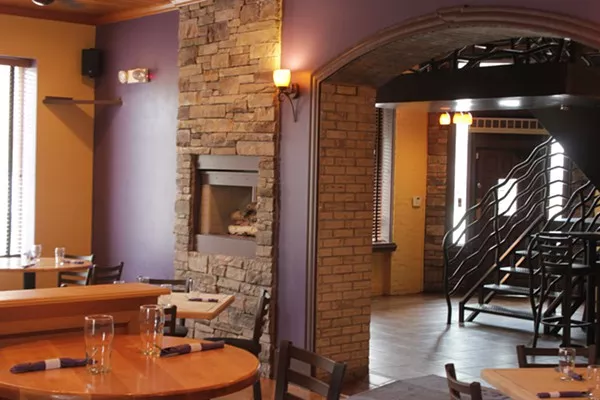 Photo by John Schoemehl
A striking staircase is a focal point in the dining area.
Based on our server's apologies, it's clear Fleur de Lilies knows it has kinks. And Soulard denizens should hope the restaurant can work them out soon. The space is too lovely to sit empty. And the idea of good Korean food — and sushi! — in a part of town that's dominated by American and French offerings is intoxicating. That there's also excellent Creole renditions on offer only makes the place all the more promising.
We welcome tips and feedback. Contact the writer via email at sarah.fenske@riverfronttimes.com.