Courtesy of Capitalist Pig
No — these aren't ribs. Smoked Tempeh at Capitalist Pig
You've heard of Catholic guilt. Let me introduce you to vegetarian guilt.
When a group contemplates where to eat and the vegetarian of the group shoots down suggestion after suggestion, sometimes this person will experience vegetarian guilt. Militant vegetarians scoff at this concept, as they believe such efforts accumulate victory points in veggie heaven with each successful barbecue bite they scuttle. The friendly kind of vegetarians, however, know their friends like barbecue, delis, and burgers and genuinely feel bad about hijacking the dinner decision. These vegetarians are the ones who find themselves tormented by guilt.
But this malady no longer has to plague our fair city! Here are six vegetarian entree options at St. Louis barbecue restaurants. They're all creative, tasty ways to stay true to your diet even while dining with carnivorous friends.
1. Smoked Tempeh
Capitalist Pig
in Soulard sears tempeh with thyme olive oil before glazing in barbecue sauce. See the mouthwatering photo above.
2. Smoked Tofu
Vernon's BBQ
in University City smokes organic, non-GMO, local tofu from Gourmet Soy Foods in Granite City, Illinois. What more could a vegetarian want?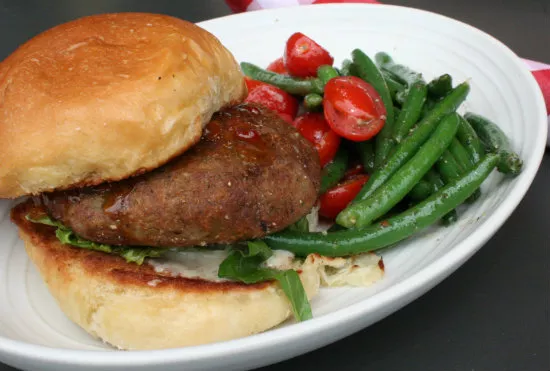 Photo by Johnny Fugitt
Falafel Burger at Salt+Smoke
3. Falafel Burger
Salt+Smoke
on the Delmar Loop offers a falafel burger topped with local sprouts and a red pepper jam.
Turn the page for three more vegetarian options.

Photo by Johnny Fugitt
Portobello Burger at Sugarfire

4. Portobello Burger
American cheese, balsamic onions, lettuce, pickles and "special sauce" top the smoked, double decker portobello sandwich at
Sugarfire
.
5. Vegetarian Kabob
Marinated zucchini, yellow squash, peppers and onion are skewered and grilled at
The BBQ Saloon
.
6. Loaded Vegetable Potato Wedges
The Shaved Duck
has plenty of vegetarian options including a veggie and mozzarella sandwich and a cheesy veggie flatbread, but the Loaded Vegetable Potato Wedges with fresh veggies, three cheeses and an Alabama-white barbecue sauce might be our pick.<!—————EndFragment—————>
Whether you can think of nothing more shameful than ordering a vegetarian dish at a barbecue restaurant or you have been eating nothing but organic, local, farm-raised, free-range grass for years, vegetarian options at barbecue restaurants are a win for everyone. Guilt be gone!
Johnny Fugitt is author of
The 100 Best Barbecue Restaurants in America
, a book that is not suitable for vegetarians.