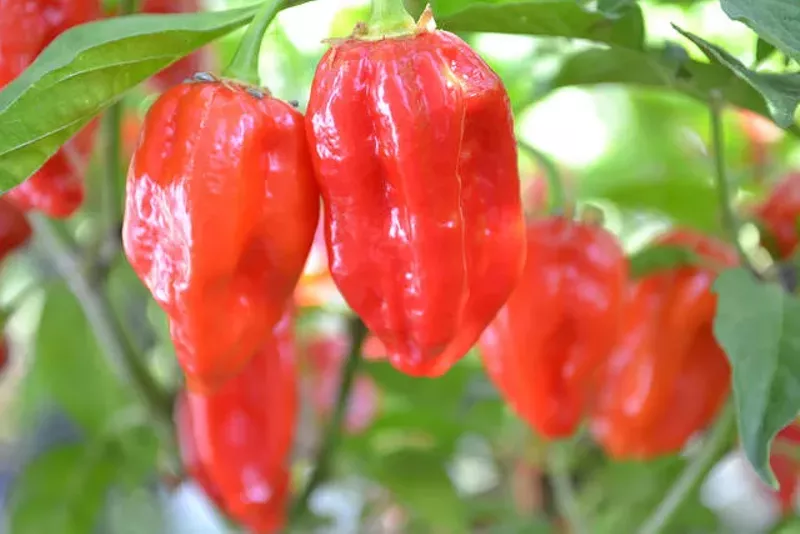 Photo courtesy of Flickr/John Vonderlin
Ghost peppers. Don't mess with them, man.
If you've got a thing for super spicy chicken wings — or you just really, really like scarfing pizza — you'll want to be in the Delmar Loop on Saturday.
At 4 p.m., Racanelli's is hosting a pizza-eating contest. Scarf down as much pizza as you can in three minutes, and you could win Rams' tickets.
Then, at 7 p.m., Market Pub House is hosting a G
host Pepper Wing Challenge
. Eat 10 of "the hottest wings on the planet," seasoned with the brutally hot red peppers depicted above, and you'll get both Rams tickets and the honor and glory of knowing you're a complete and total badass. Seriously — when RFT tried to undertake a similar challenge a few years back, our representative
got through just two bites before throwing in the towel
. He probably would have fared better with pizza.
Photo by Mabel Suen
A slice of Racanelli's pizza.
Both contests are part of this Saturday's "
Party in the Loop
," which aims to bring people down to Delmar even in spite of the trolley construction that's frustrated motorists and pedestrians alike in recent weeks.
Lou Siville, owner of Racanelli's in the Loop, tells us that word on the street is that business has been down anywhere from 25 to 45 percent among local shops and restaurants. They're eager to get people back to the street. "We're trying to do fun stuff like this," he says.
But how fun is it to burn the crap out of your mouth thanks to the world's hottest peppers? "Those ghost peppers," marvels Siville. "Ours is just pizza. They're going to hurt someone. That's the one where you'll see the paramedics." Assuming the construction permits the ambulances to get through, of course!
Party in the Loop kicks off at 2 p.m. next to Market Pub House and runs through 9 p.m. Check out the
event's Facebook page for more info
.
We welcome tips and feedback. Contact the writer via email at sarah.fenske@riverfronttimes.com. Top photo courtesy of John Vonderlin/Flickr.