Last month, Matt Osmoe of Blood & Sand competed in Bombay Sapphire's "Most Imaginative Bartender" competition in Las Vegas. Osmoe had previously bested mixologists from St. Louis, Nashville, Louisville and Birmingham, winning the regional title in Nashville before representing the region at the national contest.
We chatted with Osmoe about his winning concoction — the Norwegian Abroad, which includes Bombay Sapphire and, yes, sauerkraut juice — and what inspires his craft.
Is the "Norwegian Abroad" available at Blood & Sand?
A version of the cocktail was on the menu, but we are constantly changing things up. Our guests have definitely drank a fair few, though!
Which cocktails are you most proud of at the restaurant?
About half of our menu is composed of what we call culinary cocktails, which are cocktails that come with a food pairing and typically contain interesting techniques and ingredients. In one cocktail, we cook down rum with molasses and vanilla, then use that to brew chicory and French roast coffee, brighten the blend with tequila, and serve the concoction hot with a cardamom cream float and some hazelnut biscotti. In another, we made a Creole-spiced syrup, mixed it with rye whiskey, pepper juice, and lemon, an agrumato oil float, and serve it with crawfish tails on a Pernod absinthe foam.

We have simple, elegant drinks as well, such as Laphroaig ten-year cask strength with PX sherry, Genepi des Alpes, and herb bitters. If we aren't proud of a drink, it won't make it on our menu. Which is a great feeling: knowing that you've done your absolute best to make a drink for the guests to enjoy.
Who is an established St. Louis mixologist you greatly respect?
St. Louis has a wealth of talented bartenders. I hesitate to single anyone out because there are so many people that deserve to be celebrated.


Who is an up-and-coming St. Louis mixologist to keep an eye on?
If you see one of the bartenders with a skål and crossbones tattoo, order a drink from that person.
What's your go-to liquor and cocktail?
I tend towards Amaro, but I'm always exploring. As for the cocktail, I'm not one to turn down "A Little Drop of Poison."
What is your cocktail pet peeve?
Break out the smoked fish and cold vodka and I'm in — just know that cold vodka isn't called a martini. Just ask for some vodka and say you'd like it shaken. And never be afraid to try new things! Your new favorite drink might be the next new thing you order.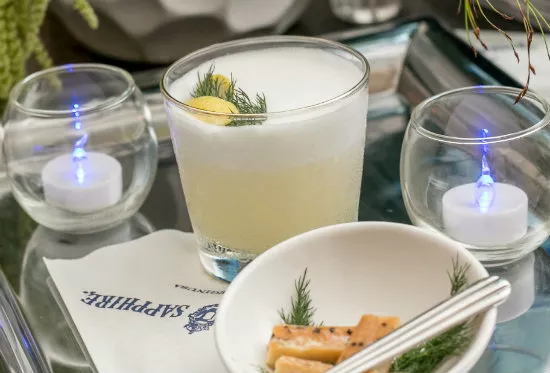 Photo courtesy of Bombay Sapphire Gin
The Norwegian Abroad includes Bombay sapphire, lemon juice, fennel, caraway, sauerkraut juice, champagne and egg whites.