A big new restaurant at 3701 Lindell Boulevard features flavors as bold as the space is vast. Located in the former home of Chuy Arzola's at the bottom floor of the Coronado, Mi Caribe hopes to capitalize on a busy location, large patio and lack of Caribbean competition in Midtown.
A conglomeration of dishes and flavors from across the Caribbean may be sampled from the wide-ranging menu. From the "Mofongo" appetizer of meatballs made from beef, pork rinds and green plantains to the "Sopapilla Dominicano" dessert, however, Dominican influences are certainly the strongest.
This Dominican influence comes from co-owner Johnny Martinez, who was a pitcher and scout for the Cleveland Indians before entering the restaurant business. He, and some of his family, can be found in the kitchen. The other co-owner, Warren Duval, is a mortgage banker.
"Sancocho" is a traditional soup seen throughout much of the region. Made with yams, plantain, potato, squash, yucca, chicken, beef and pork, Mi Caribe's version is prepared in the Dominican tradition. "Puerco Asado" is offered as baked pork in a Dominican-style marinade, while traditional Dominican "Morro" accompanies many of the entrees. This combination of rice and beans is often referred to as "Moro de Habichuelas."
The menu also includes a number of sandwiches, salads and pasta dishes. The "Rabo en Cendido," or Oxtail cooked with sofrito, as well as the goat simmered in a sofrito sauce, may appeal to more adventurous eaters.
Turn the page for more about Mi Caribe
Not everything on the menu, however, is quite so foreign. Chicken wings, offered buffalo or barbecue style, might have more appeal to the steak-and-potato crowd, while the "Vaca con Pan" sandwich made of grilled skirt steak and topped with lettuce, tomato and onion might be found in Jersey just as easily as Jamaica.
The voluminous interior is brightly lit and colorful, while the patio space doubles seating capacity. But though there's a large sign on a busy street, the low-slung space can still seem somewhat easy to miss.
The restaurant has a great location on the edge of the Saint Louis University campus; whether it can capitalize on that plus its striking good looks remains to be seen. It may well be a question of whether the Billikens feel up for trying oxtail and goat — or whether they'd rather stick with Crazy Bowls & Wraps.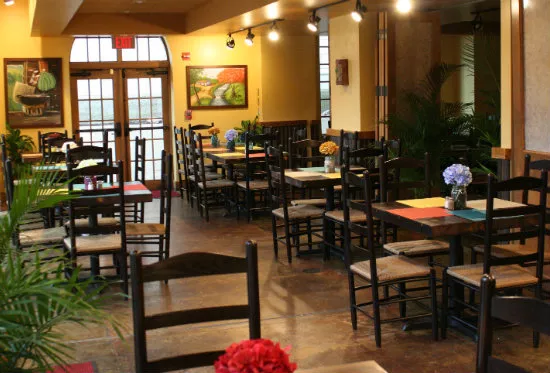 Mi Caribe is located at 3701 Lindell Boulevard. It's currently open from 11a.m. to 9p.m. Tuesday through Saturday and 11 a.m. to 3 p.m. for Sunday brunch. Call 314-696-8719 for more information.