It was recently announced that PaPPo's Pizzeria, with locations in Springfield and Osage Beach, is expanding to St. Louis. The company plans to take over the Six Row Brewery location on Forest Park Parkway and open this fall.
"We will carry on with the PaPPo's menu in St. Louis...since it was so heavily influenced by St. Louis in the first place. We should be right at home with our St. Louis-style thin crust and our St. Louis toasted ravioli," Owner Christopher Galloway told FEAST.
When we read this and took a look at PaPPo's menu, however, we were a bit skeptical. While there aren't many pizzas we don't like, there was one glaring omission from the menu: All of PaPPo's pizzas are offered as either hand-tossed or St. Louis-style thin, but Provel cheese is nowhere to be found on the menu. We called, and PaPPo's confirmed that it doesn't carry it — not even for special requests.
This conjured a simple, if existential, question: What components are absolutely necessary to make a pizza St. Louis-style? Can you call it that without Provel? Is the crust the only thing that matters, or is the kind of sauce important too? Are square slices a must? If all this designation requires is a thin crust, is St. Louis laying claim to every thin-crusted pizza in the world?
Being the pizza lovers that we are, we decided to take a road trip and give PaPPo's the chance to win us over. We wanted to see this St. Louis-style pizza that is being imported to St. Louis. Unfortunately, when we arrived at the Springfield restaurant during normal business hours, we were greeted with this sad sign: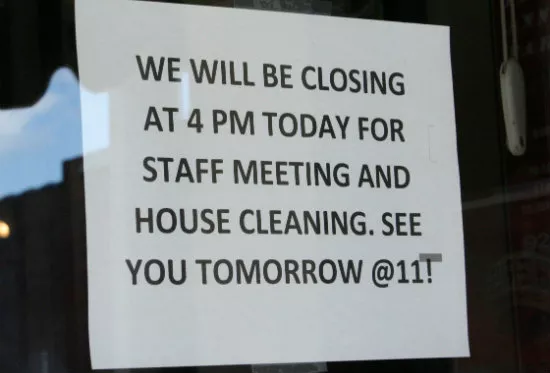 And so our question remains unanswered: What is absolutely required for a pizza to be considered St. Louis-style?