Welcome to Sugar High, a series devoted solely to spotlighting the best ways to sate a sweet tooth in St. Louis. We'll sample the best the city has to offer at restaurants, bakeries and holes-in-the-wall, and provide some insight on how these confections are made along the way.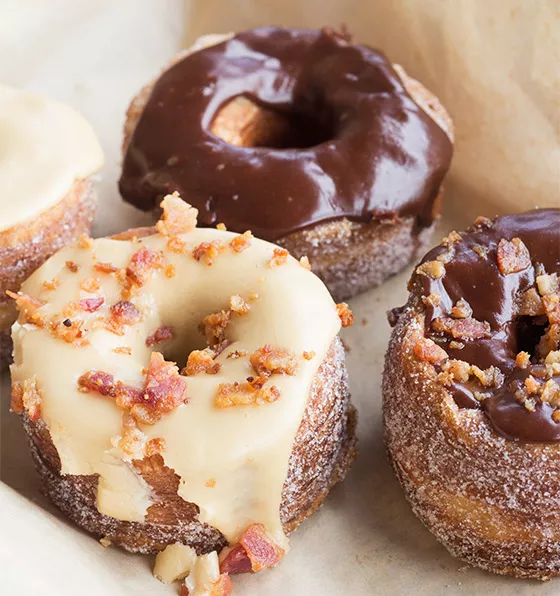 Pekara Bakery's Croi-Nuts in maple, chocolate, and bacon-topped options. | Photos by Mabel Suen
At Soulard Farmers' Market (730 Carroll Street; 314-622-4180), patrons can get a taste of Europe by way of Central Illinois. The decade old, Champaign-based Pekara Bakery arrived in St. Louis nearly two years ago and has shared its from-scratch products every Saturday since, including their highly-coveted croissants and Croi-Nuts.
"We fell in love with Soulard and its charms," says Sales Manager Robb Tobias. "Its French roots were a huge attraction for us. We felt we owed it to the market to do something that really captures the essence of its history."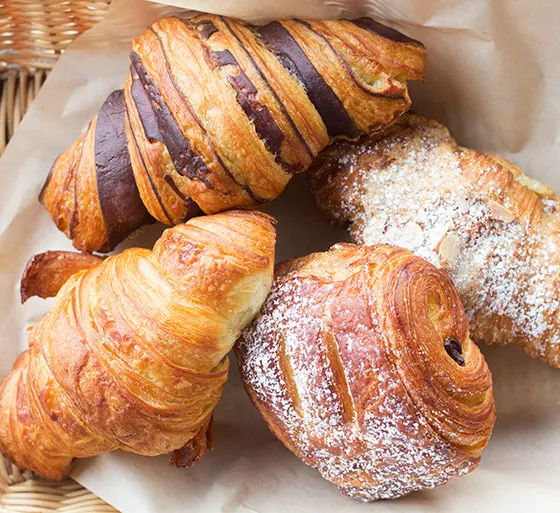 Croissants come in tiger, butter, pan au chocolate and almond options.
Pekara specializes in an old-world European baking style, with twenty bakers working around the clock to hand-make everything from focaccia and loaves to macarons and pretzels. The self-described "clean-label" bakery features simple ingredients -- no preservatives or things you can't pronounce.
The bakery's croissants -- always some of the first products to sell out at the high-traffic stand -- go through a laborious process. A dough sheeter meticulously layers high-fat butter with a fermented, yeasted dough. The finished product is a croissant with flaky, dreamy texture.
A closer look at the layers.
Choose a plain option to get an unadulterated taste of this treat that's more neutral than sweet, or opt for the "Tiger Croissant" which gets a subtle addition of cocoa powder at the end of the layering process. A pain au chocolat ups the ante with two soft Belgian chocolate sticks rolled inside and a light dusting of powdered sugar on top. For something sweeter still, try a classic almond croissant.
"In France, croissants are day old by noon, so the French developed the almond croissant to give the high-labor products a better shelf life. You slice them open, slather almond paste on the inside, put it back together with simple syrup on top and re-bake it," Tobias says. "We don't ever have day-old, so we have to bake more croissants just to make them."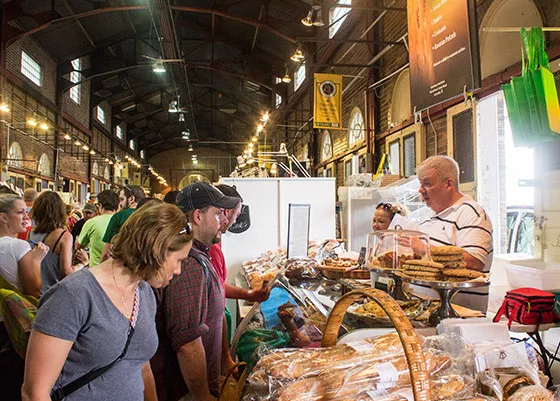 Look for Pekara at 89 in Soulard Farmers' Markets' southeast wing.
And while Pekara typically adheres to tradition, one new-world trend finds its way into the bakery case. Its Croi-Nuts utilize the same croissant dough, but go through a cutting and frying process to give it doughnut-like qualities. Look for these daring desserts in flavors such as chocolate, chocolate with bacon, maple, maple with bacon, lemon-curd and raspberry-jam.
Pekara Bakery is open at the Soulard Farmers' Market on Saturdays featuring around 70 of its 400 products from 7 a.m. until they sell out. Also look for Pekara at the Kirkwood Farmers' Market on Saturdays starting at 8 a.m., albeit with a smaller selection. For more information, check out the Pekara Bakery website.
Previously on Sugar High: - La Vallesana's Paletas - Nourish by Hollyberry's Chocolate-Chip Cookie and Cold Mug of Milk - Clementine's Liege Waffle Sundaes - Gus' Pretzels' Cinnamon-Sugar Pretzels - Fitz's Berry Pomegranate Soda - Smalcakes' Wedding Cake Cupcake - Pastries of Denmark's Petit Fours - Lucky Buddha's Five-Spice Crème Brûlée - Amy's Corner Bakeshop's Scones - Vincent Van Doughnut's "Mini Vinnies" - Piccione Pastry's Sfogliatella Riccia - The Feasting Fox's Warm Apple Strudel - I Scream Cake's "I Scream Sammys" - LuciAnna's Pastries' Chocolate-Mousse Cheesecake - Spoon Baking Company's Spoon Cookie - Insomnia Cookies' S'mores Deluxe Cookie - Living Room's Peanut-Butter Chocolate-Chip Cookie - Stimulus Baking Company's Pad-Thai Cupcake - La Bonne Bouchée's Strawberry-Mousseline Cake - Pie Oh My's Pumpkin-Maple Pecan Pie - Annie Moons' Banana-Split Muffins - Cyrano's Carrot Cake - Whitebox Eatery's Cheese Pastry - Comet Coffee's Mousse Cakes - Whisk's Apple-Cinnamon "Pop Tartlets" - The London Tea Room's Blueberry-Lemon Cake - Corner 17's Fluffy Ice - The Fountain on Locust's "Banana Bourbon" Sundae - Vinnie's Pinwheel Baklava - Red Fox Baking & Catering's Lemon Tart - Sugarfire Smokehouse's Crack Pie - Russell on Macklind's Coconut Cake - The Kitchen Sink's Sweet Potato Fries - Giovanni's Kitchen's Panna Cotta Trio - Crepes Etc.'s Crepe Cake - Cafe Ventana's Beignets - Frida's Raspberry-Chocolate Avocado Mousse - India Palace's Gulab Jamun - Melt's "Violet Beauregarde" Waffle - Brevan's Patisserie's "Brendan" - Winslow's Home's Chocolate Cake with Espresso Meringue - La Patisserie Chouquette's Eclair - Black Bear Bakery's Raspberry Oat Bar - Gelateria's London Fog Gelato - 4 Seasons Bakery's German Cheesecake - Libertine's "Candy Bar" - Cleveland-Heath's Old Fashioned Cherry Pie - Schlafly Tap Room and Bottleworks' Sticky Toffee Pudding