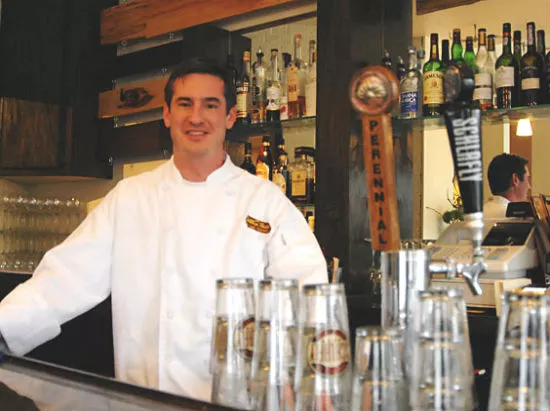 Jamey Tochtrop of Stellina. | Megan Gilliand
Jamey Tochtrop believes there is something to be said for focusing on the basics. "You see all of these culinary students coming out of school who want to sous vide and use molecular gastronomy," the Stellina (3342 Watson Road; 314-256-1600) chef says. "But they can't roast a chicken to save their lives. That should be your final project before you graduate -- a roast chicken."
See Also: Chef Chat: Ben Grupe on Pop-Ups and Being an Olympian
Tochtrop's "less is more" philosophy has been on display at Stellina since he opened the small restaurant in south city in 2007. It was his first independent venture after working in the industry for years in various country clubs and hotels around town. Tochtrop knew he wanted to branch out on his own, but he didn't have the money to do so. He opened Stellina as a pasta wholesale company in 2005, selling his handmade, organic wares to other chefs before eventually gaining the capital to open the restaurant.
But Tochtrop's journey in the restaurant business goes much further back than the pasta company or the country clubs. He was always interested in food growing up and got his first job working at Window's on Washington as a banquet server at the age of 15. "I instantly fell in love with the business," he says as he recalls his path into the kitchen and working his way up in the back of the house. He attended Forest Park Community's College's culinary program before landing a gig at the St. Louis Club. Next came a job at the Chase Park Plaza hotel as the banquet chef, and then an executive chef position at the now-shuttered JaBoni's restaurant. By the time he left that position, he realized he needed to create something of his own.
That creative spirit is on display at Stellina, not only in the food but also in the artwork -- Tochtrop is the artist responsible for the restaurant's paintings and he is also a musician. Not that he has much free time to pursue his other interests -- apparently it takes a lot of time to prepare food with as little manipulation as possible. "I'm just trying to not muck it up," he laughs.
Tochtrop took a break from the kitchen to share his thoughts on the St. Louis food and beverage scene, his Olympian food crush and the virtues of a simple, well-made drink.
What is one thing people don't know about you that you wish they did? When the season hits, we either grow our own produce or rely on local farms for the majority of our menu. We have been doing so since we opened and have a number of great relationships with nearby farmers. We don't blast it on our menu, but we have always stayed true to the local scene and cook hyper-seasonal food.
What daily ritual is non-negotiable for you? Going to the gym.
If you could have any superpower, what would it be? I would like to be able to see into the future. Ordering would be such a breeze.
What is the most positive trend in food, wine or cocktails that you've noticed in St. Louis over the past year? That's a tough one. I would like to see more bars going back to the basics. Having a bartender that can make a great drink every time with out using 37 tiny measuring devices and a recipe book to make it is what I look for. Our beer scene is explosive and gaining momentum all the time. It's impressive!
Who is your St. Louis food crush? Ben Grupe. He's just so damn sexy!
Who's the one person to watch right now in the St. Louis dining scene? Again, I would have to say Ben. He is the most talented chef that no one knows about. His skill and dedication to his craft are unmatched in this city. He is the captain of the United States Culinary Team after all. Not many people have that on their resume.
Which ingredient is most representative of your personality? Salt. 'Cause I'm salty.
If someone asked you to describe the current state of St. Louis' culinary climate, what would you say? I think things are taking a much more basic and simple approach. For a long time everyone wanted to push food forward so much. I see a lot of places using simple quality ingredients and putting the "love" into making something spectacular.
Name an ingredient never allowed in your kitchen. Green peppers. They just take over.
What is your after work hangout? Home usually. Claudia's Pub and SOHA Bar & Grill are close by work. I enjoy both places for a night cap.
What's your food or beverage guilty pleasure? Jim Beam and coke.
What would be your last meal on earth? A giant roasted bone-in rib eye, chanterelle mushrooms, and potato gratin along with a bottle of red wine -- or six.
Follow Cheryl Baehr on Twitter at @CherylABaehr. E-mail the author at Cheryl.Baehr@RiverfrontTimes.com.
---