Brendan Batchelor Photography
Brittany Creech
Brittany Creech might be the most recognized Taco Bell personality since that little chihuahua, and she hasn't been promoted by a multimillion dollar marketing campaign. Because senior photos with railroad tracks, the Arch and horses are so overdone, the Ritenour High School student decided to take her senior photos at one of her favorite places: Taco Bell. The Internet, as it tends to do, went nuts.
Why Taco Bell? "I just really like Taco Bell and wanted to do something unique," Creech tells Riverfront Times. "It's good to have something fun and lighthearted circulating [in the news]," she adds.
Brendan Batchelor Photography
Brittany Creech
Creech visits Taco Bell once every week or two, but she's not a regular at any particular store. She visits at the restaurant at all hours of the day, and she's eaten both lunch and dinner there -- on the same day.
Her first memory of Taco Bell was when she went there with her childhood BFF, Izzi, when the two were four years old. It just so happens that Izzi is also the editor of the yearbook, so Creech's viral photographs just might find their way into printed Ritenour history.
Why not get a job there and cash in on the employee discount? "I think if I worked at Taco Bell, it would ruin it for me." She has tweeted and emailed the corporate office, but doesn't yet have an official business relationship with the restaurant. It's all one-sided PDA -- for now.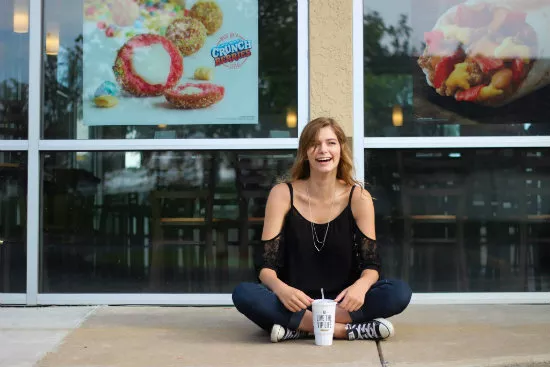 Brendan Batchelor Photography
Brittany Creech
All photographs are courtesy of Brendan Batchelor Photography