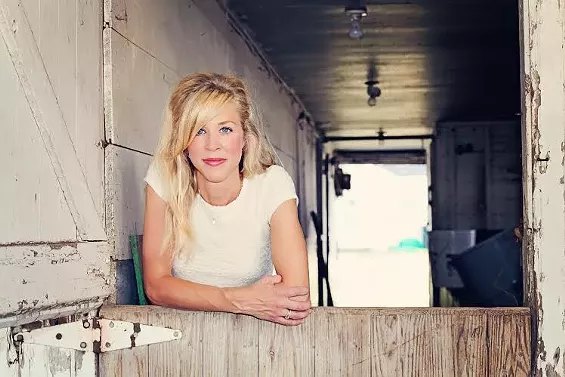 Leslie Moore, founder of Farmer Girl Meats. | Compliments of Farmer Girl Meats
Leslie Moore of Farmer Girl Meats remembers the first time she picked up meat at the grocery store. She was 23 years old and living in St. Louis as a business school graduate student. She ran into the store to grab a pound of hamburger; when she got home and unwrapped it, she was shocked by what she saw. "I thought something was wrong with it," Moore recalls. "Seriously, I thought it had gone bad. It was so fatty. I almost took it back. It was disgusting."
See Also: St. Louis-Based Farmer Girl Meats to Provide Food for Dave Matthews Band
It may seem funny that it took Moore until her early twenties to experience what most of us consider standard fare. Then again, most of us didn't grow up on a cattle farm. Moore was raised on a ranch near the Kansas-Missouri border and feasted on fresh, humanely raised, grass-fed beef before "sustainable" was a buzzword. When she left the farm -- first for college, then for business school -- she was shocked by how different the meat peddled by her local grocery store was from the high-quality stuff she grew up eating.
Fortunately, she didn't have to rely on the store for meat all that often. Moore's parents would regularly send her care packages of beef from their farm and, eventually, people from her neighborhood caught on. "I had friends who would ask me for some. I was like an underground supplier," Moore laughs.
Her friends' interest in the meat gave Moore an idea: Why not figure out a way to connect people to small farms so they can directly purchase quality products straight from the source? She used her background in brand management -- then, her full-time job -- to begin her company, Farmer Girl Meats. Her target customer is who she sees when she looks in the mirror: a busy, working mother who wants to provide healthy, high-quality food for her family. Rather than selling her wares at farmers' markets, Moore decided on a direct-to-consumer model whereby her website would serve as a hub for producers and consumers.
"Once I was exposed to the commercial meat industry, I knew I had to change it," Moore says. "I can't imagine feeding that stuff to my kids."
Moore took a break from the farm to share her thoughts on the St. Louis food scene, farm-girl stereotypes, and her mouth-watering last meal on earth.
What is one thing people don't know about you that you wish they did? That I'm a farm girl trapped in a city girl's body...I mean, a city girl trapped in a farm girl's body. I mean, both! There is an expectation that because I'm a farm kid I should wear overalls, have a country vernacular and that I'm ignorant about business fundamentals. Any hint of sophistication is almost a mark against my credibility as a true farm kid. Talk about stereotypes -- as a farm kid it's pretty offensive. Most people don't realize I attended a top twenty business graduate school, received an award for excellence in marketing and then had a successful career with a global food brand. I'm well educated and well read. But all that doesn't mean I'm not comfortable on the farm -- I know how to work livestock, look at a calf and know if it is bull material, and get over a fence in exactly four round-about moves. The point is that I'm just me -- a little bit farm girl, a little bit city gal. I couldn't live fully without having a foot in the rural countryside and a foot in the bustling city. Who I am reflects the influence both have had on me. I'm lucky because Farmer Girl Meats affords me the opportunity to live and work in both.
What daily ritual is non-negotiable for you? Ha ha. Brushing my teeth? Other than that I don't have the luxury of having a daily ritual. I'm a mother of three running a start-up family business in an under-funded and male-dominated industry. No two days are alike. 'Nuf said.
If you could have any superpower, what would it be? To act like Mary Poppins with my kids when I feel like Cruella DeVille. Sometimes at the end of the day, it's hard to take my war paint off. Getting good meat from farm to customer seems so simple, but in reality it can feel like being in battle. There is very little supply-chain infrastructure, working with small butcher plants can be like stepping back into 1950, and farm life is inherently a roller coaster. So after a day of constantly pushing forward, it sometimes feels like I need superhuman powers to fully engage in a game of 'galactic tyrannosaurus racer-man' or 'Darla the Fish Killer.' Don't ask. Darla the Fish Killer is my little girl's favorite game. It's from Finding Nemo. I'm the narrator, she's Nemo and our dog is Darla the Fish Killer.
What is the most positive trend in food, wine or cocktails that you've noticed in St. Louis over the past year? Definitely the trend towards fresh, local ingredients in children's fare within the boutique St. Louis dining scene. Pastaria and Schlafly Bottleworks are good examples. Local, high-quality food shouldn't be reserved exclusively for adults. As a society we regularly feed our children the yuckiest food and ingredients: Chicken nuggets made from who knows what, french fries awkwardly shaped like happy faces, soggy pizza. For goodness sakes, I wouldn't eat those things, so why would I feed it to my kids? Hence parents can feel alienated from dining culture, and likewise, restaurateurs are missing out on a customer group that would happily pay a premium for local, fresh options for everyone. Those restaurants that can offer a food safe-haven to families will do well, and they don't need to be "family" establishments. I'm really excited to see more local ingredients and from-scratch food on children's menus in St. Louis. It means as a culture we're more deeply integrating local food into our everyday, St. Louis society. Kind of like the next phase in the local food pursuit. It makes me happy.
Who is your St. Louis food crush? Liz Schuster of Tenacious Eats. I was on a panel with her last year and was truly inspired by her tenacity and talent. She's earned her way to the top of a traditionally male field while holding on to her vision and creativity. Plus she bow hunts, can break down a hog, and Tenacious Eats is yum. That's a whole bunch of awesomeness wrapped up with a bow.
Which ingredient is most representative of your personality? Smoked paprika. Kind of spunky, lots of depth, but not overwhelming. Most of the time.
If someone asked you to describe the current state of St. Louis' culinary climate, what would you say? Blooming. I believe great things bloom, not explode. And we have to give great things time to bloom -- evolution is a powerful phenomenon if we're patient enough to let it take place. The St. Louis culinary scene has been percolating and evolving tremendously over the last five years it seems. Now we're seeing the fruits of that. It's blooming.
Name an ingredient never allowed in your kitchen. Curry. My husband is crazy allergic. So sad.
What is your after-work hangout? These questions are so funny! I'm chuckling to myself at the thought of an "after-work hangout." As if! My after-work hangout is passing out in my bed at 10 p.m. -- cross my fingers and hopefully. That's heaven.
What's your food or beverage guilty pleasure? Really fabulous wine -- it does a body good. I have a sommelier named Greg that curates a seasonal box of wine for me every couple of months. My eyes widen like a little girl every time I open my box o'wine to reveal the unknown treasures that await. I love the act of discovery, and I love wine...it's amazing.
What would be your last meal on earth? Growing up on the farm, almost every Sunday we had a 2 p.m. "supper." No idea why it was at 2 p.m. My mom served a slow-cooked beef roast with "purist" mashed potatoes (none of that sour cream or fancy stuff) and real pan gravy. In the summer she would slice up ripe, hot, juicy, just-picked tomatoes, and slather them with salt and pepper. The gravy was so good we'd pour it over plain bread and eat that along with the roast and potatoes. We didn't have snacks or anything like that, so when suppertime rolled around I was starving. Always. I don't remember ever turning up my nose at a meal. The roast would literally melt in your mouth, the mashed potatoes were buttery and soft, and those salty tomatoes made the whole meal taste fresh and light. Definitely my last meal on earth.
Follow Cheryl Baehr on Twitter at @CherylABaehr. E-mail the author at [email protected].
---