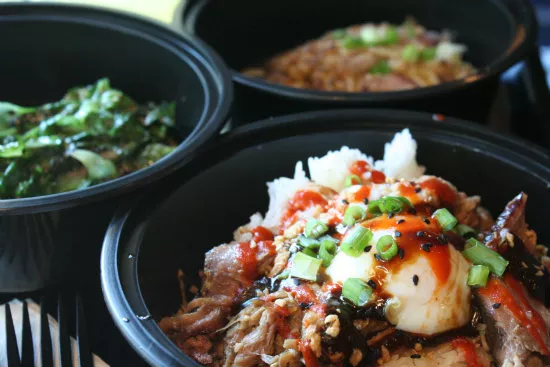 Photos by Johnny Fugitt
The "Flying Pig."
St. Louis needs no introduction to Guerrilla Street Food. The food truck has served tasty Filipino-inspired creations around town since 2011. We've called it the best food truck in St. Louis, it has been featured on the Food Network, and it's got a following most brick-and-mortar restaurants would kill for.
The new brick-and-mortar location is a blend of the truck and a traditional restaurant. "What we wanted to do was give people the same experience," co-owner Brian Hardesty says. "We didn't go overboard with the decorating and want people to feel like they're still at the truck."
The plan succeeded -- only this location has air conditioning. The flat black paint, bold logos and tight seating area could almost make the diner believe they've been enveloped by the truck itself. Plans are in the works for a patio, and the 26 seats outside will double the capacity of the restaurant. Hardesty and co-owner Joel Crespo also hope to use this outdoor space to prepare lechon: Filipino spit-roasted whole hogs.
Hardesty and Crespo considered other parts of town, but the pair landed on South Grand when they found the perfect space. "We attract people who are open-minded and adventurous," says Crespo. That easily describes the South Grand crowd. The two chose this particular space (previously occupied by Sekisui) because it had a kitchen, space for outdoor seating and was the right size.
Owners Joel Crespo and Brian Hardesty.
The extra space in the kitchen will allow Guerrilla to do a few new things with the menu. Don't worry: Favorites such as the "Flying Pig" haven't been touched. Many of the truck's daily specials, including "Belly of the Beast," have been added as permanent menu items. Appetizer and side offerings have also been expanded. Turning old specials into regular menu items also allows Hardesty and Crespo to experiment with new offerings.
Details are still being ironed out for the alcohol program. Guerrilla is open late on the weekends (until 1 a.m. on Fridays and Saturdays), so it can provide an alternative to fast food or diner grub to late-night munchers, food-industry folks and nearby students at Saint Louis University. There isn't a bar -- nor will the restaurant ever take on that vibe -- but Crespo admits he's "been told our food is very good with beer." Initial plans are to start with one local beer on tap, one bottled Filipino beer and a few bottled cocktails. No timeline is set as they are still figuring out the licensing.
The restaurant exudes an independent, proud and quirky feel that reflects the owners to some degree. Visitors can bring in mixtapes (both old and new are welcome) to be played from the cassette deck at the counter. A TV anchors one wall, but not for sports, news or television shows. Instead, customers can borrow PlayStation controllers and challenge other customers. Toward the end of the night on Fridays and Saturdays, the owners may pop in a movie.
Is Filipino food the Next Big Thing in St. Louis? "It's our Next Big Thing," says Hardesty. Crespo adds that people have been talking about Filipino food being the Next Big Thing for some time. Others have predicted that the food-truck bubble will burst, but business has never been better. The success of the truck allowed them to open the restaurant without borrowing any money from a bank or investor, so they've got total control over what they do and how they do it.
Nothing will change with the food truck, so you can expect to see the same food at all of the usual locations. Hardesty and Crespo will alternate covering the new restaurant and catering.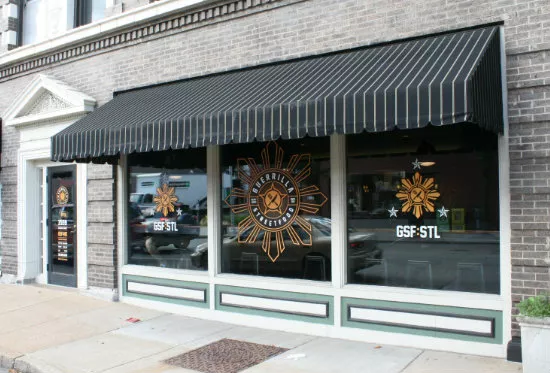 New brick-and-mortar store at the corner of Arsenal and Grand
For our first meal at the new location, we stuck with the dish that made Guerrilla: The "Flying Pig" ($8 for regular size). This tasty bowl consists of slow-roasted pork over white rice, and it's topped with a perfectly cooked egg, chiles, sriracha, green onion and calamansi. There are plenty of charred bits of pork, and each bite offers a different combination of flavors.
We also had the "Veggie Ukoy" appetizer ($3) and "Ginataang Greens" ($4). The former is a greasy, crunchy, tasty starter that's like a lightly cooked hash brown of red onions and potatoes. The sweetness of the coconut milk on the greens makes this dish a true side as it balanced the spice and richness of the "Flying Pig."
Its fitting that Guerrilla uses flat black containers for sit-down service. It's yet another little touch that keeps Guerrilla true to its food truck roots.