Jason Ganahl, a 1994 graduate of Webster Groves High School, is taking St. Louis barbecue to Colorado. The St. Louis native has fond memories of his father grilling in the back yard with his Weber Grill and Maull's sauce at the ready -- such flavors and experiences, he believes, are missing in much of the West.
Despite always being a barbecue fan, his path to restaurant ownership began when he actually left St. Louis. At the age of 30, he packed up his bags for a job in California. Though the sunshine was great, the smoked meat was not. He missed good barbecue, so he signed up to become a barbecue competition judge with the Kansas City Barbeque Society.
As a judge, however, he was eating as much bad barbecue as good. Granahl thought he could do it better himself, so he started competing...and winning. Work took him to Colorado where he continued to compete, but once again he was unsatisfied with the local restaurant offerings. Hence, GQue is under construction about fifteen minutes northwest of Denver in the suburb of Westminster. Its grand opening is scheduled for mid-October.
Ganahl considers himself a meat-and-potatoes kind of guy who used to eat at Bandana's a few times a week. In competition circles, Ganahl is best known for his brisket, which will likely be the star of GQue. He'll serve prime brisket: "The best I can get my hands on."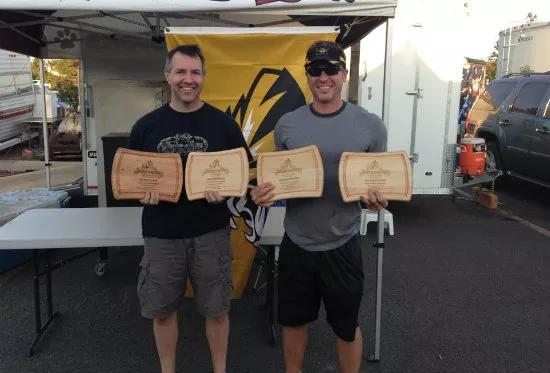 In addition to the barbecue staples, Ganahl plans to serve "lots of fun stuff, too." Similar to what you might find at Sugarfire Smokehouse in St. Louis, Ganahl is planning a number of daily specials that will stretch the imaginations of traditional barbecue lovers.
Ganahl eats a ton of barbecue but he doesn't have a particular St. Louis favorite. When he's home, he heads to Farotto's and Nachomama's.
The Rib House, located nearby Longmont, Colorado, has its walls covered with Denver Broncos memorabilia -- the ultimate stab in the back to anyone from Kansas City (such as the Rib House's very owners). Ganahl is passionate about this and insists he will never turn his back on his beloved Cardinals or Missouri Tigers. Owning a restaurant in Colorado won't dampen the pride of this self-proclaimed "rabid fan."
The 2,500- square-foot space will be set up for fast-casual service. GQue will feature a Missouri-made Ole Hickory Pits smoker.