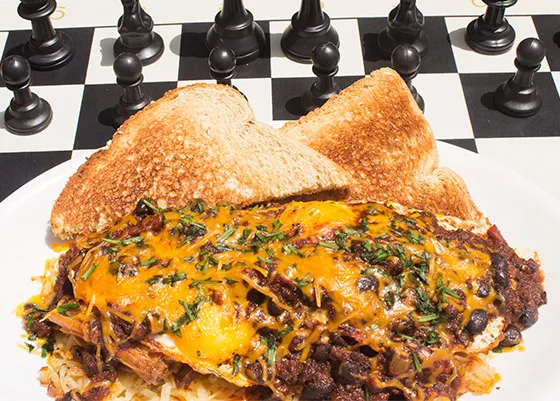 Mabel Suen
Kingside's slider is served all day.
Kingside Diner 4651Maryland Avenue; 314-454-3957. Sun.-Thurs. 6 a.m.-10 p.m.; Fri.-Sat. 6-1:30 a.m.
When asked about his pregame dining regimen -- and yes, he gets asked about it quite often -- chess wunderkind Magnus Carlsen will spout off a menu that sounds as if he is training for an Iron Man. Actually, it's far healthier.
Mabel Suen
An array of Kingside's food, including a spinach omelet, grilled chicken Cuban sandwich, the "Kingside Slider," waffled French toast and kale salad.
"I had a burger today, and it made me feel awful," Forbes once quoted him as saying. "If I tried to play serious chess tonight I'd play awful."
So the next time Carlsen -- or any other grandmaster, for that matter -- is in town for a championship tournament at the St. Louis Chess Club and Scholastic Center, the last thing he'll order at the adjacent Kingside Diner is the "Kingside Slider." He'll pass on the over-medium fried egg that cradles hunks of succulent pulled pork like a burrito and the accompanying black-pepper-flecked hash browns that double as a sponge for clarified butter. Carlsen will surely turn up his nose at the rich, mildly spiced chorizo chili that smothers the platter like an upscale slinger, and he'll certainly refrain from dipping slices of griddled toast into the concoction.
That's too bad for him.
Mabel Suen
Outside Kingside Diner in the Central West End.
Kingside Diner is the work of chef Aaron Teitelbaum, who is best known for his other Central West End venture, Herbie's Vintage '72. Teitelbaum had been lamenting the lack of a proper diner in the cosmopolitan neighborhood for some time, at one point even considering opening up Herbie's for breakfast and lunch to fill the void. When the Lester's space opened up next to the St. Louis Chess Club last November, he jumped at the chance to realize his vision for a casual, breakfast-all-day sort of spot.
But don't let the word "diner" fool you. The sophistication that Teitelbaum is known for at Herbie's shines through at Kingside Diner, elevating the place far above the 24-hour greasy spoons that dot the blue-collar corners of the city.
The décor is the first clue that this is a more upscale concept. The open main dining room is flanked on one side by a polished, granite-topped bar and on the other by two brown velvet couches -- a chess board between them. Large picture windows provide a view of tree-lined Maryland Avenue, and black tables with basket-woven leather chairs give a modern touch. There's also a lovely upstairs patio that overlooks the street and a cozy downstairs reading nook outfitted with a miniature library on all things chess. For those who wish to watch, rather than read up on, the game, several large televisions are scattered throughout the restaurant, oftentimes streaming live chess matches.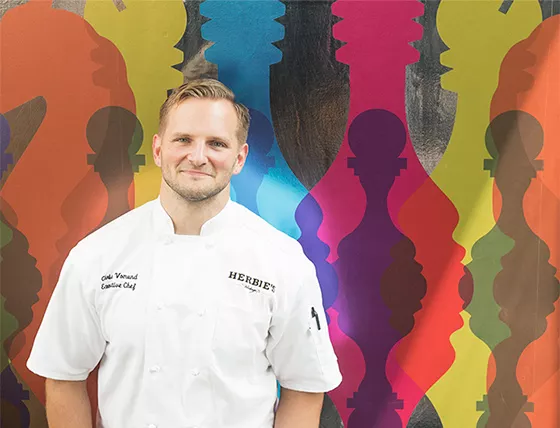 Mabel Suen
Executive chef Chris Vomund.
Kingside Diner offers breakfast all day -- a good thing, because a craving for the aforementioned "Slider" could strike at any time. An equally wonderful way to indulge in Teitelbaum's chorizo sauce is on the biscuits and gravy. The biscuits by themselves would be worth an order; covered with the warm, sage-spiked gravy, they become otherworldly.
Both items are on the indulgent side, but a simple order of pancakes shows how Kingside succeeds even when it exercises restraint. Served with warm maple syrup and butter, the golden hotcakes are crispier than what I am used to, and the batter is sweeter -- almost malty. The result is a subtle flavor profile that tastes like a toasty funnel cake.
Mabel Suen
Spinach, tomato, cheddar and red onion omelet with fruit and toast.
Kingside Diner offers a half-dozen combinations of breakfast ingredients that can be served as either a burrito, an omelet or on flatbread. I opted for the spinach, tomato, cheddar and red onion combination as a burrito. The warm flour tortilla was crisped around the edges, giving the wrap texture. In another option, a perfectly cooked omelet paired funky goat cheese with spinach, red onion and a bright romesco sauce made from red pepper and nuts, making for a dish that evokes Barcelona.
The flatbread option, however, was a bit less successful than the other two. While I enjoyed the delicate, flaky texture, those very qualities made it too light of a base for a breakfast pizza: The bacon, sausage, cheddar, mushrooms, arugula and chipotle aioli combo had excellent flavor, but the flatbread base fell apart in my hands. I recommend trying this otherwise delicious crust with one of the lighter combinations.
Mabel Suen
The caprese grilled cheese.
Breakfast was my favorite meal at Kingside Diner, though a few of the lunch and dinner offerings nearly persuaded me otherwise. The caprese grilled cheese is a warm, gooey sandwich interpretation of the quintessential summertime salad. Fresh mozzarella, tomatoes, basil pesto and a drizzle of balsamic syrup are served between griddled bread for an excellent adult grilled cheese. I was also pleasantly surprised by Kingside Diner's respectable Cuban sandwich. Juicy pulled pork (this place does it as expertly as the barbecue folks) and shredded chicken breast are garnished with thick sliced pickles and a sweet-and-smoky mix of chipotle aioli and mustard. Crusty Cuban bread is perfectly griddled, giving it just enough crunch. If you opened a smokehouse in Havana, this sandwich might be the result.
Burgers at Kingside are seared on a flattop and dressed with any number of toppings. Mine was well-seasoned and trimmed with a fried egg and cheddar cheese on a potato roll -- a solid diner burger.
I may be the only person on the planet who doesn't go crazy for the classic post-Thanksgiving leftovers sandwich, but if that's your thing, you'll be satisfied by Kingside's "Thanksgiving All Year." Sliced sourdough bread is topped with turkey, cranberry chutney, pepper-jack cheese and herbed stuffing. It's served at room temperature, just like you might eat your homemade version on Black Friday. Flavor-wise, the sweet and savory mix works, though the whole thing is a bit mushy for my taste.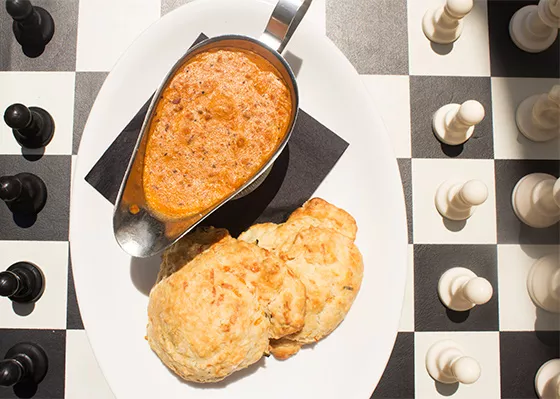 Mabel Suen
Cheddar drop biscuits with chorizo and sage gravy.
The most random item on Kingside Diner's menu is also its most heartfelt: "Grandma Rosie's Rolled Cabbage." Apparently it took Teitelbaum years to pry his grandmother's top-secret recipe for this Eastern European staple. Thankfully, she relented. Rice and beef are rolled into cabbage leaves and simmer in a deliciously tangy raisin-spiked tomato sauce. If you're used to savory Italian-style tomato sauces, the dish requires a bit of a mental shift, because here the raisins feature prominently, but it's a combination that works. The accompanying mashed potatoes, however, were a touch liquidy -- a minor point for an otherwise good dish.
Kingside Diner sets itself apart from traditional St. Louis diners in two other welcome ways: pastries and booze. Though the grandmasters next door will surely pass on sugary carbs washed down with a cocktail, I did not. The restaurant offers a full bar from open to close (yes, it is possible to get a gin and tonic at 6 a.m., because...well, because you can) and makes a wonderfully spicy bloody mary.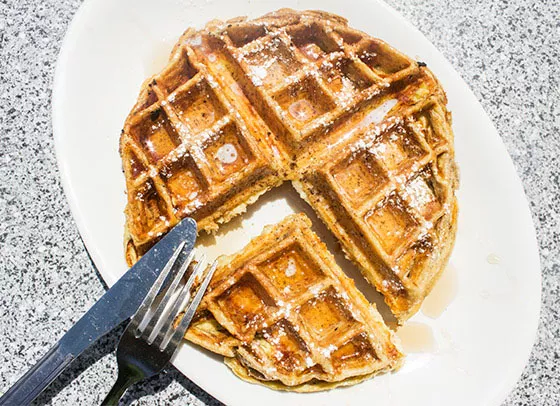 Mabel Suen
Waffled French toast with maple syrup and butter.
I was also impressed with Kingside Diner's pastry prowess -- the baked goods rival some of my favorite treats from the city's many excellent bakeries. And, yes, when I saw chocolate chip scones on the menu, I was persuaded to order dessert with breakfast. I didn't regret it, either. The pastry was the perfect balance of soft and crumbly, overflowing with chocolate chips. Other sweet options also excel. The "Crack Pie" is the beautiful marriage of an oatmeal cookie and pecan pie, while the apple tart has a superb, biscuit-like crust. Kingside Diner's "grab and go" counter makes popping in for one of these excellent baked goods a little too easy.
More than likely, though, I'll return to Kingside Diner for the full-service experience so that I can take my time enjoying all of its indulgences. The grandmasters next door can worry about their training regimen while the rest of us eat and imbibe as spectators. They may need something different for game day, but for us mortals, Kingside Diner is serving the breakfast of champions.
Kingside Diner "Kingside Slider"...$10 Grilled chicken Cuban...$9 "Grandma Rosie's Rolled Cabbage"...$10