J. Gilbert's Wood-Fired Steaks and Seafood | photo courtesy of J. Gilbert's Wood-Fired Steaks and Seafood
What makes a perfect steak? Certainly, the quality of the meat is fundamental. Many of the best steakhouses in the country only serve the highest grade of beef available in the United States — USDA Prime — that features extensive marbling and melt-in-your mouth texture. Only 1-3% of all beef produced in the country is rated Prime. Others contend the breed, age and diet of the cow are the most critical elements. A dry- or wet-aging process brings out flavor and tenderness and is truly an art. And, without a doubt, the expert flick of the chef's wrist and precise timing at the grill is where the alchemy really begins. We've got the bite on where to go for an exceptional steak in St. Louis.
See also: The 10 Best Burger Joints in St. Louis
J. Gilbert's Wood-Fired Steaks and Seafood (West County Center, 17A West County Center A102, Des Peres; 314-965-4600)
J. Gilbert's Wood-Fired Steaks and Seafood serves up prime steakhouse fare modeled after the highly regarded Kansas City steakhouses of the 1920s. All steaks are USDA Prime, Midwestern-raised, wet-aged black Angus beef, sourced from farms promoting humane management with no use of antibiotics or growth hormones. The secret to their robust flavor might be in the house-made seasoning, which includes fresh ground coffee beans and brown sugar. The steaks — top sirloin, Kansas City strip, porterhouse, bone-in ribeye "cowboy cut" or a center-cut filet mignon — are then seared and cooked over mesquite wood.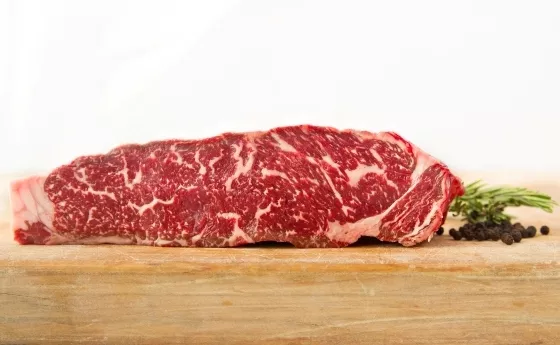 801 Chophouse | Image courtesy of 801 Chophouse
801 Chophouse (137 Carondelet Plaza, Clayton; 314-875-9900)
Every cut of steak imaginable is on the menu at 801 Chophouse, all USDA Prime — roast prime rib au jus, filet mignon, New York strip, ribeye, bone-in Delmonico, porterhouse, and filet medallions. All beef is sourced from farms in northeast Nebraska and Iowa and butchered by the chef, in-house. Each cut is delicious as-is, prepared simply with salt and pepper and char-broiled with no butter. You might, however, be tempted by one of the scrumptious specialty preparations — au poivre with cognac cream, fromage with Maytag blue cheese, cognac butter with portabella mushroom ragout, foie gras torchon, béarnaise, bone marrow butter bath or a spice or Cajun rub.
Gamlin Whiskey House | photo courtesy of Gamlin Whiskey House
Gamlin Whiskey House (236 North Euclid Avenue; 314-875-9500)
The menu at Gamlin Whiskey House is meat-driven and focused particularly on locally sourced, hand-cut steaks. Gamlin Whiskey House is part of the Hereford Beef Program, a USDA Certified Beef program for a specialized breed originating in England and now bred in the Midwest. Grass-fed beef is sourced from Moon Dance Farm in Owensville, Missouri. Classic cuts of ribeye, filet and New York Strip are all served straight-up, with house seasonings. There are also several steak dishes with flavors optimized for whiskey tastings, such as the Cajun "char crust," the flank steak with chimichurri sauce, a patio steak with a bourbon-brown sugar sauce and a tete de filet with boursin butter.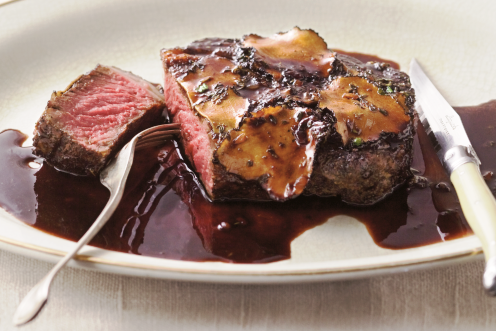 Annie Gunn's | photo courtesy of Annie Gunn's
Annie Gunn's (16806 Chesterfield Airport Road, Chesterfield; 636-532-7684)
Annie Gunn's sources USDA Prime and Upper Choice Angus beef from the northern plains that have been wet-aged a minimum of 24 days or dry-aged a minimum of 33 days. Always available on the menu are the USDA Prime New York Strip and ribeye (pictured) and the Upper Choice Angus filet mignon and bone-in filet mignon. A rotating selection includes Japanese A5 Kobe beef and American Wagyu. Seasoning is simple — kosher salt, pepper, granulated garlic and extra virgin olive oil. The steaks are grilled a bit lower than standard, at 800 degrees, which caramelizes the meat without charring.
Cielo (999 North 2nd Street; 314-881-5800)
Cielo, the restaurant at the Four Seasons Hotel, offers USDA Prime and Certified Choice steak, selecting for optimal marbling and quality. All beef is sourced from a network of family farms in Missouri, Kansas, Iowa and Nebraska, including grass-fed beef from Boeckmann Family Farms and Rain Crow Ranch in Missouri. The bone-in Prime New York strip (pictured, with bourbon-glazed cippolini onions, black garlic butter and a truffle demi glace) is wet-aged for 35-45 days and the ribeye is dry-aged for 30 days.
The Block | Jonathan Gayman
The Block (146 West Lockwood Avenue; 314-918-7900)
The Block has a simple philosophy: serve quality meat. By butchering all meat in-house, quality is guaranteed. All beef is sourced from Creekstone Farms in Arkansas City, Kansas, and Rensing's Farm in New Douglas, Illinois — much of it grass-fed. House-made spice mixes and steak sauces provide signature flavor. After dining on a delicious steak in the restaurant, grab one at the butcher counter located at the front of the restaurant and take one home with you to grill another day.
Editor's note: This story was edited one year after publication to remove a restaurant that had closed.
Follow Sara Graham on Instagram at @EngageTaste and Twitter at @EngageTaste. E-mail the author at [email protected].
---