Mabel Suen
Hummus, falafel on pita, chicken shawarma, beef shawarma and a blondie.
Medina Grill 1327 Washington Avenue; 314-241-1356. Mon.-Thurs. 11 a.m.-8 p.m.; Fri.-Sat. 11 a.m.-9 p.m.; Sun. 11 a.m.-5 p.m.
Ibrahim Ead wants you to know that medina means "city" in Arabic. Jerusalem is a medina. So are Gaza, Mecca and Dubai. But don't let the exotic-sounding word fool you into thinking it's reserved for the Middle East. New York is a medina, as are Paris, London and even our little slice of Americana, St. Louis.
Mabel Suen
The "Original Palestine" with chicken.
Ead encourages a similar approach to the shawarma at his three-month-old fast-casual restaurant, Medina Grill. Sure, the succulent meat, slow-cooked on a vertical spit, is a staple of Middle Eastern cuisine, but Ead thinks that's a limited view. It's chicken and beef, after all -- as ubiquitous in Portland as in Palestine. That it always has to be served in a pita and covered with tahini is a misconception that he's trying to break.
Ead is well-positioned to counter the stereotypes of Middle Eastern food and dive into the realm of -- dare I say the culinary F-word? -- fusion. Born in North Carolina and raised in St. Louis, he grew up running around his family's west-county store, Salam Market. When he was in grade school, they packed up and moved back to their native Palestine for a few years, giving the young Ead a taste of the old country. Medina Grill reflects this cross-cultural experience -- the sort of place that could only come from someone as comfortable with hoagies as with hummus.
Medina Grill occupies the corner spot on Washington Avenue at 14th Street that used to be Gelateria Tavolini. The décor makes it clear that Ead doesn't want to be viewed as a Middle Eastern cliché. Though a few vintage prints of Palestine and miscellaneous Arab-inspired art dot the red-painted walls, the space has the feel of a downtown loft.
Mabel Suen
Medina Grill's interior.
Exposed brick, high ceilings and large windows that face the bustling street create an atmosphere befitting a coffee shop as much as a falafel spot. The small kitchen is open, tempting diners with the sizzling of chicken and beef as they wait to place their orders.
Frankly, I'd presumed Medina Grill was going to be a disaster, my suspicion spurred by the description of one dish in particular: the "Summer in Dubai." It had all of the makings of a fusion mess: chicken shawarma, pepper-jack cheese and chipotle sauce served on toasted French bread. I was dead wrong. The spice rub from the rotisserie chicken married itself to the smoky chipotle-spiked tahini, infusing the sandwich with gentle heat. This same chipotle sauce mingled with melted pepper-jack cheese to form a spicy goo that soaked into the bread like a Middle Eastern cheesesteak. It was a mash-up of culinary genres good enough to leave Korean tacos behind in the dust.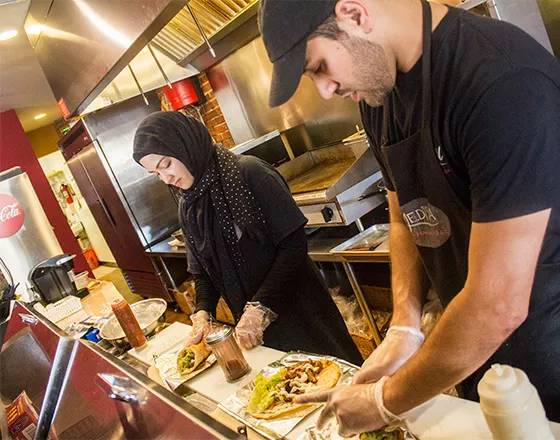 Mabel Suen
The kitchen at Medina Grill.
The "Dodana" is another successful cross-cultural sandwich -- a gyro-shawarma hybrid that uses the Middle Eastern spiced chicken as a base for what would otherwise be a classic Greek preparation. Black olives, sliced onions, piquant pepperoncini, lettuce, tomato, feta cheese and a thick, cool cucumber sauce accent the meat. My only quibble? The kitchen uses generic canned black olives instead of something tastier and more authentic.
The "Juicy Jerusalem" got its Italian flair from pesto, roasted red peppers and marinated onions; the French loaf with melted provolone evoked cheese bread. Even the grilled cheese was shockingly excellent -- molten layers of cheddar, provolone, pepper jack and smoked Gouda gave it a sophisticated touch. I bought the sandwich for my daughter and ended up eating half of it myself.
While Medina Grill's fusion offerings are enough to make a visit worthwhile, the restaurant is at its best when it does the classics. The "Original Palestine" shawarma -- whether filled with chicken or the juicy, rotisserie-pressed beef -- is one of the best versions of the quintessential Middle Eastern sandwich I've had the pleasure of eating. The meat is thicker cut (and by extension, more moist) than what is typically served at shawarma joints, and the restaurant is more generous with its exceptional tahini than the norm. Chopped dill pickles provide a burst of pungent refreshment. The result is a hearty, mouth-watering wrap that is so gloriously messy I had sauce dripping toward my elbows -- a badge of honor.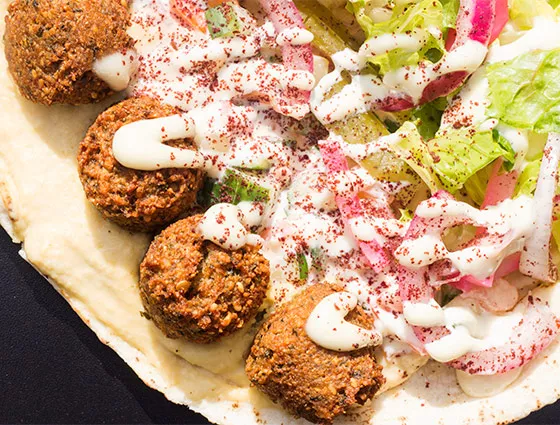 Mabel Suen
Classic falafel on pita.
The classic falafel is yet another example of how Medina Grill expertly executes a ubiquitous dish. The cumin-and-chile-spiced chickpea fritter was lightly crisped on the outside with a soft, moist interior. Hummus and tahini are slathered on the pita, and pickled turnips imbue the sandwich with tart perfume.
Medina Grill has a handful of salad options, available entrée size with shawarma meat or as half sizes that work well as sides for the sandwiches. The "C'zar" is a play on a Caesar, only in place of the all-too-typical bland, dried-out chicken breast, the salad employs the restaurant's juicy rotisserie chicken. The "Moroccan Spring" is tailor made for ladies who lunch, bringing mixed lettuces, cranberries, almonds, feta and raspberry vinaigrette. It's not the menu's most ambitious item, but it makes a refreshing complement to the heartier sandwiches.
Perhaps the most surprising menu items at Medina are the sweets. Instead of the expected baklava, the restaurant serves from-scratch blondies and brown-sugar-laden chocolate chip cookies that could rival Grandma's.
Ead's Medina Grill succeeds in large part because of his comfort with both American classics and traditional Middle Eastern street food. Label it how you will -- Mediterranean fusion, Arab-inspired American food, a cosmopolitan sandwich shop. But there is only one thing to call Medina Grill -- a fantastic little restaurant.
Medina Grill "Summer in Dubai"...$6.50 Classic falafel on pita...$5.50 "C'zar" salad (whole)...$6.50