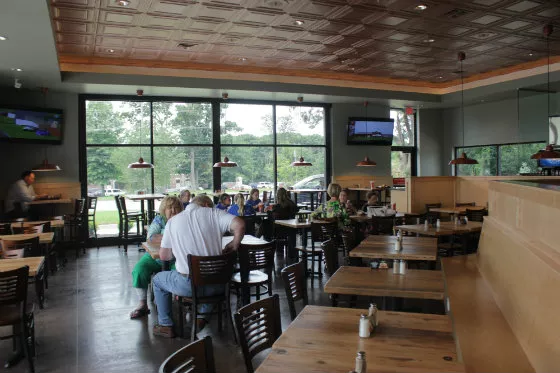 Emily McCarter
The interior of the new Lion's Choice in Ellisville, Missouri.
With modern finishes, high ceilings, a redesigned layout, multiple televisions and accessible USB charging ports, Lion's Choice is catching up with the times. The locally based fast-food chain hadn't opened a new location in over a decade, until the new location at 3048 Clarkson Road opened its doors for business in June. Under new ownership, the new style and experience showcases the new owner's concept of what Lion's Choice can be.
Local investors Millstone Capital Advisors and BlackRock Holdings purchased the St. Louis-based chain from its founders, Marvin Gibbs and Clint Tobias, approximately a year and a half ago. The new owners then hired Chicago-based Chipman Design to develop a new style, brand and identity for the chain.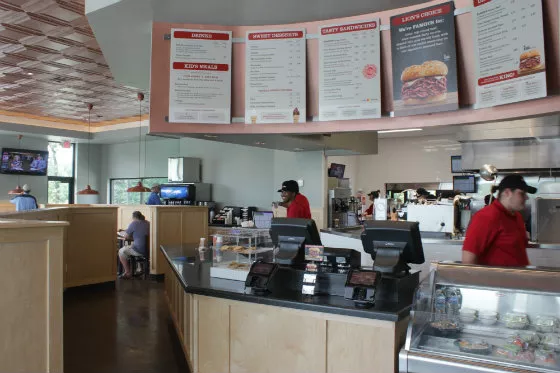 Emily McCarter
The interior to the new Lion's Choice in Ellisville, Missouri.
In addition to the modern touches inside, the new location features new outside patio furniture and two drive-thru lanes. Customers are responding; the new location is already serving over 500 customers a day.
"It started with the kitchen design, we wanted to create an experience for our customers, that's maybe a more premium, sophisticated look than they're used to for Lion's Choice current look," says Lion's Choice Director of Marketing Joe Buttice.
We know what you're thinking: big deal, they got new tables and chairs. But this new design wasn't only about new furniture; the Lion's Choice design team talked to store managers about the best layout to optimize the space in the kitchen.
"We worked extensively with a couple of our managers in our current stores and they helped us design the kitchen area, operationally how it's set up to make it more efficient for people; how they're moving behind the counter or where their reaching; how they're walking back and forth to the drive thru," Buttice explains.
The designers will continue to improve upon the new layout and design. One Lion's Choice crew member agrees that it's easier to move around in the new kitchen, but that the oven placement is not ideal; "I really don't care for the ovens underneath the slicer. It's more convenient because it's right there, but it's hot," says Brooklyn Gifford, who has been working at Lion's Choice for five years.
Enough about the design, we know what everyone actually cares about--the roast beef.
"We're famous for our roast beef sandwich and we are not going to change that at all. The food will not change, it's just the look," says Buttice.
As part of the new experience, the company wanted customers to see fresh roast beef sliced right in front of them, which is why the huge slicer is in plain sight. The restaurant still cooks all food on-site, cooking several pieces of meat every hour so that customers are ensured a fresh sandwich.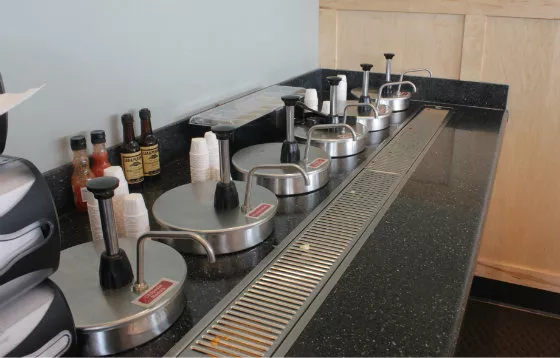 Emily McCarter
The sauce bar at the Ellisville Lion's Choice. Customers can choose from six sauces; horseradish, ketchup, chipotle ranch, sweet and smoky BBQ, tangy BBQ, honey mustard, plus their signature au jus.
The "prototype" Ellisville location also features a 6-choice sauce bar (plus au jus) with pumps built into the counter.
"People love our sauce bar. They love mixing them, they love our horseradish sauce and au jus, and a couple more like our chipotle ranch," says Buttice.
If the new concept continues to do well in Ellisville, the company plans to renovate more Lion's Choice locations with the Ellisville restaurant as the model. The Ellisville location marks the 24th Lion's Choice in the greater St. Louis area, but the new owners have plans to expand into other Midwestern cities.
The restaurant is open seven days a week, Sunday through Thursday 10 a.m. to 9:30 p.m., Friday and Saturday 10 a.m. to 10 p.m.