Photo by Mabel Suen
Barbecue at the Q Shack.
The Q Shack 6900 Noonan Avenue; 314-657-0702. Mon.-Sat. 11 a.m.-8 p.m.; Sun. 5-9 p.m. Open from the beginning of Daylight Saving Time till its end. Closed Sundays.
Before the elite smokehouses fired up their Ole Hickories, and well before barrel-aged cocktails were paired with pulled pork, the Gateway City got little recognition as a serious barbecue town. Yes, it's true that we were overshadowed by our Memphis and Kansas City brethren, but mostly it was because St. Louis barbecue was defined one of two ways. Either it was your jort-clad, mustachioed dad guzzling Busch and "Maulling" pork steaks on the back yard grill, or it was your local Boy Scout troop -- usually on a Saturday afternoon and definitely in a parking lot -- cooking rib tips out of a smoker that looked like a rusty metal trash drum turned on its side.
Times have changed, arguably for the better, but father and daughter restaurateurs Larry and Angie Lampert are banking on our nostalgia for the 'cue of yesteryear. Their latest barbecue venture, the Q Shack, is built on the premise that there is room in St. Louis' crowded scene for barbecue the way it used to be: cheap, unfussy and eaten out of Styrofoam next to a used-car lot.
The "shack" part of the name is literal: It's a red-painted single-wide parked in the Walgreen's lot on the corner of Manchester and McCausland avenues. The Lamperts have done a good job classing up the joint, adding an open-air, lattice-covered seating area that is outfitted with resin patio chairs and red-and-white-vinyl-clothed tables. The ambiance is minimal. The Q Shack abuts OK Used Cars on one side and offers a panoramic view of a Family Dollar on the other.
The Q Shack is located in a parking lot at McCausland and Manchester
Photo by Mabel Suen
Somehow, this doesn't kill the vibe. On a rare humidity-free evening, the gentle breeze and smell of smoke in the air could have convinced me I was sitting on the side of the road in a dusty Texas border town. Blame the vintage version of "El Paso" playing over the loudspeakers.
The Q Shack's barbecue is decidedly old St. Louis-style: soaked in sauce and as close to soul food as what's served in Memphis or Kansas City.
St. Louis-cut spare ribs are served swimming in a sweet and tangy tomato-forward sauce, the meat so tender that I had to fish around the to-go container to pick out the pieces that had fallen from the bone. Those more familiar with baby-back ribs will find these much fattier, but that's the nature of the St. Louis cut, not a knock on the Q Shack.
Rib tips -- the odds and ends trimmed from spare ribs to give St. Louis-style ribs their signature rectangular shape -- were my favorite barbecue offering. These small pieces of pork, considered throwaways by some, were coated in a spicy, black-peppery rub and perfectly caramelized on all sides. Here, the Lamperts are the most nuanced with their barbecue, letting the rub and cherrywood smoke take center stage, while the sauce plays a supporting role.
I was equally impressed with the pulled beef, taken from chuck steak and rich from its rendered fat. Served atop a simple white roll, its juices mingle with the house barbecue sauce to form a rich gravy.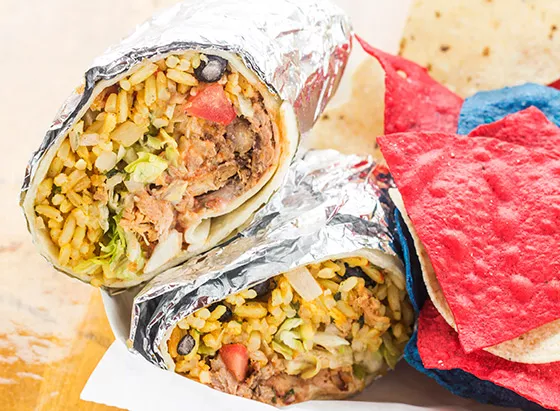 Photo by Mabel Suen
In addition to barbecue, the Q Shack dabbles in Tex-Mex, including burritos.
The Q Shack also dabbles in Tex-Mex street food with a barbecue flair. Surprisingly, I thoroughly enjoyed the "Gorilla Link" -- a long, mild pork link (they call it "American chorizo"; it's actually a smoked sausage) covered in Mexican-spiced taco meat, diced white onions and shredded cheese. Think of it as "chili dog meets slinger" -- something that sounds like a good decision after a twelve-pack, but will make your heart hurt the next day.
For those feeling less masochistic, the taco meat does double duty on the "Sloppy Jose," a Mexican (albeit Americanized) take on a Sloppy Joe. The seasoned ground beef, mixed with just a touch of mildly spiced tomato sauce, is heaped onto a simple white bun and topped with shredded lettuce, diced onions and cheese. Granted, it's the consistency of Taco Bell ground beef, but it was tasty nonetheless.
Enchiladas would have been fine -- soft tortillas, spicy salsa -- but the chicken filling was dry and chewy. I'd recommend filling them with either pulled beef or pork. The latter made for a tasty burrito. It's not going to win any awards for authenticity, but the moist, lightly sauced pork added a pleasant smoky element to the Mexican-style beans, rice and "Ranchero" salsa rolled with it in the flour tortilla. The same meat is also available as a simple and cheap street taco, stuffed into a crispy corn tortilla and garnished with lettuce, cheese, sour cream and mild salsa.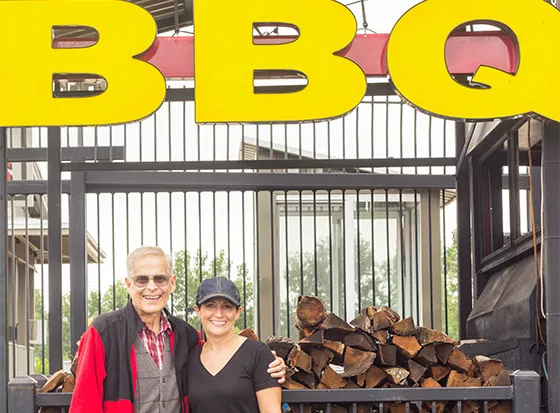 Photo by Mabel Suen
Larry Lampert and his daughter Angie.
This isn't the Lamperts' first barbecue rodeo. Years after Larry Lampert made his name running a chain of auto-parts stores (and paying to air commercials starring himself), father and daughter ran the Plush Pig, first in Clayton, then in Rock Hill, before opening the Q Shack last November. With this current venture, however, they seem to have found their voice -- and it sounds an awful lot like Dad singing Skynyrd on a Saturday afternoon. Which is about as St. Louis barbecue as you can get.
The Q Shack "Wet Burrito"...$5.95 "Gorilla Link"...$7.95 Spare ribs (half slab)...$13.95