Taste of Belgium's liege waffle topped with olive-oil ice cream and sea salt. | Photos by Mabel Suen
In May, Clementine's Naughty and Nice Creamery opened in Lafayette Square, featuring owner Tamara Keefe's line of small batch, handcrafted ice creams in innovative flavors that range from strawberry balsamic to chocolate mole.

The hormone-free dairy treats delight and refresh on their own, but we'd be remiss to not mention some of the unique partnerships established with similar-minded artisanal food producers on Clementine's personalized dessert menu. One of Keefe's personal favorites: liege-waffle sundaes made with Taste of Belgium's premium baked goods out of Ohio.
See also: The 5 Best Ice Cream Parlors in St. Louis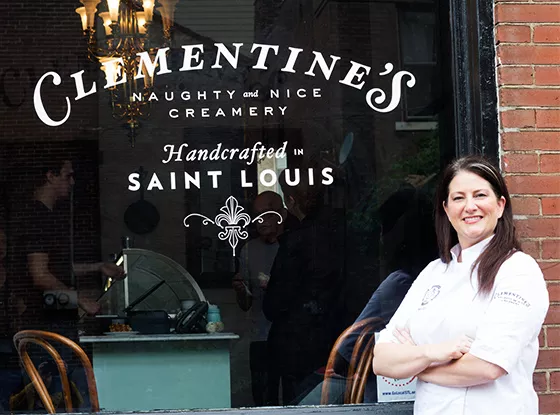 "I just felt like our brands were aligned. We thought about things the same way and had similar goals, so it was kind of kismet," Keefe says, in reference to the pairing. "I reached out to the owner, Francois, who didn't do wholesale anymore. I said you have to do this for me because there's nothing like this in St. Louis, and I want to offer it. After some gentle coaxing, he agreed."
Liege waffles from Taste of Belgium.
Each of Taste of Belgium's traditional waffles comes baked individually on specialized cast-iron presses. The recipe features a thick dough and coarse Belgian beet sugar, or pearl sugar, that caramelizes on the exterior of each pastry, creating a crisp crust. The dense, rich waffles are best served warm to appreciate their textural complexities.
Paired with Clementine's ice creams, they make a decadent confection. Keefe particularly likes to top the waffles with her lemon olive oil verbena ice cream with lemon olive oil glaze and fleur de sel.
With so many boozy and non-boozy flavors to choose from, any combination -- naughty or nice -- is bound to hit the sweet spot.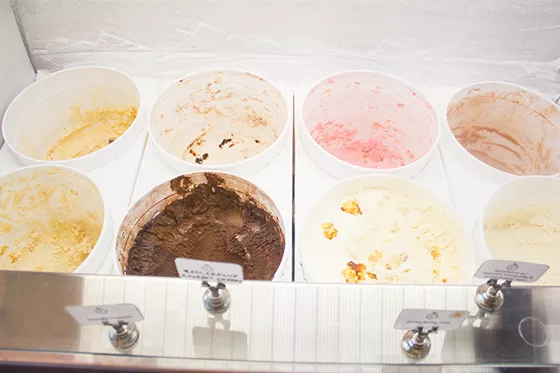 A look into the dipping cabinet.
Previously on Sugar High: - Gus' Pretzels' Cinnamon-Sugar Pretzels - Fitz's Berry Pomegranate Soda - Smalcakes' Wedding Cake Cupcake - Pastries of Denmark's Petit Fours - Lucky Buddha's Five-Spice Crème Brûlée - Amy's Corner Bakeshop's Scones - Vincent Van Doughnut's "Mini Vinnies" - Piccione Pastry's Sfogliatella Riccia - The Feasting Fox's Warm Apple Strudel - I Scream Cake's "I Scream Sammys" - LuciAnna's Pastries' Chocolate-Mousse Cheesecake - Spoon Baking Company's Spoon Cookie - Insomnia Cookies' S'mores Deluxe Cookie - Living Room's Peanut-Butter Chocolate-Chip Cookie - Stimulus Baking Company's Pad-Thai Cupcake - La Bonne Bouchée's Strawberry-Mousseline Cake - Pie Oh My's Pumpkin-Maple Pecan Pie - Annie Moons' Banana-Split Muffins - Cyrano's Carrot Cake - Whitebox Eatery's Cheese Pastry - Comet Coffee's Mousse Cakes - Whisk's Apple-Cinnamon "Pop Tartlets" - The London Tea Room's Blueberry-Lemon Cake - Corner 17's Fluffy Ice - The Fountain on Locust's "Banana Bourbon" Sundae - Vinnie's Pinwheel Baklava - Red Fox Baking & Catering's Lemon Tart - Sugarfire Smokehouse's Crack Pie - Russell on Macklind's Coconut Cake - The Kitchen Sink's Sweet Potato Fries - Giovanni's Kitchen's Panna Cotta Trio - Crepes Etc.'s Crepe Cake - Cafe Ventana's Beignets - Frida's Raspberry-Chocolate Avocado Mousse - India Palace's Gulab Jamun - Melt's "Violet Beauregarde" Waffle - Brevan's Patisserie's "Brendan" - Winslow's Home's Chocolate Cake with Espresso Meringue - La Patisserie Chouquette's Eclair - Black Bear Bakery's Raspberry Oat Bar - Gelateria's London Fog Gelato - 4 Seasons Bakery's German Cheesecake - Libertine's "Candy Bar" - Cleveland-Heath's Old Fashioned Cherry Pie - Schlafly Tap Room and Bottleworks' Sticky Toffee Pudding