Photo by Sarah Fenske
The burger at Twisted Ranch, served with a side of fries and, of course, ranch dressing.
Drama continues at St. Louis' ranch dressing-themed restaurant!
Two days after Riverfront Times broke the news that Johnathan Tinker, the chef slated to open Twisted Ranch on June 30, had walked off the job 20 minutes into the restaurant's soft opening, we heard from Tinker.
The chef confirmed that he did, in fact, leave that night without saying a word. He also said that co-owners Jim Hayden and Chad Allen are "great people."
See also: 5 Things That May Surprise You About St. Louis Ranch Dressing-Themed Restaurant
But, Tinker explained in a lengthy email, he felt he had no choice: "Jim and Chad have no idea what they are doing as owners of a restaurant."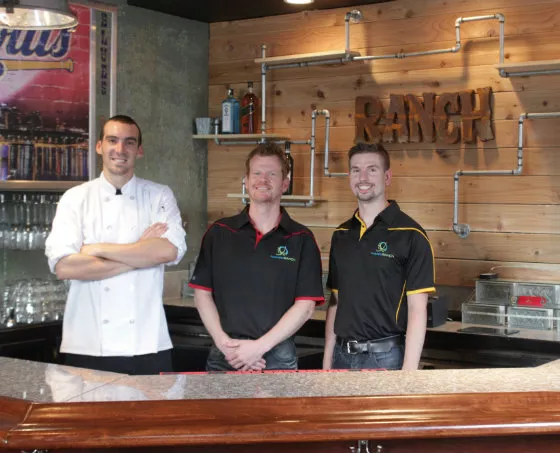 Photo by Sarah Fenske
Johnathan Tinker (left), who had been hired as the chef at Twisted Ranch, is shown here with owners Jim Hayden and Chad Allen.
In his email, Tinker blamed the pressures of trying to open the restaurant with just 38 days to prepare, the difficulties of a cramped space, and the complication of having just one fryer when much of Twisted Ranch's menu involves fried food.
The owners -- "accountants whose culinary experience was limited to serving" seemed unwilling to acknowledge the degree of difficulty, even as the hype surrounding the restaurant grew:
They had six menu items (not including fries for sides, which happens to be pretty popular) to be deep fried, and one fryer. As soon as all the tickets came in with nothing but fried foods and a kitchen full of untrained cooks, it became apparent that we were in no way ready.
Tinker also wrote, "I will first, and foremost admit that I am ashamed how I handled the situation. I grabbed my personal belongings, walked to my car, and drove home."
We've posted Tinker's complete statement in its entirety below.
We also reached out to Hayden and Allen to get their response to the chef's allegations. Here's what they told us in response:
We would just like to say that we are sorry that Johnathan left as we enjoyed working with him over the past month or so when he came on board and we had hoped to continue to work with him for a long time. We wish him the best and are very sorry it did not work out with him on our team at Twisted Ranch.

Our mission is to create a wonderful restaurant experience for everyone that dines with us. A restaurant is a team effort, and we feel we will have the right staff in place when we open from our chef to our servers, to our kitchen staff, we will deliver what we feel will be the best food and dining experience for our patrons. We have spent a lot of time and energy creating this concept, our passion for food and exceptional service will be evident when you visit Twisted Ranch.
After Tinker left the restaurant, the owners pushed back Twisted Ranch's opening date. They hope to announce a new date, and a new chef, soon.
Turn the page to read Tinker's complete statement.