Mabel Suen
Público's "Pescado Blanco" tacos.
Público 6679 Delmar Boulevard, University City; 314-833-5780. Tues.-Sat. 5-10 p.m.; Sun. 5-9 p.m. (Closed Mondays.)
Watching Mike Randolph is like watching the cap dance on the Jumbotron at a baseball game. One minute he's opening a pizzeria; the next he's moving it across town. Then he's closing it to rebrand the space as an Italian restaurant -- at the same time he's rolling out a new Latin-American grill, inspired by a pop-up he once did inside his breakfast café. Keeping up with Randolph's culinary twists and turns is exhausting, if not a touch comical. Someone has even created a mock Twitter account called "Bored Mike Randolph" to poke fun at the chef's antics.
- See also: Review: Lascelles Brings Stylish, Upscale Dining to, Yes, Granite City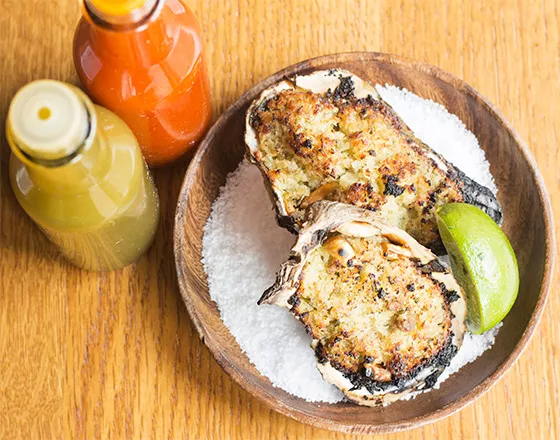 Mabel Suen
Grilled oysters.
But Randolph is no laughingstock. Joke about his methods all you want; there's no denying his talent. Without fail, every place he opens goes beyond simply serving good food. It sets the pace for the genre. The Good Pie did that for Neapolitan pizza; Half & Half did that for breakfast fare. At his latest venture, Público, he has set the bar for Latin-American cuisine impossibly high.
Diners who've followed Randolph's career saw hints of Público as early as 2012, when he opened the short-lived Mexican restaurant MEDIAnoche inside of his acclaimed breakfast spot Half & Half. Though he closed MEDIAnoche after just eight months, Randolph never fully let go of his idea for a Latin-American concept. When the space became available a few doors down from the Good Pie, he jumped at the chance to expand upon the restaurant he'd dreamt of.
His vision for this restaurant is unlike any other in town -- or, dare I say, any in any other town, save for something on the level of Rick Bayless' revered Topolobampo in Chicago. Sure, you'll find guacamole at Público, but instead of a side of banal chips for dipping, it's served atop an arepa that's like a cross between your Southern grandma's cast-iron cornbread and a handmade corn tortilla passed down generations to your abuela. The guacamole itself doesn't break the mold, but rather serves as the Platonic ideal for what you want in the classic version: creamy, chunky, kissed with fresh-squeezed lime and cilantro and garnished with queso fresco. The closest thing to refried beans you'll find on the menu are slow-cooked pintos, enriched with lamb drippings and fresh mint. They'd be just as comfortable at a Greek taverna as they are on a menu from south of the border.
That's the thing about Público: It's not really a Mexican restaurant. There are hints of Colombia, Brazil, Venezuela, even the Mediterranean.
Mabel Suen
Inside Público's kitchen.
The physical space adds to the mystique. The prominent bar, which occupies the majority of the restaurant's real estate, is backlit with soft amber light and covered with wrought ironwork you could find in Madrid. Then there's the fiery glow from the open kitchen and modernist wooden tree sculptures that jut out from the walls, giving the feel of a gothic beach party. A few cream-colored booths, some lotus-inspired chalk paintings and a handful of colorful Latin-American prints round out a stunning design.
The guacamole and pinto beans are only a tease for what is to come courtesy of Randolph's ambitious menu. A cobia caprese mimics the classic Italian salad with slices of the rich, fleshy fish standing in for the traditional mozzarella. Delicate tomato water that could be served alone as a savory agua fresca is instead spiked with flecks of Serrano peppers, and a few miniature basil leaves are sprinkled over the fish.
Randolph again shows his seafood chops with a baby octopus salad. The whole, miniature octopi are tossed in a tomato and caper vera cruz sauce, its tartness balanced by the smoke of paprika. It was as rich as a Bolognese.
Tender sweetbreads simmered with pineapple and habanero perfectly balanced sweetness and spice. Creamy chorizo grits, topped with corn nuts and hearty coffee-spiked gravy, made me feel like I was dining on the bayou. Even the squash was otherworldly. Large chunks of zucchini, grilled just to the point of tenderness, were served over a subtly sweet squash-blossom vinaigrette the consistency of an aioli.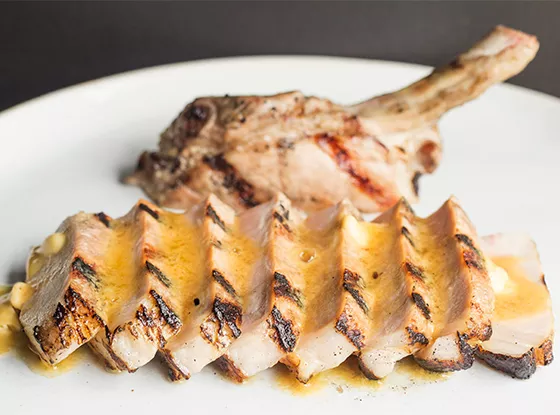 Mabel Suen
The bone-in pork chop.
Tacos at Público are elevated beyond their street-food heritage. On the night of one visit, Randolph was serving them stuffed with slow-braised beef cheeks so succulent they were all but spreadable. A touch of crema made the serving all the more rich, but there was just enough of a pickled onion garnish to cut through the decadence. And though the fish tacos were filled with simple smoked cobia, I could have been fooled into thinking there was crab and bacon somewhere inside the tortilla as well. The wood grill brought out a subtle sweetness in the fish while jalapeño cream cheese, crispy shallots and some cilantro rounded out the plate.
Red snapper, fresh from a wood grill, is a luxury in this landlocked city, and Público shows us what we've been missing. The whole fish, stuffed with jalapeños, garlic cloves and cilantro, is the main course of my dreams when I close my eyes and imagine myself at a beachfront barbecue: simple, communal and delicious. Assembled into fish tacos, utilizing the accompanying corn tortillas and cilantro and tortilla strip salad served on the side, it was remarkably tasty.
It should be difficult to name a favorite dish at a place where everything is impeccable, but it isn't for me. The bone-in pork chop, infused with smoke from the wood fire and drenched in peach habanero butter, gave me an out-of-body experience. In the days since my visit, I've found myself fantasizing about it. The thinly sliced medium-rare pork melted in my mouth like a luscious piece of sashimi. If there is a better pork dish out there, I'd be shocked.
Desserts at Público are like an extension of the meal rather than a sweet departure. An almond flan, drizzled with cherry mezcal sauce, is livened with tart, tamarind caramel, and the rice pudding, accompanied by mango and lime purée, is made positively decadent with a generous dusting of foie gras torchon. It's a stunning end to dinner at what will most likely be the year's best restaurant.
Which is why I end this with a plea. Please, Mr. Randolph, don't take Público away from us. Do a few pop-ups. Crowdfund a new venture. Start a line of handcrafted artisanal crock pots to appease your creative spirit. Just don't change a thing about Público. It's perfect the way it is.
Público Cobia caprese...$8 Guacamole arepas...$12 Bone-in pork chop...$19.50