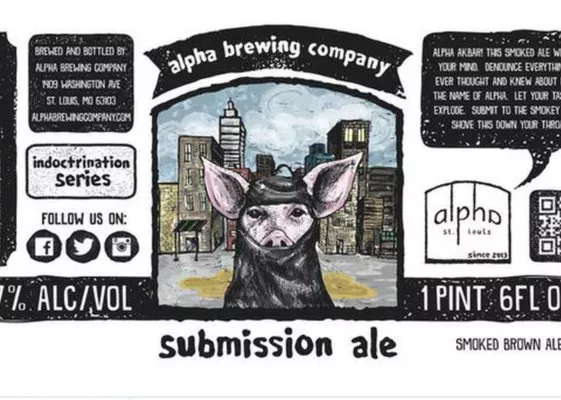 Alpha Brewing announced this new beer on Twitter this morning -- only to quickly walk away from it.
A St. Louis-based craft brewery is backing away from plans to market a new beer mocking Islam called Submission Ale, after outrage immediately flared on Twitter this morning.
But Alpha Brewing Company isn't necessarily scrapping the label, which depicts a pig wearing a hijab, or even the idea of a beer targeting the Muslim faith. The company's head brewer, Derrick Langeneckert, says Submission Ale will get a new name because he didn't realize 2nd Shift Brewing already makes a beer with the same moniker.
That beer, Sub-Mission IPA, has nothing to do with Islam -- it's part of a collaboration with St. Louis' much-loved Mission Taco Joint.
Alpha Brewing's Submission Ale, on the other hand, is explicitly aimed at Islam. "Alpha Akbar," one part of the label reads. "This smoked ale will blow your mind."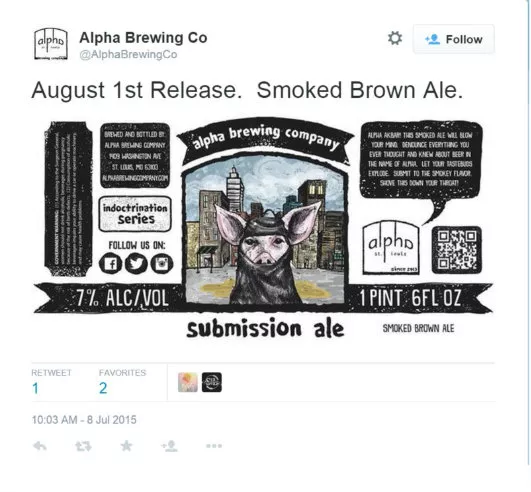 The tweet that set off controversy this morning.
After Alpha announced the beer would soon premiere on Twitter this morning, St. Louis' community of beer lovers responded immediately, and angrily:
But Langeneckert says the criticism is silly. "This is the eighth beer in our Indoctrination Series," he says. "No one was upset when we put the pope on a label."
Alpha announced the series making fun of religion back in January, and put all 12 labels online at that point, Langeneckert says. There was no controversy. Nor was there any in previous months when everyone from atheists to "door knockers" to Scientologists came in for a ribbing.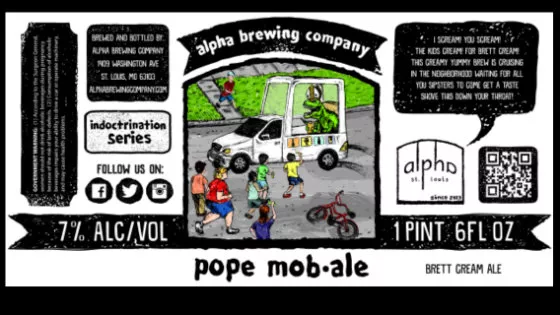 Alpha's May release mocked the Pope.
"Everyone's OK when it's L. Ron Hubbard you're mocking," he says. "Religion is kind of funny. Everyone thinks theirs is the right one, and everyone is ridiculous."
It's only when he realized the conflict with Second Shift that Langeneckert decided to change course. He's still trying to decide just how much will change about the packaging.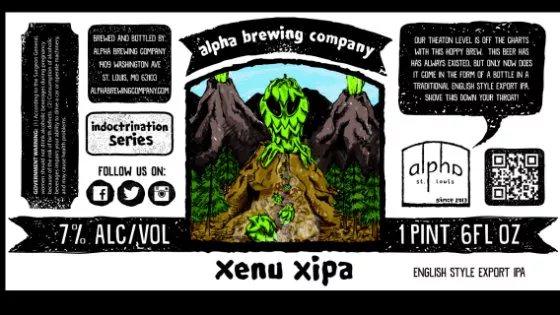 Scientology was the target in April.
"I wouldn't say the label is off the table quite yet," he says. He says he'll make up his mind in a few days, admitting, "I don't know. I got whacked in the face with a big wet fish this morning."
That said, he notes that the people he's heard from so far don't seem to be Muslims, or even people who regularly buy his beer. "People are tweeting things like, 'I've never bought an Alpha beer, and I never will.' Great. Don't buy this one, either."
This isn't the first time Alpha has found itself in the middle of controversy, as Langeneckert acknowledges. In January 2014, he apologize for "insensitive and hurtful statements" about other breweries. Asked why he seems to find so much controversy, the 28-year-old laughs ruefully.
"Because I'm young and stupid," he says.
We welcome tips and feedback. Contact the writer via email at [email protected]