Emily McCarter
A make-your-own gyro lunch from Yiro/Gyro (750 Locust Street).
The Imamovic family knows good gyros -- and they've got two other thriving gyro restaurants to prove it. But now they're trying something new: Yiro/Gyro (750 Locust Street) offers quick gyros made-to-order and other healthy lunch options.
"We wanted to try something a little different, more customizable, some more healthier options," says co-owner Merim Imamovic.
They chose their location carefully.
"I just feel like downtown is changing, there's more residential places going up, buildings being remodeled, it's getting more vibrant," says co-owner Mirza Imamovic, who is Merim's brother. "We wanted to contribute to all the development and excitement of downtown St. Louis. We wanted to be a part of that."
Emily McCarter
Customers eating their lunch at Yiro/Gyro.
Yiro/Gyro's menu outlines four specialty items: a classic gyro; a doner kebab; the Zemech Bowl, which features basmati rice, grilled chicken, tomatoes, sumac, onions, cucumbers, chickpeas and tahini sauce; and Ana's Salad, which features a spring lettuce mix, falafel, spinach, Israeli salad, chickpeas, red cabbage and a vinaigrette dressing.
Customers can also customize their own gyro lunch by choosing a starch (pita, basmati rice or lettuce wrap), protein (grilled chicken, gyro slices or falafel), veggies (there's eight) and sauce (tzatziki, tahini, vinaigrette, sriracha ranch). No entree is over $9.
The co-owners/brothers of Yiro Gyro grew up working in their mother Ajisa's first gyro restaurant, The Gyro Company (7240 Gravois Ave). Opening and managing their own gyro restaurants was a logical next step, and Mirza is also the co-owner (with a friend) of the second Gyro Company at 5496 Baumgartner Road.
"It's never boring," explains Mirza. "Both of us graduated college and we both decided that we liked doing this more than looking for a regular job."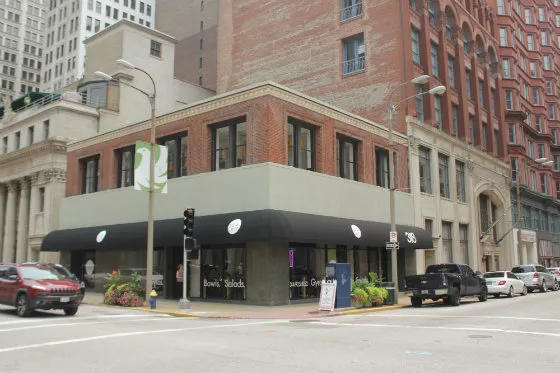 Emily McCarter
Yiro/Gyro is located in downtown St. Louis at 750 Locust Street.
Although the Imamovic brothers make running a restaurant seem easy, they take no short cuts, especially when it comes to their ingredients.
The brothers buy many ingredients locally. For the chicken, "we season and prepare it ourselves . . . . We clean it ourselves and get all the fat off. We do that every two days so it's always fresh," Merim says. They also cut all of their own vegetables. Even the bread comes from local bakeries fresh every morning.
"The main gyro sauce, we make that ourselves," Merim says. "We get all of the vegetables and ingredients, then we prepare the sauce every week ourselves."
In Mediterranean countries, they say, their signature dish is as ubiquitous as pizza.
"I tell people that gyros are like pizza. In the U.S. everyone has pizza, but there's Chicago-style pizza, St. Louis-style pizza, New York-style; everyone has pizza and everyone does it differently," Merim explains.
Since the Imamovics originally hail from Bosnia, Merim explains, their culinary influence comes from the Turkish people, who share a religion with many Bosnians.
"I grew up eating the doner kebab, it's a big gyro sandwich on the fluffy bread," Merim says. "Especially early in the morning when it's warm from the baker, and you put the gyro meat on it. It just melts in your mouth."
As for the name of the restaurant, Mirza says they were merely looking for something that rhymed with gyro -- the word "yiro" has no meaning.
"We had a lot of people asking us how to pronounce 'gyro,' so we came up with 'yiro,'" Mirza says. "When you say Yiro/Gyro, it rhymes."
Since Yiro/Gyro only opened three weeks ago, the Imamovic brothers are still figuring out the best hours to best suit their customers. For now, Yiro/Gyro is open Monday through Friday, 11 a.m. to 3 p.m. See the restaurant's Facebook page for more information.
We welcome tips and feedback. Contact the writer via email at emily.mccarter@riverfronttimes.com