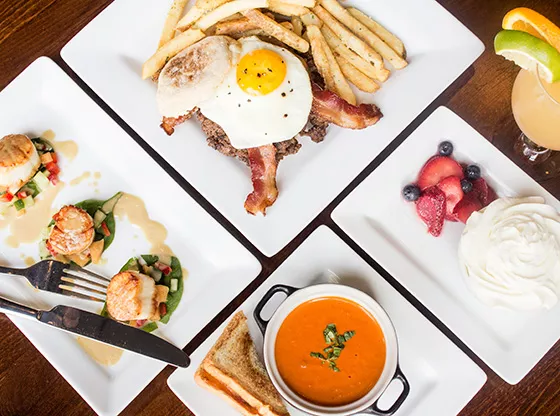 Mabel Suen
Sea scallops, the "Farmhouse Burger," tomato bisque, lemon soufflé.
Lascelles Granite City 1324 Niedringhaus Road, Granite City, Illinois; 618-709-7375. Mon.-Thurs. 11 a.m.-9 p.m.; Fri.-Sat. 11 a.m.-11 p.m.; Sun. 10 a.m.-3 p.m.
Head east across the McKinley Bridge from St. Louis into Illinois, and the change in scenery is palpable. As the buildings that make up the downtown skyline grow smaller in the rearview mirror and you make your way into Granite City, it's as if you've been transported to another time. But it's not a nostalgic view.
Mabel Suen
Lascelles is an art-deco jewel, housed in a former bank.
This company town, once a major player in the nation's economy, has seen better days. Granted, the massive steel mill that once bore Granite City's name is still operational -- as are the agricultural plants and the rail yard. But time has been hard on the former manufacturing hub, and nowhere is this more evident than in its once-bustling city center. The shell of its former self is there, but the storefronts once filled with beauty parlors, hardware stores and dress shops sit vacant and in various stages of disrepair. At 7 p.m. on a recent Wednesday the place was a ghost town -- like a backlot for some post-apocalyptic zombie flick.
Attorney Lance Callis hopes to change this. Known in Madison County as much for his legal prowess as for his role in founding the Alton Belle Casino (now the Argosy Casino Alton), Callis is on a mission to revitalize Granite City's rundown central business district. His development company, Lascelles Group, bought up several properties near city hall and the five-year-old Granite City Cinema in an attempt to breathe new life into the vacant storefronts.
The cornerstone of his development efforts is Lascelles, an upscale American eatery located in the old Guardian Bank building. Callis brought in chef Eric Brenner, best known for his west-of-the-Mississippi restaurants Chez Leon and Moxy, to run the kitchen and serve as Lascelles' general manager. The pair toyed around with the concept -- originally Callis envisioned the building as a barbecue joint, and then as a craft brewery -- and debated how far they wanted to push local diners while still maintaining a sense of approachability.
Brenner recently relinquished the day-to-day operations in favor of a consulting role so that he can pursue other opportunities out of state. But, he says, he designed Lascelles' food choices to feel comfortable for both weekend diners in search of an upscale experience as well as steel workers looking to grab a burger and a beer for lunch. But while the latter group may not be intimidated by the menu, they might find the atmosphere daunting. The former bank is an art-deco jewel -- soaring tin ceilings, the original white-and-burgundy granite floors, and floor-to-ceiling windows that look out onto the flower-covered median that divides Niedringhaus Road. A dark wood bar is the focal point of the space, and several Gatsby-inspired touches, including gilded vases filled with peacock feathers, dot the sage and burgundy painted room. If you look closely, you can spot remnants of the bank, such as some of the original vaults built into the walls.
Though Brenner no longer runs the kitchen, his presence is still felt at Lascelles through the menu of his design. It's a cross between country club "something for everyone" classics and a hipster bill of fare -- there are enough "+" signs connecting trendy menu ingredients to choke a Brooklynite. He has struck an approachable note, tending toward updated comfort fare, but what works conceptually is not always executed without flaw.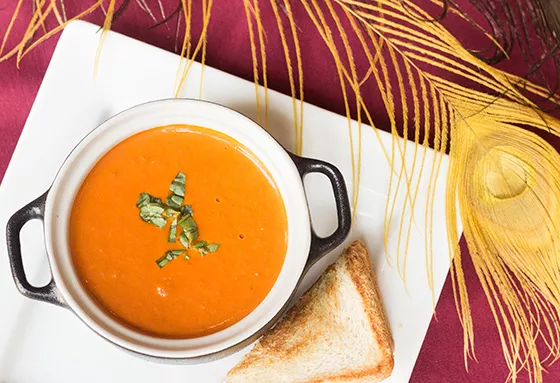 Mabel Suen
Lascelles' award-winning tomato bisque.
Brenner leads strongly with his "award winning" tomato bisque. (It's what notched him a victory on Guy's Grocery Games last year.) The presentation is classic: a steaming bowl of rich tomato soup served with a miniature grilled-cheese sandwich for dipping. This humble dish may have been the best thing I ate at Lascelles. I was also impressed with the Brussels sprouts. The vegetables were both roasted and fried so that the individual leaves crisped up like flash-fried spinach. Thinly sliced sweet chile peppers and shallots gave the "snack" piquant punch.
Jumbo scallops served atop buerre blanc were garnished with a refreshing cucumber-melon relish. This would have been a great summertime appetizer had the scallops not been over-salted. Meanwhile, instead of croutons, Lascelles' Caesar is topped with crispy calamari. It was a fun update, but the salad arrived way overdressed. Granted, the dressing was a bright and deliciously anchovy-heavy version; I just could have done with about a tenth of it.
Arguably the most ambitious menu item at Lascelles is the savory feta "Cheese + Cake," served beside a pool of luscious goat-cheese sauce, two orange slices, Kalamata olive pieces and pistachios. This deliciously rich dish was meant to be balanced by the accompanying citrus fennel slaw, but the side dish was dry and lacked any hint of citrus.
And though calling the shrimp and grits "New Orleans" style is debatable -- they seemed decidedly more Southwestern -- I enjoyed them nonetheless. I would have liked more spice on the shrimp, but the smoked Gouda grits were sweet and creamy, the cooking liquid tasted like a savory cioppini broth, and the black bean and corn relish added texture.
Lascelles had its fair share of successful entrées, but its misses were bogged down by temperature and seasoning issues. The kitchen prepared the strip on the "Steak + Frites" to a perfect medium rare. Served with red wine shallot compound butter, some peppery arugula and thick-cut truffle fries, it was the quintessential bistro dish (albeit a salty one). The crisp, beer-battered whitefish, served with housemade potato chips and asparagus, was so flavorful I didn't need to dip it in tartar sauce (though the tart, creamy condiment was tempting).
Mabel Suen
Sea scallop.
The "Chicken + Dumplings" is a refined take on the comfort food dish. A smoked, skin-on half chicken, generously seasoned with thyme adds a barbecue element. It's served over thick chicken gravy with mushrooms, peas, carrots and gnocchi so soft that it melts in the mouth. Unfortunately, the salt problem reared its head again. The chicken skin and the sauce were over seasoned individually; when combined it was enough to make me beg for water. The "Pork + Beans" fared slightly better. Yes, the rosemary-flecked white beans were a touch salty. But the seasoning level was balanced when all the dish's components were eaten together, and though the meat was overcooked, it was still juicy (the server did not ask for a temperature, and it was presented medium-well).
I was most disappointed with the sautéed grouper, in part because of how overcooked the fish was, but mostly because it drove me to say something I never thought I could utter -- there was too much garlic. The well-done grouper was dried out, to the point that its large flakes were falling apart, and the macerated tomatoes covering it were so overwhelmed by garlic that my mouth puckered. Perhaps that is why the Parmesan risotto was bland -- it was meant to balance the strong taste of the tomato relish. A few honey-roasted artichokes and some asparagus sprigs were the highlights of this otherwise unfortunate dish.
Lascelles redeemed itself in a big way with its "Farmhouse Burger." Two thin, seared beef patties are stacked with smoked Gouda, bacon and a fried egg, then served on an English muffin. The juices from the seasoned patty mingled with the bacon grease, rendering other condiments unnecessary. If I were a local, this would be my go-to dish.
Desserts are another high point. The chocolate on the "Smores" is a molten lava cake, served with a triangle of graham granola and toasted marshmallow ice cream -- a component that even by itself would be a standout. Tart cherries liven an otherwise traditional crème brûlée, and a frozen lemon "soufflé" (more like lemon ice) refreshes the palate after a heavy meal.
Service was pleasant and attentive, from the hostess to the bartender to the servers. You get the feeling that Lascelles' staff buys into their role at the restaurant as part of the overall Granite City renaissance, seeing themselves more as ambassadors than employees.
Which is why, despite its stumbles, I'm rooting for Lascelles. This is more than the story of a restaurant. Whether it will spearhead a Granite City culinary movement is far from written in stone, but it's a start -- albeit a rocky one.
Lascelles Granite City Tomato bisque (cup)...$5 "Farmhouse Burger"...$11 "Steak + Frites"...$24