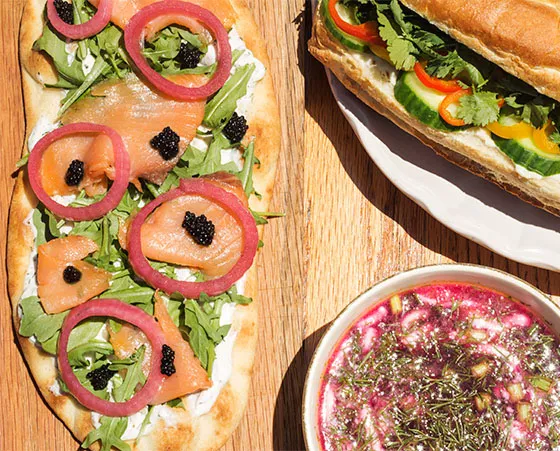 Mabel Suen
Russian flatbread, a "Baltic" banh mi and borscht.
Handlebar 4120 Manchester Avenue; 314-652-2212. Tues.-Sun. 11-3 a.m. (Closed Mondays).
George W. Bush famously stated that he looked Vladimir Putin in the eyes and could see his soul. Even if the former president famously misjudged Putin's character, I imagine the dinner party that might have precipitated those comments would have been a lot like dining at HandleBar: an odd blend of Russian fare and Southern-inspired comfort food.
Here is borscht as well as pork-belly hash, and Eastern European ground pork and bacon dumplings served alongside pimento cheese. And hummus. And...St. Louis-style pizza? Yes, that too.
- See also: Taco Circus Is an Affordable Tex-Mex Delight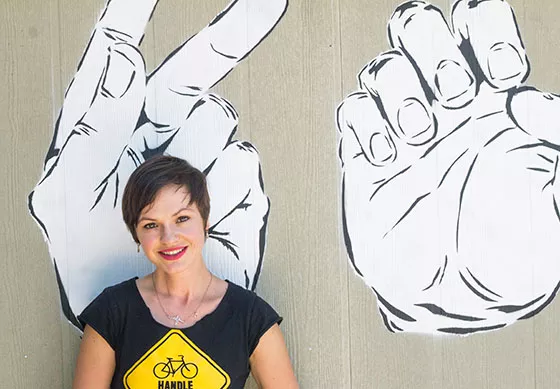 Mabel Suen
HandleBar's Tatyana Telnikova.
This -- a menu that does not hew closely to a region or cuisine -- shouldn't work. But just like the relationship between the two leaders, it somehow does.
HandleBar is the brainchild of Tatyana Telnikova, a Moscow native who moved to the United States in the late 1990s. Telnikova has embraced her new life in the States, but, like most expats, she's deeply homesick for the familiar foods of the motherland. In her quest to share her culinary heritage with St. Louis diners, she could have gone the stereotypical route and opened a red-leather-swathed Russian-themed vodka lounge. Instead she decided to do things differently, opening a good ol' American bar and serving Russian food in place of standard pub fare.
Though it's been a successful formula for the past five years, Telnikova shuttered HandleBar for a week this past February to update the bar's look and revamp the menu. Aesthetic changes were minimal. Really, it was more of a good scrub-down than a remodel. HandleBar still looks, first and foremost, like a place for doing shots of Fernet and hitting the dance floor. A few refinished wooden booths line one of the walls, and a handful of tables dot the adjoining rooms. The large bar, stocked with craft beer, is still the focal point, and the open dance floor remains, albeit with a fresh coat of varnish, after having been previously destroyed by revelers dancing all night to MGMT.
Russian and Eastern European dishes remain the centerpieces of HandleBar's menu, but it's now sprinkled with American comfort food. The reason for this mashup is Chris DiMercurio. Telnikova brought in the chef to add polish to the menu. He's a veteran of some of the city's top restaurants, including Niche, Element and Elaia, and his recent stint at Old Standard no doubt filtered into the Southern-inflected food at this new gig. Perhaps not surprisingly, in light of his many moves, DiMercurio has already left HandleBar. Telnikova wouldn't discuss the reasons, but she says she has no intention of changing the menu he helped put together. She has also found herself at the helm of the kitchen; unexpectedly, she already feels quite comfortable.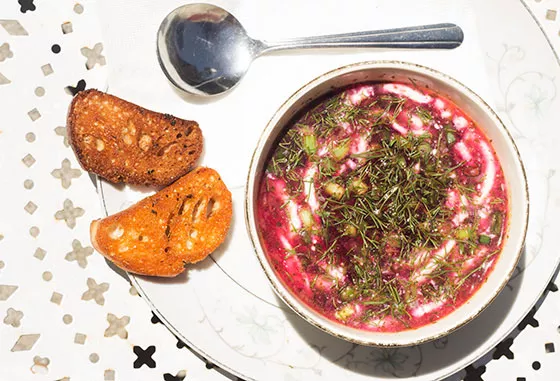 Mabel Suen
HandleBar's got excellent borscht, naturally.
Though borscht is listed on the menu's introductory write-up as a "thing you must try," I did not see it on the board of fare. The server checked with the kitchen for me, and I was presented with a steaming bowl of delectable soup. The beet-infused broth was clear and delicate like a consommé, while a few hunks of the sugary root vegetables provided a subtle thickening effect. Diced green onions contributed as much flavor as the beets, giving a pungent punch that balanced the broth's earthy sweetness.
Telnikova's heritage shines equally bright in the gravlax blinchiki. A thin, beer-battered crêpe is topped with smoked salmon, dill sour cream, arugula and diced red onions, then rolled up and drizzled with more sour cream. The malty sweet dish is like a delicious Baltic burrito.
I preferred this version to both the "Ukranian" and beef blinchiki. The mild sausage in the former was overwhelmed by strong mustard, and the diced steak in the latter was chewy. Another Russian specialty, the dumplings called "pelmini," would have been a success if they were seasoned better. Both the cumin-scented pork filling and broth begged for salt. The menu then takes an abrupt turn South, and I don't mean toward Sochi. A dish, simply titled "Hash," finds roasted potatoes covered in rich, braised pork belly, mildly spiced chorizo and a sunny-side-up egg. Though seemingly out of place, I can't imagine a better option for a night of over-imbibing.
Pimento cheese also makes an appearance -- though the fact that it's sometimes called the "caviar of the South" makes it seem less out of place than you might assume at first glance. The gooey cheese and sweet red chile dip needed more punch and salt, but it was a fair enough riff.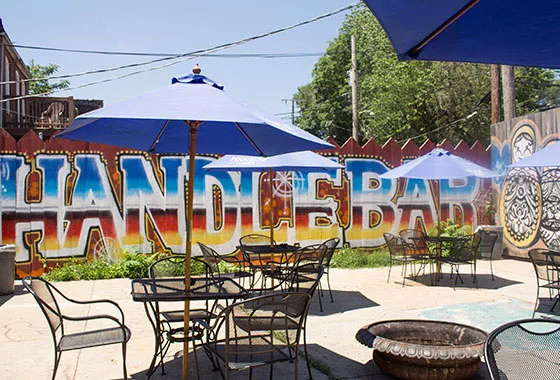 Mabel Suen
A lovely back patio for nibbling or cocktailing.
Some of HandleBar's best offerings come in the form of vegetable-centric dishes. A simple salad of whole baby carrots served atop arugula is brightened with fresh mint and diced pickled onions. The ginger-spiked vinaigrette pairs well with the peppery greens. Meanwhile, the earthy roasted Brussels sprouts in another salad are tossed with hunks of bacon and sweetened with burnt honey vinaigrette. A light sprinkling of goat cheese adds just enough funk without being overbearing.
I headed back to the USSR for what turned out to be my favorite dishes. The first, a Russian flatbread, was an opportunity to eat more of the luscious house-smoked salmon. This time, it was served atop thin, crispy shell that had been spread with dill crème fraîche. Pickled onions and arugula cut through the richness, and a few dollops of caviar gave it a salty pop.
I equally enjoyed the "Baltic Banh Mi," a twist on the quintessential Vietnamese sandwich. HandleBar's version stuffs a light but crusty baguette with smoked whitefish. Dressed in creamy mayonnaise, the smoked fish mimics the pâté that's traditionally served on a banh mi. Pickled peppers, thinly sliced jalapeños, cucumber and cilantro add refreshing crunch to this excellent sandwich.
Telnikova wants HandleBar to be known as much for its food as for its raging dance parties. Sitting out on the back patio on a weeknight around 7 p.m., I could forget I was in a bar. Even dining inside a little later on a Saturday night proved low-key, though once the crowds begin to filter in the scene may become too distracting for diners hoping simply to enjoy a meal.
Yet the retooled menu does a good job at showing a side to HandleBar beyond its hipster-watering-hole reputation. U.S.-Russian relations may have cooled since the days of Bush and Putin, but Telnikova's reset is going just fine.
Handlebar Brussels sprouts...$5 Russian flatbread...$9 Gravlax blinchiki (2)...$9