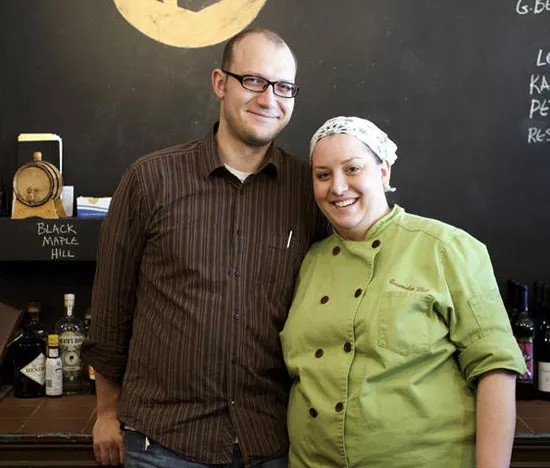 Cassy Vires and husband Josh Renbarger. | Jennifer Silverberg
Perhaps there wasn't enough room in the oven for all of those biscuits?
Over the weekend, Juniper (360 North Boyle Avenue; 314-329-7696) owner John Perkins announced the departure of head chef Cassy Vires in an email message to his loyal guests. Perkins will resume his role at the helm of the kitchen this week.
See Also: Juniper Removes Too-Trendy Fried Chicken From Menu
Vires joined the Juniper team in January following the closure of her acclaimed Maplewood restaurant Home Wine Kitchen. The move was a much-ballyhooed event -- a marriage of two of the city's scions of Southern fare that seemed like a match made in comfort food heaven.
In February, Vires rolled out a revamped menu for Juniper that sought to add polish to its down-home classics. Her presence in the kitchen freed up Perkins to focus on some of his larger picture projects, including the underground dinners that made him famous and Juniper's new events space, Eva's Attic.
Vires has nothing negative to say about her time at Juniper. "I know it sounds cliché, but John and I really did part on the best of terms. Sometimes things just aren't the fit you hoped for, and a change is best for everyone."
Vires continues, "I wish the folks at Juniper nothing but the best. They were a wonderful family for me for the time I was there."
For those looking for their next taste of Vires' cooking, she teases, "I don't have anything solid lined up yet."
We will update as more information becomes available. In the meantime, here is Perkins' full statement:
"I'm excited to let everyone know that I will be back at the helm of Juniper, diving into a new menu and taking the reins in the kitchen next week!!! We are thankful for Chef Cassy and her work at Juniper and wish her well in her future endeavors.

What does this mean for Juniper, you ask? You will see some changes over the next few weeks as I redirect our menu to more closely reflect our vision: New Southern food inspired by the traditional dishes of the region. Never fear, our beloved fried chicken, amazing biscuits, and perfect cocktails aren't going anywhere!"
Follow Cheryl Baehr on Twitter at @CherylABaehr. E-mail the author at [email protected].
---